Georgia Ex-PM Aims to Speed Up EU Bid As Rebels Back Russian War in Ukraine
Georgia's former prime minister has told Newsweek that the European Union should accelerate his country's bid for membership togethera with those of Ukraine and Moldova after Russia launched a war on Ukraine.
"What is needed is to forget the Cost-Benefit Approach with the Kremlin and develop a comprehensive and proactive, fierce strategy containing the Kremlin's aggression," former Georgian Prime Minister Mamuka Bakhtadze told Newsweek. "The Free World should be principled and consistent in its decision making and accelerate the process of Georgia's, Ukraine's and Moldova's accession to the European Union."
His request for an accelerated process comes as rebels in two breakaway regions in his country are backing Russia's military intervention against Ukraine, where two other self-proclaimed states have played a critical role in Moscow's efforts against Kyiv.
Russian President Vladimir Putin's recognition of the rebel Donetsk and Luhansk People's Republics in Ukraine's eastern Donbas region served as a precursor to the Russian leader's attack on Ukraine, and concerns have been raised that this scenario could be replayed in Georgia and Moldova as well.
All three nations seek EU membership but face pro-Moscow separatists that have carved out self-proclaimed republics on their territory, the product of post-Soviet conflicts in Eastern Europe.
In Georgia, rebel-held lands are comprised of the largely unrecognized republics of South Ossetia and Abkhazia along the northern border with Russia.
As the Soviet Union fell in 1991 and Georgia became an independent country, it sought to regain control of autonomous South Ossetia, sparking a year-and-a-half-long war in which Tbilisi accused Moscow of directly supporting the separatists. Just two months after a Russia-brokered ceasefire, however, war broke out in Abkhazia, leading to another roughly year-long conflict, after which hostilities also ceased under Moscow's mediation.
Tensions remained, and 15 years later, amid a diplomatic crisis between Moscow and Tbilisi, a full-scale war broke out between the two. Georgia and the separatists clashed, and Russia intervened directly on the latter's behalf, offering recognition and sending in troops as part of a "peace enforcement" operation that largely mirrored the leadup to Russia's attack on Ukraine last week.
"Georgia was the first victim who suffered from atrocities of Russian invasion," Bakhtadze said. "Back then we were not heard and now, as a result, 20% of Georgian territories are occupied."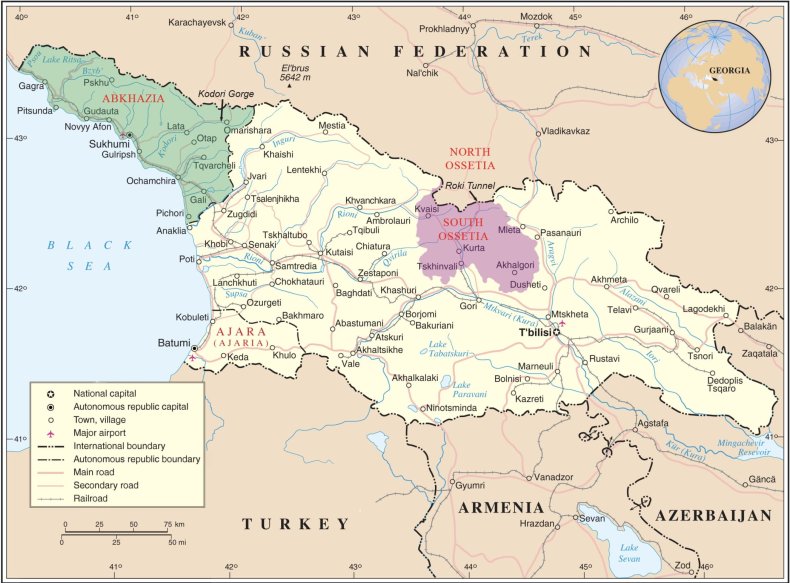 Today, Abkhazia and South Ossetia remain under rebel control, and both separatist governments have backed Putin's decision to recognize and support the breakaway states of Ukraine's Donbas region, which had been at war with Kyiv since a pro-West uprising strained the country's ties with Moscow in 2014.
In the week since Russia's operation began, the units of the two separatist regions in Georgia have been put on heightened alert. Russian troops have also held military exercises in the allied entities.
A similar situation exists in Moldova's breakaway Transnistria region, the result of another early 1990s another separatist war waged by an autonomous region that resisted breaking with the Soviet sphere of influence. Transnistria borders Ukraine directly from the southwest, and Russia troops deployed there as peacekeepers have elicited fears of a new front opening in the current conflict.
As Ukrainians seek to resist the Russian incursion, Bakhtadze, a former finance minister who resigned from his premier post in 2019 after saying he had fulfilled his duties, commended Ukraine's resolve in the face of Russian hostilities, which he said had global implications.
"The bravery of Ukrainians in the fight for freedom is breathtaking, and something that has resonated with people all over the world," Bakhtadze said. "Today, the whole of Ukraine became a warzone, the point of clash between the free world and tyranny."
The conflict has rallied a number of nations around the world to join a West-led bid to isolate Russia through sanctions and other punitive measures targeting Russian state and non-state institutions. Georgia, for its part, has expressed resounding support for Ukraine, but has avoided taking steps that may be viewed as provocative by Russia.
Even as anti-Russia protests manifested across Georgia, Irakli Kobakhidze, head of the ruling Georgian Dream Party of which Bakhtadze is a member, said Tuesday that Tbilisi should not submit its formal application to join the EU until 2024 in order to ensure terms for membership will be met.
And on Friday, current Prime Minister Irakli Garibashvili announced that his government would not participate in economic restrictions against Moscow, citing a "pragmatic policy" for a country bordering a major power locked in war that in some ways mirrors past events at home.
Though Russia has publicly warned against either Ukraine or Georgia joining NATO, Bakhtadze said Moscow's hostility predated Tbilisi's aspiration's to join the alliance.
"The Kremlin's propaganda is using Ukraine's and Georgia's Euro-Atlantic aspirations as a basis for its militaristic ambitions, but it is clear that it does not have any real foundation to it,"Bakhtadze said. "The Russian Federation started its aggression towards Georgia in 1990s, and back then there was no NATO for Georgia whatsoever."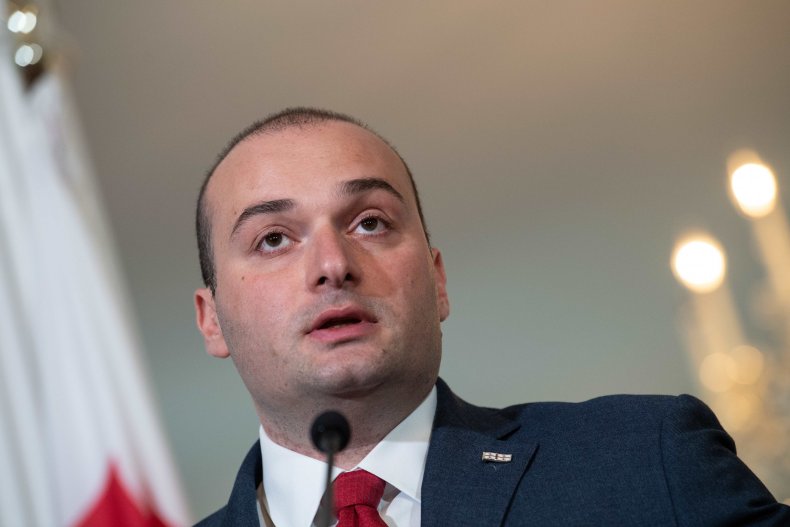 But now there is a serious effort to join the alliance, whose eastward expansion since the end of the Cold War is at the core of the Kremlin's feud with the West. Diplomacy toward this end played out in recent months as Russia amassed troops near Ukraine's borders, but Moscow ultimately felt its call to roll back NATO presence and military activities went unappreciated by the the bloc.
On Tuesday, Russian Foreign Minister Sergey Lavrov demanded that NATO abandon the the consensus of the "Bucharest formula" adopted during a 2008 summit in the Romanian capital, where the alliance agreed to begin the process to bring Kyiv and Tbilisi into the alliance just months before war broke out between Georgia and Russia.
"Western countries should refrain from establishing military facilities on the territory of former USSR states that are not members of the alliance, including the use of their infrastructure for conducting any military activity," Lavrov said in a video address to the Geneva-based Conference on Disarmament.
"It is necessary to return NATO's military capabilities, including strike [capabilities], and NATO infrastructure to the state of 1997," he added, "when the NATO-Russia Founding Act was adopted."
That same day, however, after meeting with Kelly Degnan, Washington's ambassador to Georgia in Tbilisi, Georgian Foreign Minister and Vice Prime Minister David Zalkaliani said that he had "received unwavering support from the United States, our main strategic partner, for Georgia's European and Euro-Atlantic integration course, and the assessments that followed our statements of support for Ukraine are fully backed and shared by the United States."