Georgia GOP Election Official Says Questioning Election Results 'Undermines' Democracy
Gabriel Sterling, a Republican who serves as Georgia's voting systems implementation manager, warned that questioning election results and refusing to concede "undermines democracy."
Although Georgia is carrying out a recount, the results show that President-elect Joe Biden narrowly leads President Donald Trump in the state by a margin of nearly 13,000 votes. Trump has refused to concede the election, claiming without evidence that Biden won the presidential election through widespread voter fraud.
Although Sterling said Trump has a right to continue legal challenges and ask for a further recount, he described criticisms from the White House as "wild mischaracterizations" with "no evidence."
"The recount is going great. It's tracking exactly right. What they're focusing on is something we have no evidence of, is something about signature match and there's a wild mischaracterization of a settlement agreement that we reached to stop from weakening signature match further," Sterling told Fox News on Thursday.
"Our job is to follow the law and follow the process," Sterling asserted. "And as I've said over and over in these press conferences, this is about process, process, process."
The Republican official said that Trump should accept the Georgia results after he finishes all his legal challenges.
"When Donald Trump, once he gets through all his legal ability to do so [and challenge the results], if he comes up short in Georgia—hopefully he will see that the results is the result," Sterling said. "Because when you question it from either side it undermines the foundation of democracy."
Newsweek reached out to the White House for comment, but did not immediately receive a response.
Trump and White House Press Secretary Kayleigh McEnany have claimed over the past week that there are widespread problems with Georgia's signature match process on absentee ballots.
"Must have signature check on envelopes now. Very easy to do," the president tweeted Thursday morning.
Georgia's Secretary of State Brad Raffensperger, a Republican who was endorsed by Trump in 2018, pushed back against these repeated claims from the president and his supporters in a Sunday Facebook post.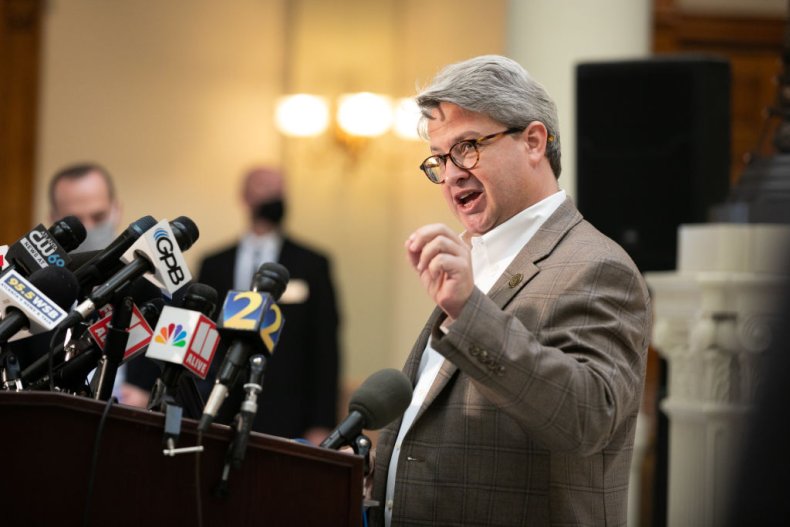 "Let's address this disinformation about signature match. We strengthened signature match. We helped train election officials on GBI [Georgia Bureau of Investigation] signature match—which is confirmed twice before a ballot is ever cast," Raffensperger wrote.
Even if the recount in Georgia shifted the results in Trump's favor—something Raffensperger has said is "unlikely"—Biden would still be the winner of the presidential election. Trump would have to overturn the results in multiple other states in order to win, which political analysts and some leading Republicans have dismissed as a possibility.
According to the election results by the Associated Press and Fox News, Biden leads in the Electoral College with 290 votes to Trump's 232. If Georgia is called for Biden, as is expected, that would give Biden 306 electoral votes while Trump would remain with just 232.