Georgia Gov. Brian Kemp Decries 'Dangerous' Critical Race Theory
Georgia Governor Brian Kemp told schools on Thursday not to teach Critical Race Theory, calling it a "dangerous ideology" as states introduce bills proposing bans on the theory being taught in classrooms.
In an open letter to the State Board of Education, Gov. Kemp said he had heard from parents and students in Georgia who were "extremely concerned" about critical race theory being taught in the state.
He also took aim at a Biden administration rule to encourage the teaching of programs that address systemic racism and diversity with grant funding.
"Further, it is ridiculous that the Biden Administration is considering using taxpayer funds to push a blatantly partisan agenda in Georgia classrooms," Kemp wrote in the open letter. "Parents, educators, and local communities here in the Peach State know how best to educate their students—not the federal government."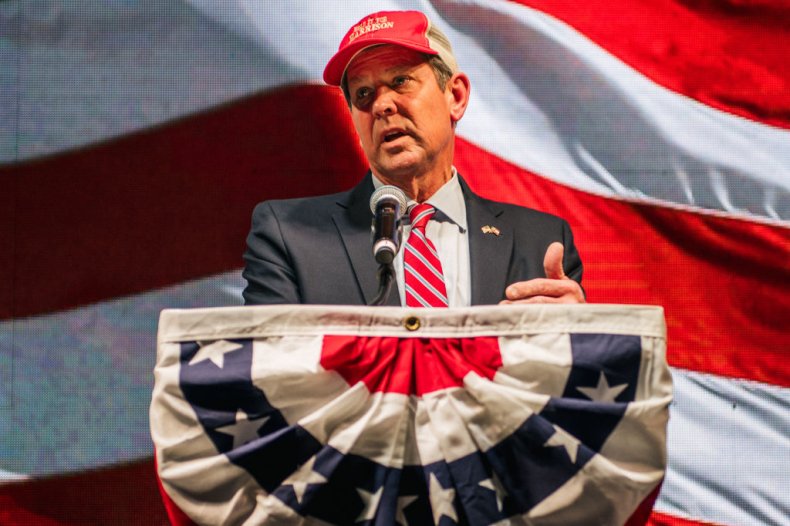 The Republican state leader also said Georgia schools needed to focus on providing "the highest quality education to every child" without "partisan or political influence" entering the curriculum.
He then added: "State Board of Education members: I urge you to take immediate steps to ensure that Critical Race Theory and its dangerous ideology do not take root in our state standards or curriculum." Newsweek has contacted the governor's office for further comment.
Critical race theory is an ideological movement that seeks to frame instances of racism as the result of deeper, structural racism and injustice at the core of a society. The theory's backers argue that it helps society to address problems with racism and other biases, but critics believe it is divisive.
Kendall Thomas, a law professor at Columbia University and co-editor of Critical Race Theory: The Key Writings That Formed the Movement, previously told Newsweek: "CRT challenges us to see that racial injustice in America is not, and has never been, just a problem of isolated instances of individual bias and private prejudice which we can solve by enacting 'color-blind' laws and policies."
Former President Donald Trump called critical race theory "un-American" and a number of GOP-led states have moved to ban the theory from being taught in schools over the past few months.
Idaho Governor Brad Little signed a bill into law on May 6 that sought to block critical race theory from being taught in local schools and universities. The bill passed both the state House and state Senate.
The bill bans teachers from teaching students about belief systems that argue members of a race, sex, nationality, religion or ethnicity are in any way superior or inferior to other groups.
North Carolina introduced a similar bill in its state House on May 11 as lawmakers sought to join other GOP states in opposing the move to introduce critical race theory to the curriculum.