'Beast' of a Brown Trout Caught by Georgia Angler Could Be Record-Breaker
A Georgia fisherman has caught what could be a lake record trout, if confirmed by experts.
The catch was announced by the Georgia Department of Natural Resources (DNR) Wildlife Resources Division on June 3.
The fish, a huge brown trout, weighed 12 pounds and 4 oz according to a certified scale and would beat the record for a trout caught in Lake Burton, Georgia. The catch is awaiting certification by Georgia Outdoor News Magazine.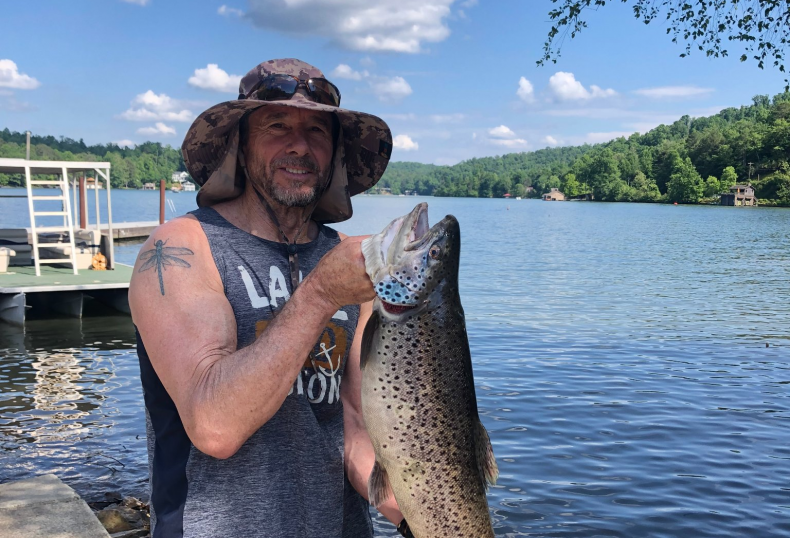 The trout was caught by Tom Fox, a Rabun County angler. Georgia DNR issued congratulations to Fox via a Facebook post as well as on its weekly fishing report.
The Facebook post read: "Our congratulations go out to Tom Fox, a local Rabun County angler, who caught this beast of a brown while fishing Lake Burton on Memorial Day!"
A highly prized game fish, the brown trout is considered to be the most valuable exotic fish introduced to North America, according to the National Park Service (NPS). They are not native to the region and are instead a Eurasian species.
They occupy a wide range of aquatic systems from cold water mountain streams to larger rivers, ponds, and lakes.
Typically, brown trout range from 7 inches to 14 inches in length, though some individuals can grow as long as 20 inches.
Brown trout are tawny to olive brown in color dorsally to mid-side with back and sides flecked with brown or black spots. Some of the fish can live for 10 years or more.
The potential record-breaking catch comes after another Georgia man caught a redbreast sunfish earlier this year that may tie the world record.
The fish, caught on the Satilla River by Lester Roberts of Blackshear on May 7, weighed 1 pound and 12 ounces, replacing the 1998 state record of 1 pounds and 11 ounces according to the Wildlife Resources Division. The fish was also reported to be a pending world record tie.
The redbreast sunfish is a common fish in the state of Georgia and can also be found in other states.
Other notable catches this year include a rare all-orange lobster which was caught by a Maine fisherman before being thrown back into the water.
The catch was documented in a TikTok video by fisherman Jacob Knowles. It was viewed hundreds of thousands of times in just a couple of days.
Naturally orange lobsters have been described as very rare. Although they are commonly depicted as red or orange, most lobsters are actually described as a mottled brown or blue color.