Georgia Officials Say Sidney Powell's Fraud Allegations Belong More in 'the Kraken's Realm of Mythos' Than in Reality
Lawyers for Georgia's election officials mocked pro-Trump attorney Sidney Powell's unfounded voter fraud allegations in a court filing, describing them as belonging "more to the kraken's realm of mythos than they do to reality."
Although Powell is no longer working directly with President Donald Trump's campaign, the lawyer has continued to pursue legal challenges in multiple election battleground states in support of the president's baseless claims of widespread voter fraud. Last month Trump supporters waited eagerly as Powell promised to "release the Kraken," referring to legal actions that would supposedly reveal widespread voter fraud.
President-elect Joe Biden was projected as the winner of the election nearly one month ago, but Trump has refused to concede as he pushes unfounded fraud claims. Nearly every lawsuit brought by the Trump campaign and its supporters has been dismissed or rejected in court, as judges note that no evidence has been provided to support the allegations.
Powell filed a lawsuit in Georgia in a bid to overturn the election results there and require the southern state to appoint pro-Trump electors, disregarding the will of the people. In a motion filed on behalf of Georgia's Governor Brian Kemp—a Republican who was endorsed by Trump—and other leaders of the state, lawyers dismissed Powell's bizarre claims.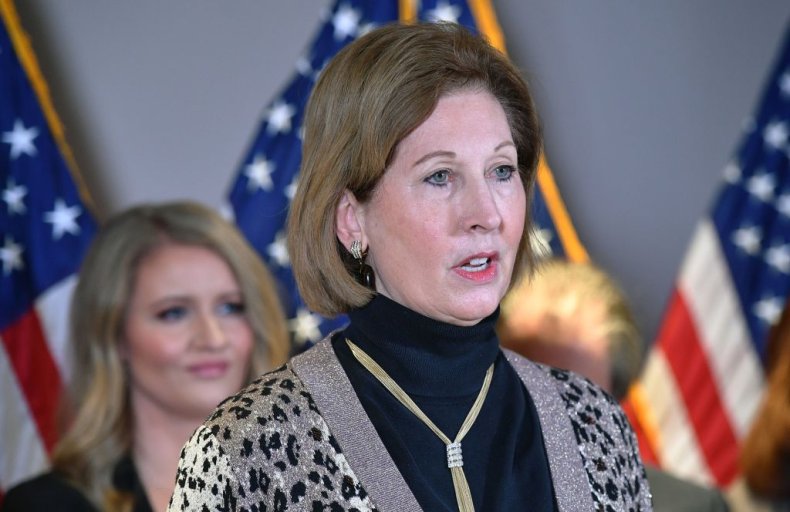 They wrote in the legal motion filed Saturday to ask the court to dismiss the case:
Plaintiffs, a group of disappointed Republican presidential electors, filed a Complaint alleging widespread fraud in the November general election in Georgia, weaving an unsupported tale of 'ballot stuffing,' the switching of votes by an 'algorithm' uploaded to the state's electronic voting equipment that switched votes from President Trump to Joe Biden, hacking by foreign actors from Iran and China, and other nefarious acts by unnamed actors. Plaintiffs did not bring this election challenge in state court as provided by Georgia's Election Code. Instead, they ask this Court to change the election outcome by judicial fiat and order the Governor, the Secretary, and the State Election Board to 'de-certify' the results of the election and replace the presidential electors for Joe Biden (who were selected by a majority of Georgia voters by popular vote as provided by state law) with presidential electors for President Trump.

Their claims would be extraordinary if true, but they are not. Much like the mythological 'kraken' monster after which Plaintiffs have named this lawsuit, their claims of election fraud and malfeasance belong more to the kraken's realm of mythos than they do to reality.

Certifying the expressed will of the electorate is not irreparable harm, but rather inevitable and legally required within our constitutional framework.
Newsweek reached out to Powell for comment but did not immediately receive a response.
Trump initially touted Powell as one of his "wonderful lawyers and representatives" in a November 14 tweet. But his campaign later distanced itself from the attorney after she received widespread criticism for many of her unfounded claims. The president and his legal team have continued to push similar allegations, without providing evidence to back them.
Biden won in Georgia by a narrow margin of about 12,000 votes. The president-elect's lead over Trump remained even after the state carried out two recounts, which were overseen by Georgia's Secretary of State Brad Raffensperger, a Republican who voted for Trump and donated to his campaign. Despite Raffensperger's support of the president, Trump has described him as an "enemy of the people" for refusing to overturn the results in Georgia.
Speaking to NBC News' Meet the Press on Sunday morning, Gabriel Sterling, a Republican who serves as Georgia's voting system implementation manager, condemned Trump and his supporters for their falsehoods about the election.
"The president's statements are false. They're disinformation. They are stoking anger and fear among his supporters and, hell, I voted for him. The situation is getting much worse," Sterling said.