Michael Flynn Calls Pro-Trump Lawyer Sidney Powell 'America's Guardian Angel of Justice'
Retired Lieutenant General Michael Flynn—who President Donald Trump pardoned last month—described his attorney Sidney Powell as "America's guardian angel of justice," saying she will "absolutely" reveal widespread voter fraud as she continues to pursue legal challenges to the presidential election in multiple states.
Flynn, who served briefly as Trump's national security adviser in early 2017, twice pleaded guilty to lying to investigators about his contacts with Russia's ambassador. But he later retained Powell—who is now attempting to overturn Trump's election loss—as his attorney. The lawyer got Flynn to end cooperation with investigators and lobbied Attorney General William Barr to reexamine the case against her client.
Trump later pardoned Flynn on November 25, despite initially distancing himself from the retired military officer after the revelations about his foreign contacts.
The Quote
During an interview with Fox News host Jeanine Pirro on Saturday, Flynn said Powell is "absolutely" onto something with her legal challenges to the 2020 election.
"I call Sidney Powell the—America's guardian angel of justice," the former Trump administration official said.
"Sidney Powell's client are the people of the United States of America, and that's who she is fighting for right now," he also said. "She has her teeth into Georgia, Arizona, Michigan, Wisconsin, and the stuff that she has laid out in her various filings—and it is going play out here..."
The retired general insisted that there was "in fact massive fraud" in the presidential election.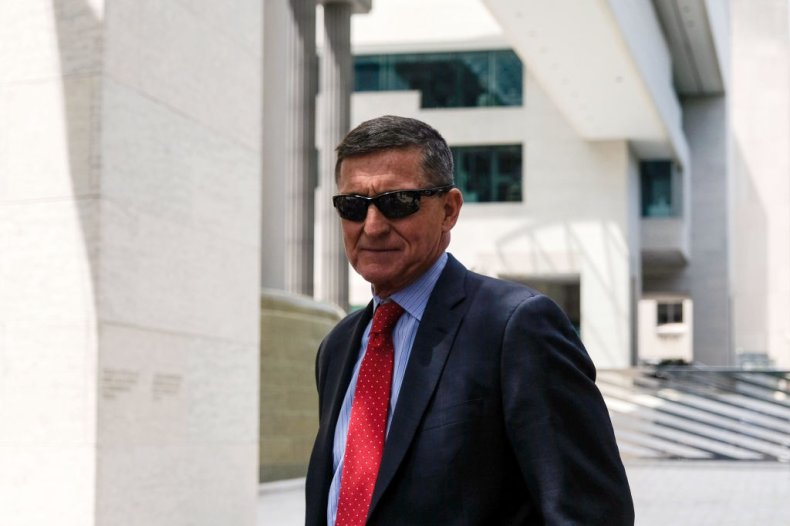 Why It Matters
Although President-elect Joe Biden was declared the winner of the presidential election nearly a month ago, Trump has refused to concede. The president and his allies have claimed, without providing evidence, that Biden won the election through widespread voter fraud. Nearly all of Trump's and Republican's legal challenges to election results in multiple battleground states have failed, with judges—including a Trump appointee—asserting that no evidence has been provided to back the allegations.
In a November 14 tweet, Trump described Powell as one of his campaign's "wonderful lawyers and representatives" as he touted his legal team's efforts to overturn the election results. However, just over a week later after Powell's bizarre claims drew substantial criticism, the campaign distanced itself from the attorney.
"Sidney Powell is practicing law on her own," Trump campaign lawyers Rudy Giuliani and Jenna Ellis said in a statement on November 22. "She is not a member of the Trump Legal Team." But Powell has continued to pursue legal challenges to the results, with pending cases that are widely expected to fail in multiple states.
During a pro-Trump press conference in Georgia last week, Powell suggested that Republican voters should boycott the Senate runoffs set to be held their on January 5. Although Trump has made many of the same unfounded claims as Powell and questioned Georgia's election results, he has urged his supporters to vote for the GOP candidates in the southern state.
Opposing View
There is no evidence to back the claims of widespread fraud touted by Powell, Trump and other lawyers for the president. Even close allies and friends of Trump have criticized the claims made by Powell and Trump's attorneys.
New Jersey's former Governor Chris Christie told ABC News last month that Trump's legal team had become a "national embarrassment" after a bizarre press conference held by Giuliani and Powell. During that media event, Powell argued that the Chinese, Venezuela's dead former president, billionaire George Soros, the Clintons, and Republican and Democratic leaders across the country had conspired against Trump in the election.
Fox News correspondent-at-large Geraldo Rivera, a personal friend of the president, said Powell's claims were "from the far side of the moon."
Newsweek reached out to the Trump campaign for comment, but did not immediately receive a response.