Rudy Giuliani and Sidney Powell 'Enabling Each Other' With Claims 'From the Far Side of the Moon': Geraldo Rivera
Fox News correspondent-at-large Geraldo Rivera criticized President Donald Trump's personal lawyer Rudy Giuliani and Sidney Powell, saying the pair of attorneys are "enabling each other" and are making claims "from the far side of the moon."
Rivera, who describes Trump as an old friend, told Fox News on November 13 that he'd spoken with the president and expected him to eventually concede that President-elect Joe Biden had in fact won the election.
But in a Sunday interview with Fox News' Media Buzz, he suggested that Trump had changed his mind after seeing the response from his supporters.
"I want him to show grace and good manners and honor the traditions. The election of 2020 is lost," Rivera told Media Buzz host Howard Kurtz. "I felt very embarrassed watching, another old friend, Rudy Giuliani and his team, Sidney Powell and the others, in what seemed a bizarre and disconnected press conference raising allegations that were from the far side of the moon as far as I was concerned," he said.
"This is silly stuff," Rivera said, mocking their claims that Venezuela, billionaire George Soros and the Clinton Foundation somehow conspired to rig the election in Biden's favor. He described the press conference by Trump's legal team as "a circus," saying it harmed the president's image.
"Sidney Powell in that press conference was as disconnected from reality as Rudy Giuliani was," Rivera said. "In a way, they were enabling each other."
Despite the election being called for Biden and Vice President-elect Kamala Harris just over two weeks ago, Trump has refused to concede. The president and his legal team have pushed baseless claims of widespread voter fraud, failing to provide any evidence to support those allegations.
Rivera was describing a Thursday press conference, in which Powell and Giuliani pushed completely unsubstantiated claims that Venezuela, Big Tech, Antifa, Soros, China, Cuba, multiple major U.S. cities, and others had conspired to prevent Trump from being re-elected. They provided no evidence to back these claims.
Fox News host Tucker Carlson, who has often defended Trump and even pushed unsubstantiated claims of voter fraud, pointed out during his Thursday evening program that the president's legal team had not provided evidence. Carlson explained that his show had reached out repeatedly to Powell to ask for some of her evidence, but she declined to provide it and eventually told his staff to leave her alone.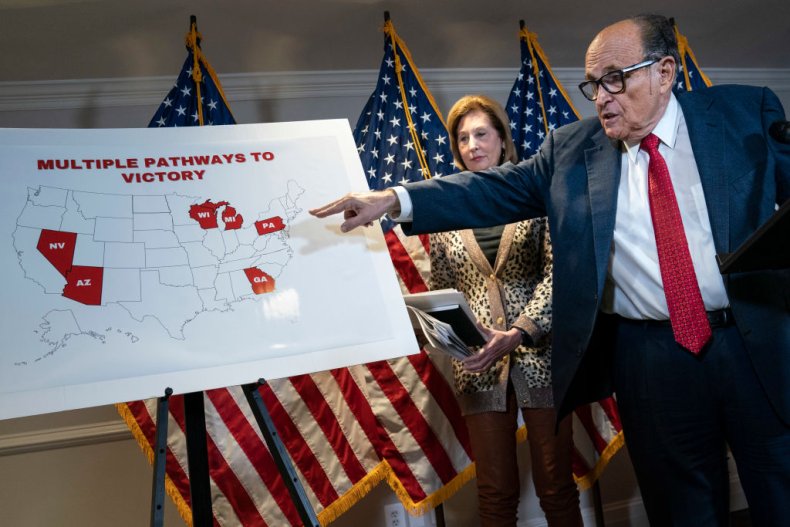 "She never sent us any evidence, despite a lot of requests, polite requests—not a page," the Fox News host said. "When we kept pressing, she got angry and told us to stop contacting her." Carlson quickly received backlash from Trump supporters for daring to question the allegations.
Former New Jersey Governor Chris Christie, a Republican who helped Trump prep for his September debate with Biden, criticized the president's legal team during a Sunday interview with ABC News This Week.
"Quite frankly, the content of the president's legal team has been a national embarrassment," Christie said.
Newsweek reached out to the Trump campaign and the White House for comment, but they did not immediately respond.