Police Officer Breaks Down in Tears After Her McDonald's Order Was Delayed
In a new viral video, a police officer gets emotional after trying to order a breakfast sandwich from McDonald's because she's afraid that her food had been tampered with.
In the video, the officer—who one Twitter user has identified as Stacey—says that she preordered her food from a local McDonald's. She explains that when she arrived, the food was not ready, and she was asked to wait for her meal. "I'm on my way home from work. When I pull up to the window, they hand me my receipt. So I go to the second window to get my food, and I'm waiting, and I'm waiting. So the girl comes to the window and asks me what my order was. I repeat my order and my coffee order, and they ask me to pull up because my food's not ready," she says, noting that the order was a McMuffin meal with a hash brown.
She continues, saying that after she'd pulled up, an employee came forward with just a coffee and handed her the coffee through the window. She said that she was too nervous to take the meal if it came out. "I told her—I said, 'Don't bother with the food, because right now, I'm too nervous to take it,'" the officer explains. "It doesn't matter how many hours I've been up. It doesn't matter what I've done for anyone. Right now, I'm too nervous to take a meal from McDonald's, because I can't see it being made."
The officer goes on in the video to address increased hostility toward police officers, in the wake of protests following George Floyd's death. "Please, just give us a break. I don't know how much more I can take. I've been in this for 15 years, and I've never ever had this much anxiety about waiting for McDonald's drive-thru food," she says. "Have a heart, and if you see an officer, tell them, 'Thank you,' because I don't hear thank you enough anymore."
The officer names the location that she went to at the start of the video, and a Twitter user indicated that she appears to be speaking about a franchise location in Richmond Hill, Georgia.
The owners of the McDonald's apologized for the service issues in a statement and hoped to make it up to the officer in the future.
"Our priority is for all customers to feel welcome and enjoy a great customer experience in our family-owned restaurants, including local law enforcement officers who protect and serve our community," Gary and Jill Stanberry, the local McDonald's owners said in a statement provided to Newsweek."Unfortunately, we were made aware of a local police officer who experienced a longer than usual wait time and did not receive her full order right away at one of our restaurants. We have been in contact with this officer to apologize for this unsatisfactory experience and let her know that we would love to correct the inaccurate order when she has time. We are happy to report that the officer was never denied service and also shared positive feedback on the employee with whom she interacted."
Newsweek reached out to the Richmond Hill Police Department's administrative coordinator to the police chief for comment, and to try to confirm the woman's identity, but did not receive a reply in time for publication.
The video has since sparked debate on Twitter, with many showing solidarity for the officer. "Come on America. We are better than this," wrote the same Twitter user who named the officer, alongside the video.
President Donald Trump's son, Donald Trump Jr., was among the people voicing support for the officer. He wrote, "Disgusting what's going on right now."
Still, other people wrote that it seemed like the officer was overreacting to a long wait time for her food, and that the video loses sight of other issues that are going on.
The video has been viewed and shared many times, just a day after three NYPD officers reported that they fell ill after drinking milkshakes from a Shake Shack. According to The New York Times, the incident appeared to have stemmed from a poor cleaning of the milkshake machine.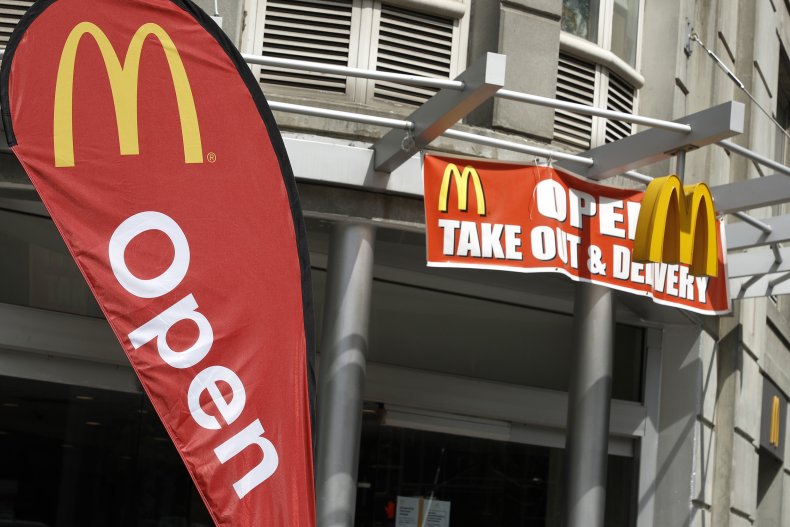 Update 6/17/20 10:06 a.m. EST: This story has been updated to include comments from the local McDonald's owners, which were received after the story was originally published.
Updated 6/17/20 10:44 a.m. EST: This story has been updated to include Donald Trump Jr.'s tweet.