Shake Shack 'Horrified' After Three NYPD Officers Potentially Poisoned With Bleach
The New York Police Department is investigating if three officers who fell ill after drinking Shake Shack milkshakes were poisoned with bleach.
Three officers complained of not feeling well after drinking shakes from the Shake Shack location at 200 Broadway in Manhattan at around 8.30 p.m. on Monday, a spokesperson for the police department confirmed to Newsweek.
They were treated at a hospital downtown and have since been released, the police spokesperson said.
"At this time, the incident is part of an active and ongoing investigation to determine if this was accidental or intentional in nature," the spokesperson added.
Shake Shack said it was "horrified" by the incident in a tweet late on Monday night and said it was working with police on the investigation.
"We are horrified by the reports of police officers injured at our 200 Broadway Shack in Manhattan. We are working with the police in their investigation right now," the fast food chain tweeted.
The New York Daily News reported that one officer had smelled bleach and another noticed a "clump of something" in one of the cups after ordering meals at the restaurant, located in the Fulton Transit Center.
More than 24 officers and detectives questioned Shake Shack workers at the location. Early Tuesday, three workers were escorted into an NYPD van, although none were handcuffed, the Daily News reported.
According to the newspaper, investigators found a bottle of cleaning fluid used to clean the milkshake machines and also sifted through the trash cans outside the location.
All three of the officers who fell ill were from The Bronx's 42nd Precinct and had been assigned to protest detail.
And although investigators are still working to establish if the officers were intentionally targeted, the city's police unions have already labelled the incident a deliberate attack on officers.
"When NYC police officers cannot even take meal without coming under attack, it is clear that environment in which we work has deteriorated to a critical level," Patrick J. Lynch, the president of the Police Benevolent Association said in a letter to members that was posted on Twitter.
"We cannot afford to let our guard down for even a moment," he added.
The Detectives Endowment Association also issued a warning to its members.
"Tonight, three of our brothers in blue were intentionally poisoned by one or more workers at the Shake Shack at 200 Broadway in Manhattan," DEA President Paul DiGiacomo said on its website.
"After tasting the milk shakes they purchased they became ill, making it necessary for them to go to an area hospital. Fortunately, our fellow officers were not seriously harmed."
He added that police across the country are "under attack" because of the job they do.
"We MUST be more vigilant than ever. We urge you to not buy food from locations unknown to you. Keep your eyes open and be alert at all times," DiGiacomo said. "Now, more than ever, we have to be united. Together, is how we will stay safe."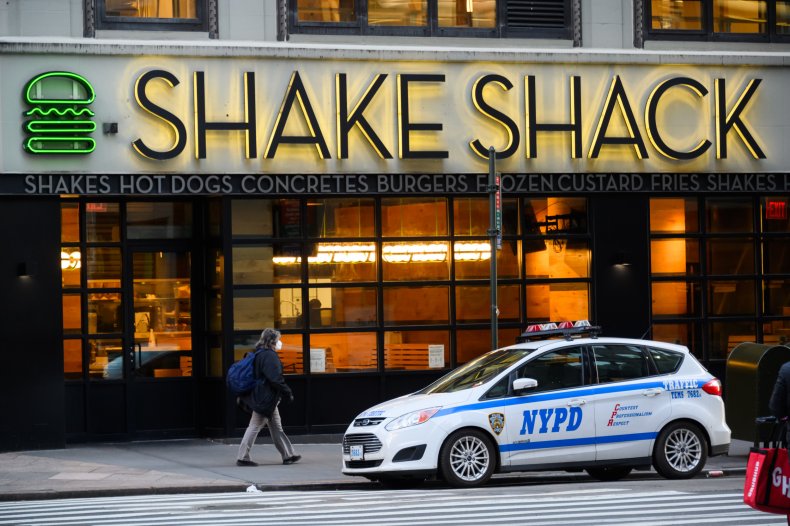 The incident comes on the heels of three weeks of nationwide protests against police brutality and systemic racism after the death of George Floyd, a black man, in Minneapolis police custody on May 25.
Some protests descended into violence with reports of police using heavy-handed tactics, including tear gas and rubber bullets, to disperse peaceful crowds.
Earlier this month, it was revealed that police had attacked journalists at least 140 times amid the demonstrations. A large number of online videos have also documented demonstrators being targeted and attacked by police.
Amid the protests in recent weeks, some officers have been injured in attacks. Three New York City police officers were hospitalized after a struggle with a knife-wielding man who approached an officer and stabbed him in the neck on June 3.