As Donald Trump Causes Chaos for Georgia GOP, Democrats Pull Away in Runoff Polls
Democratic Senate candidates Jon Ossoff and Raphael Warnock have pulled ahead of their Republican rivals in Georgia runoff polls, as President Donald Trump continued to cause difficulties for the GOP incumbents over the weekend.
According to the FiveThirtyEight average of head-to-head polls in Georgia, Ossoff and Warnock lead Sens. Kelly Loeffler and David Perdue by roughly two percentage points each with 24 hours left until Election Day.
In the weighted average, Ossoff is backed by 49.2 percent of Georgia voters, while Perdue is backed by 47.4 percent. By comparison, Warnock is supported by 49.5 percent of voters, while Loeffler is backed by 47.2 percent.
The narrow leads for the Democratic candidates would fall within the margins of error of most head-to-head polls for the Georgia runoff elections, which tend to hover at around four percentage points.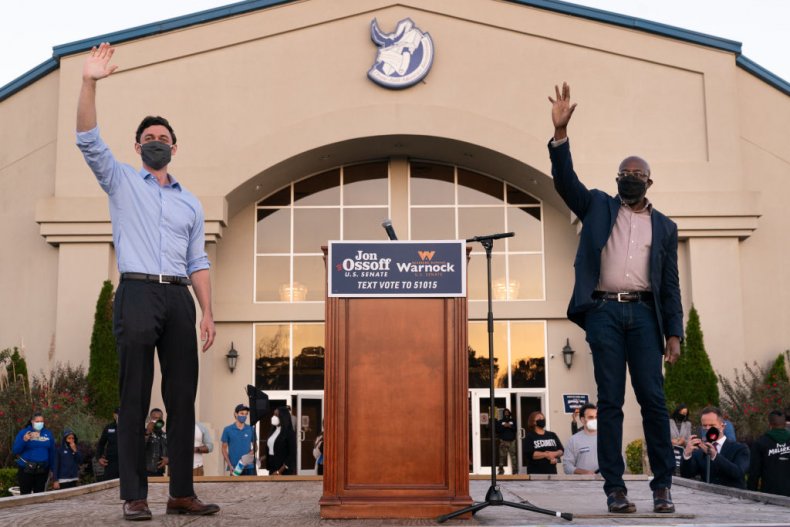 One poll released by AtlasIntel on Sunday found that a slim majority of likely voters in Georgia (51 percent) backed Ossoff and Warnock, while 47 percent said they would vote for Loeffler and Perdue to retain their seats in the upper chamber.
AtlasIntel surveyed 1,680 likely voters in Georgia between December 25 and January 1 for the latest poll. Its margin of error stands at two percentage points, meaning the Democratic leads are outside the confidence interval.
Several other surveys released since December 21 have shown the Democratic challengers with similar, low single-digit leads over the Republican senators. If Ossoff and Warnock do manage to beat both Loeffler and Perdue at the January 5 runoff elections, as the polls indicate, they will overturn the Republican majority in the Senate.
However, in the wake of the 2020 elections, the veracity of polling has been treated with scepticism due to overestimations of President-elect Joe Biden's performance among voters in Texas, as well as the chances of Democratic challengers in down ballot races.
If either of the Democratic Senate candidates in Georgia fail to unseat their Republican rival, the GOP will still hold a narrow 51-49 majority in the upper chamber—providing the party with a major check on the Biden administration for at least two years.
The latest survey data from the state was released as it was revealed that President Donald Trump pressured Georgia's Republican secretary of state to "find" more votes for his candidacy in the state after he lost to Biden.
In a recording of a phone call released by The Washington Post last night, Trump told Brad Raffensperger to "find 11,780 votes" as he made claims about voter fraud in the state and told the Republican he had committed a supposed "criminal offense" by not reporting it.
Raffensperger has upheld both the integrity of the Georgia elections and the vote for President-elect Biden in spite of pressure from the president and his re-election campaign over the past two months.