Georgia Republicans Video Shows Raphael Warnock Praising Controversial Pastor Jeremiah Wright Who Said 'God D*** America'
A new Georgia GOP ad attacking Raphael Warnock shows the Democratic hopeful praising Rev. Jeremiah Wright, a controversial pastor who has been scrutinized for preaching criticism against the United States.
The ad juxtaposes a clip of Warnock on Fox News saying that he celebrates Wright against footage of the pastor saying "God d*** America."
The ad is the latest installment in a series of attacks on Warnock as an "anti-American radical" by the Georgia GOP. Warnock is running against incumbent Republican Kelly Loeffler in a Georgia Senate runoff race that will take place on January 5.
The Loeffler campaign has poured over $1 million into ads associating Warnock with Wright, claiming that he "celebrates anti-American hatred," according to the Atlanta Journal-Constitution.
In 2008, Rev. Wright came under media scrutiny for his association with former President Barack Obama, after a fiery sermon in which he said African Americans should not sing 'God Bless America,' but "God d*** America."
"The government gives them the drugs, builds bigger prisons, passes a three-strike law and then wants us to sing 'God Bless America.' No, no, no, God d*** America, that's in the Bible for killing innocent people," he said in a 2003 sermon. "God d*** America for treating our citizens as less than human. God d*** America for as long as she acts like she is God and she is supreme."
Wright was Obama's pastor for 20 years at Trinity United Church of Christ in Chicago and quickly became known for his impassioned sermons on racism, terrorism and anti-Zionism.
While many Democratic lawmakers, including Obama, have dismissed some of Wright's comments as being "inflammatory," Warnock has repeatedly defended the preacher.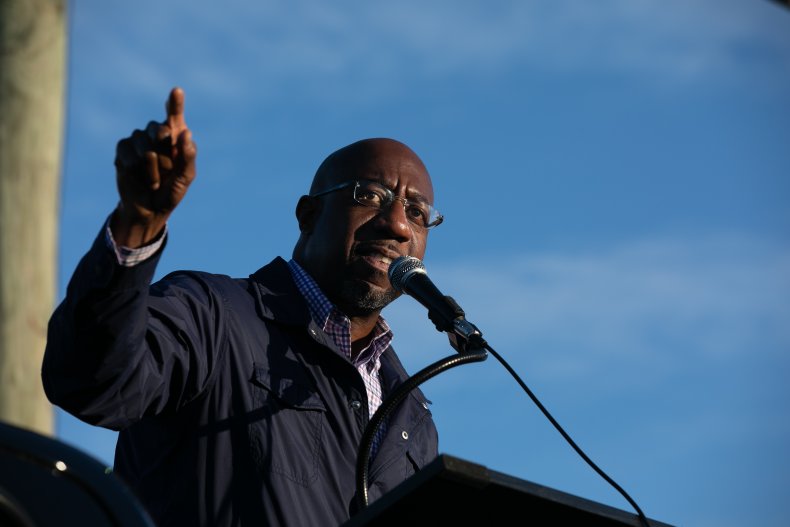 As a pastor himself, Warnock has previously stated that Wright's sermons have been taken out of context and misinterpreted by the media.
"We celebrate Rev. Wright in the same way that we celebrate the truth-telling tradition of the Black church, which when preachers tell the truth, very often it makes people uncomfortable," he said during a 2008 Fox News appearance.
In an interview this past Spring with the Atlanta Journal-Constitution, Warnock stated that "any fair thinking person would recognize that everything a government does, even the American government, is not consistent with God's dream for the world."
"And preaching at its best points out those contradictions but then shows us the path forward," he added.
But the Georgia GOP has used Warnock's relationship to Wright to drive home the point that the Democratic candidate is "too radical" to represent the people of Georgia.
Last week, Loeffler said Warnock "defended Jeremiah Wright's anti-Semitic comments," and embraced a long history of anti-Israel extremism.
Wright has previously stated that the U.S. supports "state terrorism against the Palestinians."
On Nov. 12, Warnock told MSNBC that he knows Wright. "I'm not an anti-Semite. I've never defended anti-Semitic comments from anyone. And Kelly Loeffler knows better," he said.
Loeffler has also called Warnock "one of the most radical Democrats in the country," and has compared him to Fidel Castro, "a Marxist tyrant."
In response, Terrence Clark, a spokesperson for Warnock's campaign, told Fox News that "Rev. Warnock loves this country, and he supports honoring the dignity of all people, but also finding common ground to reform our broken systems."
The Georgia runoff race has become a high-stakes battle, as Warnock and Jon Ossoff, another Democrat, contend for Senate seats currently occupied by Loeffler and David Perdue.
If both Democratic candidates win, the party would regain control of the Senate.
Newsweek reached out to the Warnock and Loeffler campaigns for additional comment but did not receive a response in time for publication.