As Georgia Sees Record Early Voter Turnout, Poll Shows 77 Percent Plan to Cast Election Ballots in Person
After Georgia's first week of early voting drew hundreds of thousands to overloaded polling sites throughout the state, new data shows 77 percent of likely voters plan to cast ballots in-person ahead of the general election.
Results of a survey conducted by the New York Times and Sienna College, which collected responses from 759 likely Georgia voters between October 13 and 19, suggested a majority of participants who had not yet voted aimed to do so in-person. While 18 percent of individuals surveyed said they planned to submit mail-in ballots, 45 percent said they intended to vote in-person during Georgia's designated early voting period, and 32 percent said they would vote in-person on Election Day.
Of those who already voted—early voting began in Georgia on October 12, and will continue through October 30—slightly more than half of the survey's respondents said they voted by mail. Another 45 percent said they previously cast ballots in-person.
The Times/Sienna College survey detailing Georgia's voter preferences was distributed amid surging turnout at the state's in-person polling stations. Multiple reports of stalled lines outside in-person early voting sites circulated last week, when an influx of hopeful voters overwhelmed the state's online system and subsequently caused delays.
The latest early voting statistics released by Secretary of State Brad Raffensperger's office indicated Georgia voters are opting to cast ballots early, both in-person and via mail, at rates much higher than they were in 2016. However, unlike many other U.S. states where surging early voter participation is primarily due to large quantities of mail-in ballots returned to election offices, most Georgia voters are casting ballots during the state's in-person early voting period.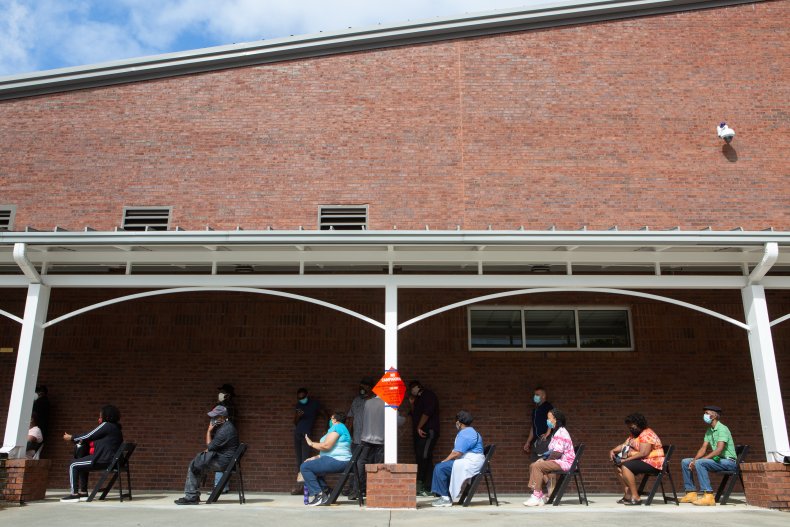 By Tuesday, more than 1 million Georgia voters had cast election ballots at in-person locations. The state has collected nearly 1.7 million ballots overall, including those returned by mail. Georgia's early voter turnout to date during the current election cycle represented a 142 percent increase compared to numbers recorded at this time in 2016.
The Times/Sienna College survey additionally tracked participants' support for this year's presidential nominees, Republican incumbent Donald Trump and Democratic challenger Joe Biden. The nominees were deadlocked at 45 percent support from respondents, answering a survey question that inquired about their favored candidate should the election take place at the time they submitted their responses. According to the Times, those figures were identical to the results of another survey conducted among likely Georgia voters last month.
The October survey reflected a shift in support for Trump among white, college-educated participants, 52 percent of whom said they would vote to re-elect the president for a second term. That statistic gave Trump a 12-point lead over Biden among the subgroup, although it reflected a 5-point decline in support for the Republican nominee since he was first elected. Fifty-seven percent of respondents who identified as white and college-educated said they supported Trump during the 2016 election.