Georgia Trump Rally Attendees Stranded Waiting for Buses as Another Campaign Event Ends in Chaos
Supporters of President Donald Trump were left stranded overnight after a campaign rally in Georgia ended in chaos.
Thousands were bussed into the Richard B. Russell Regional Airport in Rome, leaving their cars in parking lots, but were left waiting for hours after coaches failed to pick them up.
The Georgia rally was Trump's fourth and penultimate campaign stop of the day, drawing a crowd of up to 30,000.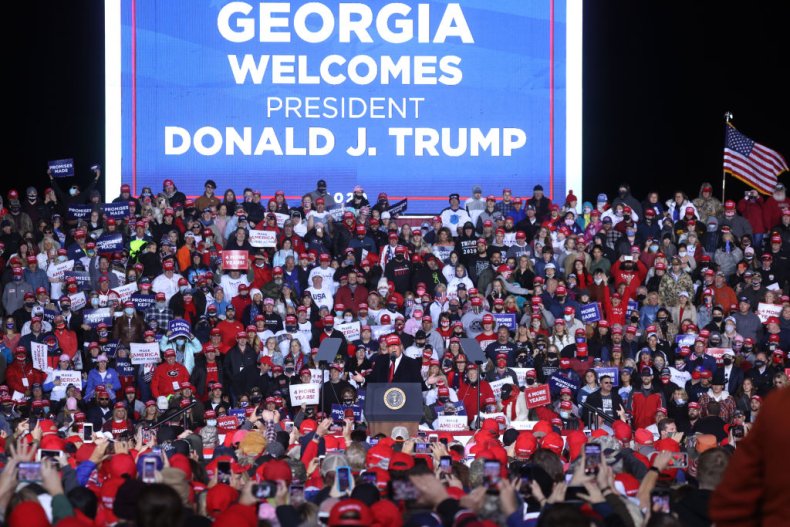 But chaotic scenes unfolded as the rally drew to a close around 10:30 p.m. EST with hundreds battling to exit the site and lining the road scrambling to get onto buses.
"Hours after the president departed for Florida, this was the scene in Georgia as people were left for hours waiting for buses to take them to their cars," NBC News reporter Julie Tsirkin tweeted just before 1 a.m. EST.
Tsirkin shared footage from the scene where supporters were seen crammed together sitting by the roadside.
"A chaotic scene where hundreds lined the road a mile up from where President Trump held his rally in Rome, GA — attempting to exit the event," Tsirkin added.
"Some people were sitting and laying on the ground. It's 46 degrees and windy in the area tonight.
"Some of the folks left stranded were older and disabled. Multiple people tried to hitch rides from strangers amid the pandemic."
"The single, narrow road to get in and out of the rally site was shared by pedestrians, cars, buses and emergency vehicles."
Another reporter at the scene described the event as a "logistical s**tshow."
"I came to tonight's Trump rally in Rome, GA over four hours early and only barely made it in because the lines were so long," Michael Tracey tweeted.
"There were people melting down left and right due to the logistical s**thow of leaving the event. Screaming matches between people over who gets to board returning buses, etc. I heard variations of 'this is the biggest nightmare...' shouted in frustration several times."
Other attendees voiced their frustration at the organisation of the event.
"Just left Rome. Very nice crowd. However standing for six hours is kind of rough," Jackson Doegg wrote over a live broadcast feed of the event.
"Don't forget the four mile walk there and back. But it was worth it."
Another man added: "The folks in charge of transportation were incompetent, gave no direction on the buses, had to walk 3 miles back to the mall. Worth it though, 4 MORE YEARS!"
With just two days to go until Tuesday's election, Trump has kept pace with a hectic schedule racing through battleground states.
His appearance in northwestern Georgia was the fourth of five rallies held over Sunday.
The former reality show star and real estate mogul told thousands of supporters that his aides told him he had the state made.
"They said 'Sir you don't have to come to Georgia'. We have it made. They said this morning, 'honestly, you can skip Georgia,'" Trump asserted with the confidence that he had already claimed victory in the state.
"In two days we will win this state, again... I shouldn't even have to be here, they say I have it made," he added. "Wait until you see what's going to happen with the great red wave."
The state, like much of the country, has seen record turnout in early voting.
A record of more than 93 million people have cast early ballots, including in-person and mailed votes, representing about 40 percent of eligible voters, according to the nonpartisan US Elections Project.
Trump will continue his marathon run of events with another set of five rallies scheduled for Monday in North Carolina, Pennsylvania, Michigan and Wisconsin.
The scenes in Georgia follow those in Nebraska after hundreds were left stranded after a rally in Omaha last week.
Several attendees were taken to hospital for hypothermia after hundreds were left wandering up to four miles in the cold after coaches failed to pick them up.