Gerald Pizzuto Jr., Terminally Ill Idaho Death Row Inmate, Granted Stay of Execution
A terminally ill death row inmate in Idaho has been granted a stay of execution so the state's Commission of Pardons and Parole can consider whether to commute his sentence.
Gerald Ross Pizzuto Jr. was scheduled to die by lethal injection on June 2 for the 1985 murders of Berta Herndon, 58, and her 37-year-old nephew Del Herndon.
On Tuesday, the Idaho Commission of Pardons and Parole granted Pizzuto's request for a commutation hearing. The hearing will be held in November and Pizzuto's execution has been stayed until then.
"We are so grateful Mr. Pizzuto will not be executed on June 2, and that the Commission has granted a clemency hearing for him," Deborah Czuba, supervising attorney with the Federal Defender Services of Idaho's Capital Habeas Unit, said in a statement provided to Newsweek. "We look forward to proving that he deserves mercy."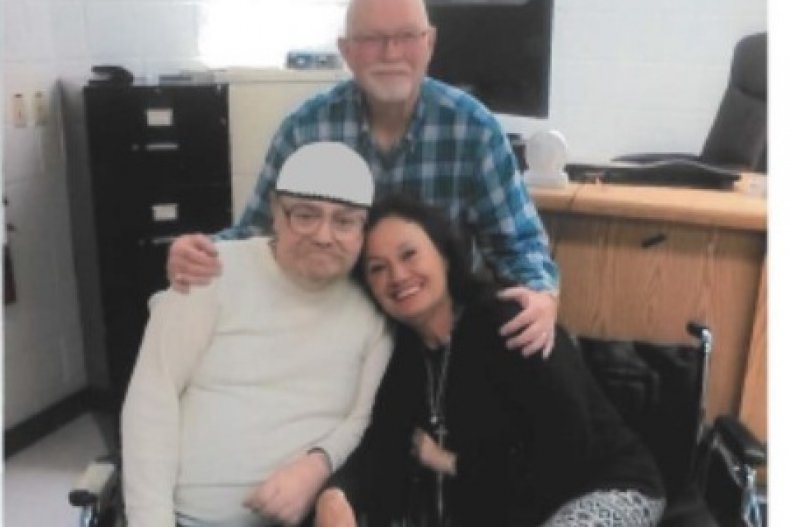 Pizzuto's attorneys had requested a commutation hearing in order to delve into his "ghastly childhood, history of brain damage since birth and brain injuries as a boy, as well as his current, terminal health condition."
In a clemency petition, they asked the state to let 65-year-old Pizzuto die naturally as he has terminal bladder cancer, chronic heart disease, diabetes and other illnesses.
They noted that he is confined to a wheelchair and has been on hospice care since late 2019, when doctors estimated that he wouldn't survive another year.
"Mr. Pizzuto has spent 35 years on death row and is now dying from cancer and other diseases," Czuba added.
"He also was brutalized throughout his childhood by his stepfather, a serial pedophile and sadistic man who beat, raped and humiliated him on a regular basis for years. Our hope is that he will be allowed to die naturally in prison."
The clemency petition included testimony from his sisters, claiming Pizzuto was regularly tortured, raped and brutally beaten by his stepfather from a young age and sometimes passed around to other men to be raped.
He also sustained multiple brain injuries that stunted his development, the petition said.
Earlier this week, the attorneys released a video where two of Pizzuto's sisters offered grim testimony describing the torturous childhood they had endured.
"He didn't have a chance... because it was just torture every day," said sister Elsie. "I look at my brothers and sisters and I feel like they've been through horror that most people couldn't survive."
Another sister, Angie, added: "Your mom and dad are supposed to protect you. They're supposed to feed you and they're supposed to clothe you and they're supposed to keep the monsters away from you. But the problem is sometimes your parents are the monsters."
Pizzuto was camping with two other men in 1985 when he encountered the Herndons.
Prosecutors said Pizzuto, armed with a .22 caliber rifle, went to the Herndon's cabin, tied their wrists behind their backs and bound their legs to steal their money.
He bludgeoned them both, and co-defendant James Rice then shot Del Herndon in the head. Another co-defendant, Bill Odom, helped bury the bodies.
Rice served around 12 years in prison on second-degree murder charges and is now behind bars in California for unrelated offenses. Odom served around a decade in prison, and died in 2014.