Gerald Pizzuto Jr, Terminally Ill Death Row Inmate, Asks State to Let Him Die Naturally
A terminally ill Idaho death row inmate has asked the state to let him die naturally rather than execute him by lethal injection next month.
Gerald Ross Pizzuto Jr.'s execution is scheduled for June 2. He was convicted in 1986 on two counts of first-degree murder in the deaths of Berta Herndon, 58, and her 37-year-old nephew Del Herndon.
This week, his attorneys announced they had filed a clemency petition on Pizzuto's behalf, asking the Idaho Commission of Pardons and Parole to commute his sentence to life without parole because he will likely die soon.
"I don't understand trying to kill somebody who is already dying," said his sister Angelinna Pizzuto, according to The Marshall Project.
Pizzuto, 65, is confined to a wheelchair and has been in hospice care for over a year, his attorneys in the Federal Defender Services of Idaho's capital habeas unit wrote in the petition. He has late-stage bladder cancer, chronic heart disease and other illnesses, they said.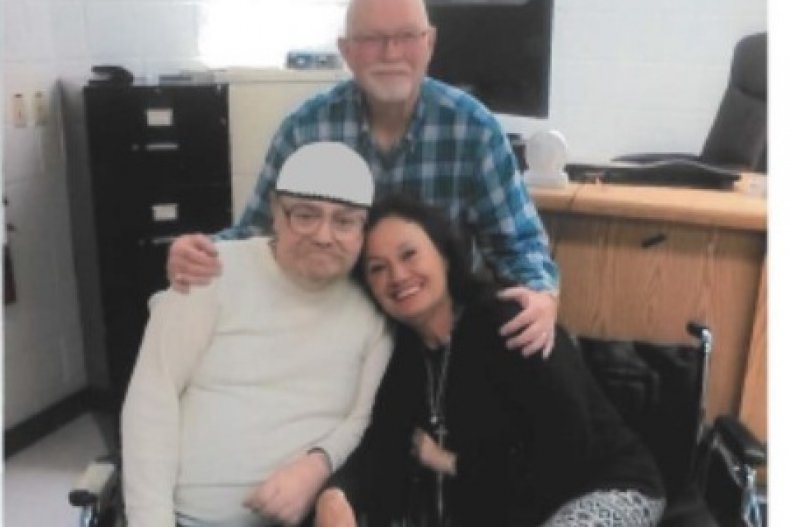 Pizzuto's doctors estimated he wouldn't survive more than a year in December 2019, they said. "He has begun experiencing memory loss and mild disorientation associated with the death process," the attorneys wrote.
His attorneys also said that Pizzuto has accepted responsibility for his role in the murders and is remorseful.
According to prosecutors, Pizzuto approached Herndon and her nephew with a .22 caliber rifle as they arrived at their Idaho mountain cabin in July 1985. He tied their wrists behind their backs and bound their legs to steal their money before bludgeoning them both.
"He has carried those regrets for 34 years on death row," Pizzuto's attorneys wrote.
They asked for a hearing to delve into Pizzuto's "ghastly childhood, history of brain damage since birth and brain injuries as a boy, as well as his current, terminal health condition."
Pizzuto was "raised by a monster," the attorneys wrote. His stepfather raped, beat and tortured him, starting from when he was 5 or 6, they said.
He beat him with a cattle prod, horse crop, broom and other items, and charged other adult men $10 or $20 to rape him, the petition said. Sometimes he and his siblings were forced to sleep in a doghouse and fed dog food.
Pizzuto suffered repeated brain injuries that further stunted his development, the attorneys said.
A motorcycle accident at the age of 14 "changed him," they wrote, making him prone to aggressive and violent outbursts.
He has spent 34 years in an isolated cell on death row, his attorneys also noted.
"The ravages of terminal cancer and heart disease punish him more every day, binding him to a wheelchair, a prisoner of his own failing body," they added.
"Once a battered and wounded little boy, Jerry is now a dying and broken old man. While it is too late to save that little boy, it is not too late to show Jerry Pizzuto mercy."
They added in a statement: "He poses no threat to anyone. Executing him would be a needless farce against his imminent death from terminal illness, as well as a waste of time, resources, and taxpayer money."
Pizzuto's attorneys have also requested a Supreme Court review into whether Pizzuto would have been found guilty had jurors been aware of a secret deal brokered between the trial judge, prosecutor and attorneys representing his co-defendant, James Rice. They guaranteed that Rice would serve no more than 15 years if he blamed Pizzuto for the murders.
Rice and another co-defendant, William Odom, had initially faced the same first-degree murder charges as Pizzuto, his attorneys say, but pleaded guilty to lesser charges in exchange for testifying against Pizzuto.
Rice testified that Pizzuto beat the victims alone and that it had been his idea to rob them. He repeatedly denied during his testimony that he had been promised leniency.
Rice ultimately acknowledged the deal in 2005, which led Pizzuto's attorneys to the records about the meeting and plea agreement, and also said the crimes had been Odom's idea.
Both Odom and Rice were released after serving 12 years behind bars. Rice is currently in prison in California on unrelated charges, while Odom died in 2014.
Pizzuto's attorneys also say a mistake made in an Idaho Supreme Court ruling in 2008 stated Pizzuto had shot Del Herndon when it was actually Rice, who admitting to doing so.
Update 14/5: This article has been updated to include additional information about the request for a Supreme Court review and to correct that James Rice shot Del Herndon.