Geraldo Says 'Conservative Media' Is Spurring on Canada's Trucker Protest
Fox News host Geraldo Rivera has said that "conservative media" is spurring on Canada's "freedom convoy" trucker protests even though Canadians largely oppose it.
"You know what is not that popular in Canada, Judge? This freedom convoy," Rivera said to former judge Jeanine Pirro and his other co-panelists on the Wednesday installment of the Fox News discussion program The Five.
Recent polling shows that "65 to 69 percent of Canadians oppose these truckers," according to Rivera.
While acknowledging that the protests are about vaccine mandates that some say impinge on individual freedoms, Rivera then asked, "What about the freedom of the homeowners to live in peace? The freedom of the shopkeepers to do business? What about the freedom of the autoworkers to get parts?"
"It is conservative media," Rivera added. "It is conservative media that has gone from support to incitement."
Rivera's co-panelist Greg Gutfeld then accused Rivera of being provocative.
"I actually read and do research," Gutfeld said. "I don't just come here and yell."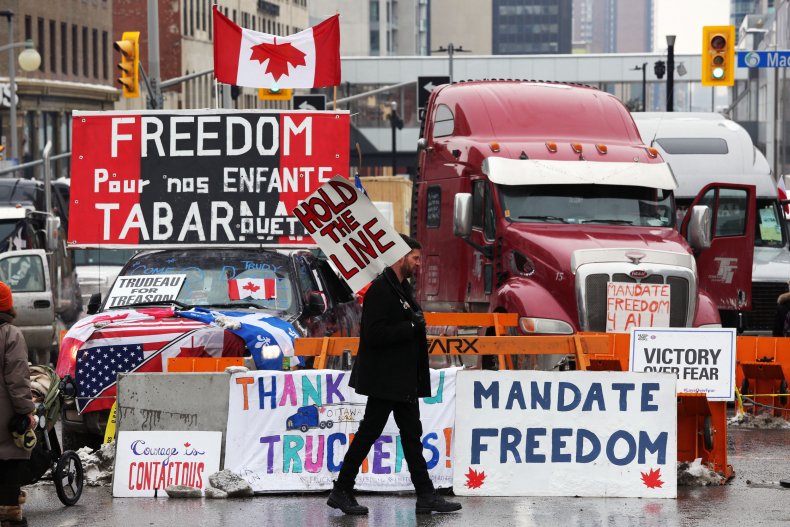 Right-wing media outlets—including Fox News, talk radio, podcasters and websites like Breitbart—have praised the truckers as heroic patriots, according to a CNN analysis. By February 9, Fox News hosts like Hannity, Tucker Carlson and Laura Ingraham devoted nearly eight hours covering the protest, media watchdog group Media Matters reported.
The Department of Homeland Security (DHS) has since warned that similar protests could begin in the U.S., according to a DHS warning circulated to law enforcement nationwide, first reported by Yahoo News.
The freedom convoy originally began as a protest against a vaccine mandate, instated in January, requiring all Canadian truckers who cross the U.S.-Canadian border to be fully vaccinated. Those who aren't vaccinated face a two-week quarantine when they return home.
An estimated 90 percent of Canada's truckers are fully vaccinated, and Canadian Prime Minister Justin Trudeau called the protesters a "small, fringe minority." However, over time, the convoy grew to include Canadians interested in ending all COVID-19-related government mandates, including reopening all venues and ending school mask mandates.
The protest eventually grew to block three major U.S.-Canada border crossings, congested downtown Ottawa and threatened to clog supply chains for local homes and businesses. Similar rallies have risen in the Canadian cities of Toronto, Quebec City, Vancouver and Winnipeg.
Trudeau invoked Canada's Emergencies Act earlier this week to break the blockades.
Recent polls have shown that Ottawan business owners have lost revenue because of the protests. At least one business owner told Newsweek that some protesters have harassed their employees, caused noise from constant horn-honking and witnessed public drinking, littering and urination from protesters.
Newsweek contacted Fox News for comment.