Gérard Depardieu Set to Lose Russian Citizenship After Condemning Putin
French actor Gérard Depardieu is set to lose his Russian citizenship after he condemned Vladimir Putin and Russia's war on Ukraine.
The movie star has had close ties to Putin since their friendship made headlines back in 2013 when the Frenchman announced he was seeking Russian citizenship after he was criticized for his decision to move abroad to avoid paying higher taxes.
However, the 73-year-old star of Cyrano De Bergerac has denounced Putin in recent days, prompting the Kremlin to consider revoking his citizenship.
"The Russian people are not responsible for the crazy, unacceptable excesses of their leaders like Vladimir Putin," Depardieu told AFP on March 31.
Members of the State Duma, one of the chambers of the Russian parliament, have spoken out against Depardieu's condemnation of Putin and called for his passport to be confiscated.
"I consider it important and necessary to talk about the need to cancel Gérard Depardieu's passport for his swaggering attacks and attempts to speak on behalf of the Russian people, who did not delegate him to make these statements," Russian MP Sultan Khamzaev said, per Russian outlet MK RU.
He added that the actor's real estate in Russia "must be expropriated and given to orphans."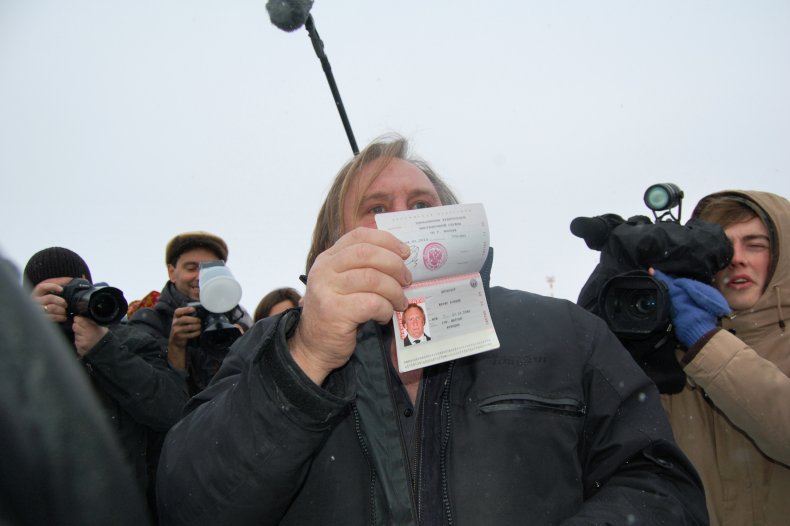 The press secretary of the president of the Russian Federation, Dmitry Peskov, said earlier that he thinks Depardieu doesn't fully comprehend what is happening as he isn't familiar with the political agenda.
"If necessary we would be happy to explain everything to him, so he has a fuller grasp on the topic," Peskov said, per Politico.
Depardieu also shared his objection to the "fratricidal" war and called on his friend Putin to commence negotiations when the conflict started back in at the beginning of March.
"Russia and Ukraine have always been brother countries," Depardieu told AFP in a phone call.
"I am against this fratricidal war. I say 'stop the weapons and negotiate,'" Depardieu said.
Depardieu's condemnation of Russia's invasion came in stark contrast to his prior defense of the Russian president just weeks ago.
According to outlet France 24, the actor appeared on French television and said: "Leave Vladimir alone."
Depardieu was banned from Ukraine in 2015 for five years for supporting Russia's annexation of Crimea at the time.
The Kremlin's war of words with Depardieu comes as Putin's friends in the West have been increasingly turning on the Russian leader.
Ukrainian President Volodymyr Zelensky made a surprise appearance at the 2022 Grammy Awards on Sunday night, where he urged viewers to "fill the silence" in Ukraine with music and to tell their story on social media and on TV.
"Our musicians wear body armor instead of tuxedos. They sing to the wounded. In hospitals. Even to those who can't hear them. But the music will break through anyway. We defend our freedom. To Live. To Love. To Sound," he said in his speech.