German Auction House Defends Selling Nazi Items, Including Copy of Hitler's Mein Kampf with $4,000 Starting Price
An auction house in Germany which has sparked outrage for selling hundreds of Nazi items—including clothing owned by Adolf Hitler—has defended its decision.
Hermann Historica auction house is due to sell 842 items linked to the Nazis in the German city of Munich on Wednesday.
In its description of the "German Historical Collectibles from 1919 Onwards" collection, the company states: "Connoisseurs of edged weapons, decorations or uniforms will be spoilt for choice in this section."
The lot includes a leather-bound edition of Hitler's antisemitic manifesto Mein Kampf, with a starting price of $3,868 (€3,500), as well as a top hat the Nazi dictator owned, and a cocktail dress worn by his wife Eva Braun.
Rabbi Menachem Margolin, chairman of the European Jewish Association, wrote to the auction house last week urging it to rethink the sale. He penned the letter almost exactly 81 years after Kristallnacht, when Nazis attacked Jewish people and buildings.
"This is not a legal appeal to you, but very much a moral one. What you are doing is not illegal, but it is wrong," the rabbi wrote.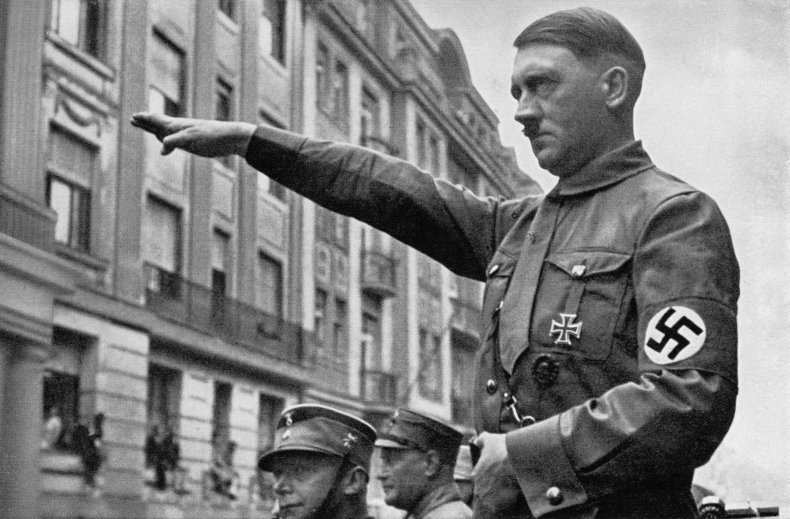 Margolin highlighted six million Jewish people were killed during the Holocaust and "today, across Europe and including Germany (which now has the highest recorded cases in Europe), antisemitism in on the rise [sic], and we believe the sale of such memorabilia has little intrinsic historical value but instead will be bought by those who glorify and seek to justify the actions of the greatest evil to affect Europe. The trade therefore in such items should simply not take place."
Margolin cited the recent case of a letter written by a child murdered in the Holocaust which was withdrawn from sale following a court case.
"The ensuing public pressure resulted in the cancelling of the sale. The message from society was clear and unambiguous: some things simply cannot be traded," Margolin said.
Bernhard Pacher, managing director of Hermann Historica told the Deutsche Presse-Agentur news agency the company is handling the sale with care, and is attempting to control who can bid on the items. Potential buyers—who can bid in person, online and over the phone—must register beforehand, he said.
Pacher said: "It's our job to prevent the wrong people from getting these things."
However, the auctioneer said: "But it's practically unavoidable to ensure that one person or another with the wrong ideology doesn't get into the mix."
"By far, the great majority of the customers who shop with us are museums, state-owned collections and private collectors, all of which meticulously deal with these issue," he said.
Pacher admitted the auction house can't control what clients do with the items once they are bought. He also said his business had been sent a number of letters since Margolin's plea, including some which were insulting.
In 2016, the auction house hit headlines after it sold a cache of Nazi memorabilia for more than than $663,000 (€600,000). The buyer was an anonymous individual from Argentina, who claimed the items were destined for a museum.
Lot items included a "finely woven field-grey cloth" jacket worn by Hitler which sold for $303,910 (€275,000), and silk underwear owned by former military commander Hermann Göring which went for $3,315 (€3,000).
At the time, the auction house batted away criticism of the sale, saying the pieces were of historical importance.