German Shepherd's Reaction to Being Left Home Alone Caught in Adorable Clip
A German shepherd named Dax has melted hearts all over the internet after a video of his reaction when his parents left him home alone went viral on social media.
In the video, shared on TikTok on Tuesday by the dog's owner, under the username Lifeofdaxshepherd, Dax can be seen looking confused as his owners left him home alone, first gazing out the window and then laying down on the sofa, patiently waiting for them to return.
The heartwarming post comes with a caption that says: "We left our dog home alone for 1-½ hours and checked him through our cameras. Here's what we saw... seems confused. Has accepted his situation. Wondering if we're ever coming back. Worried it's getting closer to dinner time. Think he was a little salty that we left him and also relieved that we came back."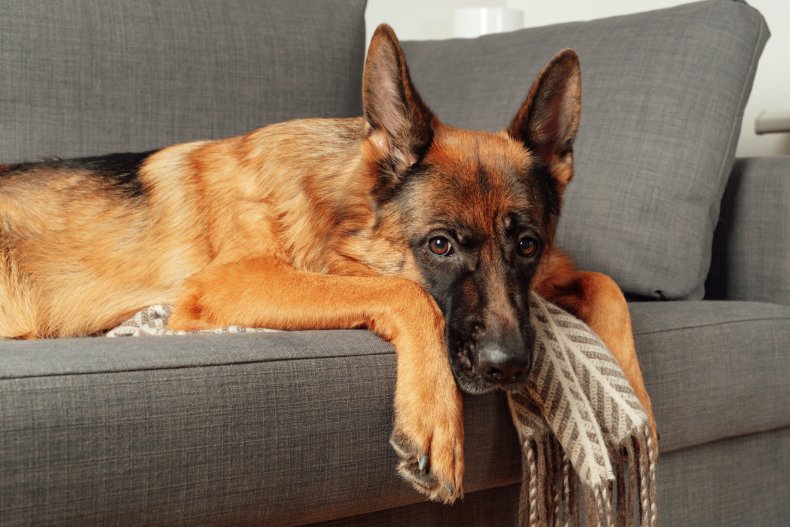 According to IFL Science, whether you're going out for a day or for a minute, your dog will always think you've just left them for good. Their website states: "Their eyes will widen, they will begin to whimper, and they appear to be thinking that that's it – they're alone forever."
The post quickly gained popularity on social media, attracting animal lovers from across the platform, and it has so far received more than 180,700 views and 6,000 likes.
One user, Emily Trott, commented: "Very well behaved my GSD she'll get into everything right now can't wait to leave her out her crate more often." And Hardip said: "Ohhh DONT ever do that to him again..!!!!"
Tori wrote: "Mine just barks and acts like I been gone for a year." And abseilen00 said: "Waiting, waiting, waiting." stephanieleon905 added: "10 minutes after I left, my beauceron is already sleeping..."
Another user, FZ-18915041, commented: "I like being at home I sit on Mums bed. Shhhhh don't tell her." And user5269672015437 said: "What a good boy! My dog would've chewed those blinds first thing lol."
Michelle Joyner563 wrote: "I always give my dog a treat as I'm leaving and leave tv on. It times itself off after 3 hours. She plays then snoozes til I come back."
Heidi said: "If I leave mine out (not in kennel) she poos on carpet, even though she is potty trained and goes potty right before we leave." And Angel Martinez wrote: "Aw first time couple of time we left our dog. We would check the camera and he would be howling the whole time. We felt so bad." Lisa added: "Ours just barks, stops and barks some more."
Newsweek reached out to Lifeofdaxshepherd for comment. We could not verify the details of the case.
Do you have funny and adorable videos or pictures of your pet you want to share? Send them to life@newsweek.com with some details about your best friend and they could appear in our Pet of the Week lineup.