Germany's Far-Right Youth Feels Unwelcome at LGBT Pride in Berlin
The youth wing of Germany's anti-establishment far-right party has complained that the organizers of Berlin Pride blocked it from participating in the LGBT community's biggest annual celebration.
The Alternative for Germany (AfD) party entered the country's parliament last year with the third largest share of the vote. Its nationalist rhetoric has outraged sections of the German public and drawn criticism from other parties for drafting unpassable legislation to appear like "victims" to their anti-establishment base.
The Junge Alternative has served as the party's youth wing since 2013 and recently made headlines when the AfD leader Alexander Gauland gave a speech to Junge Alternative activists, in which he said Adolf Hitler was mere "bird shit," in more than a millennium of otherwise successful German history.
The youth wing is now complaining about the decision to deny it a stall at Berlin's marquee Pride festivities at the end of July, the Berliner Zeitung newspaper reported.
In a Facebook post, David Eckert, the head of the Berlin chapter of Junge Alternative decried the fact his group was "not welcome" at Berlin's Christopher Street Day celebrations on July 28, according to a translation by The Local news site.
Eckert, 26, posted what he said was an email exchange between him and the event organizers who turned his request down, telling him that the parade needed a "climate of acceptance," which included accepting refugees, and besides, his application was too late in the year.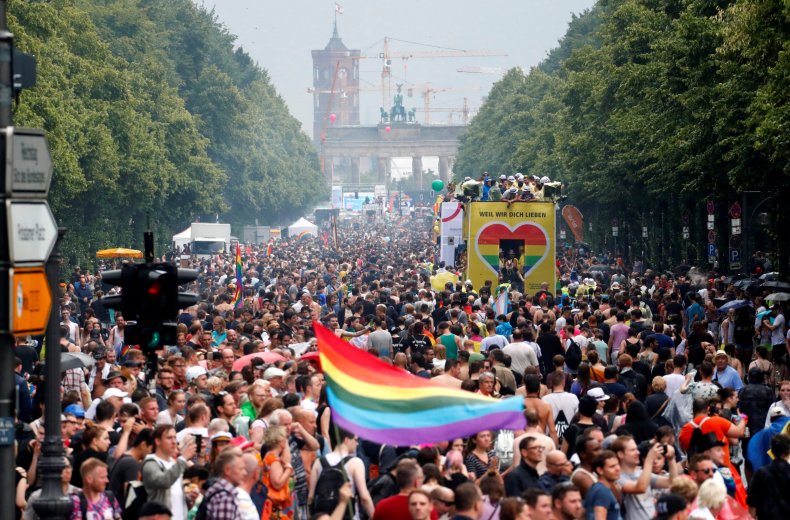 "Not every gay person wears vinyl and leather, struts around with a handbag and paints their nails," Eckert said and quoted a poll estimating that 12 percent of German LGBT voters supported the AfD. Eckert then asked the organizers if it was too early to apply for permission to participate in the 2019 Christopher Street Day festivities.
Related: Anti-Semitism is a sin in Islam, says Muslim leader in Germany
"In conclusion, I would like to say that anyone who preaches tolerance has to live with it themselves," he added.
The AfD has tried to broaden its appeal, and the arrival of current leader Alice Weidel in 2017 became a focal point in discussions about the party's attempts to rebrand its image. Although still staunchly anti-migrant and anti-EU, the group has sought to attract new voters, and Weidel, who is a lesbian, has been described as the "ideologically flexible" component in the party's leadership by influential German magazine Der Spiegel. However, the party is opposed to same-sex marriage, and threatened to bring a lawsuit against the German parliament over its move to legalize same-sex marriage last year, while Weidel was still a leadership candidate.