Will Gerrit Cole Leave the Houston Astros? Pitcher Could Land $280 Million Deal in Free Agency
Gerrit Cole could land the fifth-largest contract in baseball history this week, with a number of MLB franchises scrambling to secure his services in free agency.
According to The Athletic, the 29-year-old could put pen to paper on an eight-year deal worth between $250 million to $280 million. The latter figure would make him the fifth-highest paid in baseball history, after Mike Trout, Bryce Harper, Giancarlo Stanton and Manny Machado.
In March, Trout penned a $426.5 million-deal last with the Los Angeles Angels—the largest contract in the history of North American sports—while Harper signed a 13-year deal worth $330 million with the Philadelphia Phillies.
Stanton and Machado, meanwhile, have signed deals worth $325 million and $300 million respectively.
An eight-year deal worth $280 million would also be the longest for a pitcher since Mike Hampton penned a $121 million contract with the Colorado Rockies in 2000 and would surpass Zack Greinke's record in terms of highest annual average for a pitcher.
Greinke currently makes $34.4 million a year, but a $280 million deal would work out at $35 million per season for Cole.
Should the 29-year-old sign a $250 million deal, that would be enough to obliterate the current record in total value for a pitcher, which is held by David Price's deal with the Boston Red Sox, worth $217 million.
Cole has long been considered the brightest star of the 2019 free-agent class, with a number of teams vying for his signature and he could be receiving offers as soon as the MLB Winter Meetings begin this week.
Both Los Angeles franchises—the Dodgers and the Angels—are expected to table offers for Cole and could be very appealing to the pitcher, a native of Newport Beach, California, who went to college at UCLA.
The New York Yankees are also among the front runners for Cole's services and over the weekend Bob Klapisch of the New York Times reported the organization was ready to table a seven-year $245 million offer to Cole.
The Yankees have never offered an eight-year contract to a player before, but in the last 10 years they have signed Masahiro Tanaka and CC Sabathia to seven-year deals.
The 27-time World Series winners have long been admirers of Cole and missed out on him despite selecting the pitcher out of high school. with the 28th pick in the first round of the 2008 MLB draft.
Cole was drafted by the Yankees, but opted to attend college at UCLA instead.
From there he was then drafted with the first overall pick by the Pittsburgh Pirates three years later and remained in Pennsylvania until he was traded to the Houston Astros in January last year.
New York's offer would surpass Greinke's $34.4 million annual average, but could be trumped by both the Angels and Dodgers, should they opt to offer Cole a longer contract.
It is worth noting, however, that the Dodgers have only breached the $200 million threshold once in their history, when they signed Clayton Kershaw to a seven-year extension worth $215 million in 2013.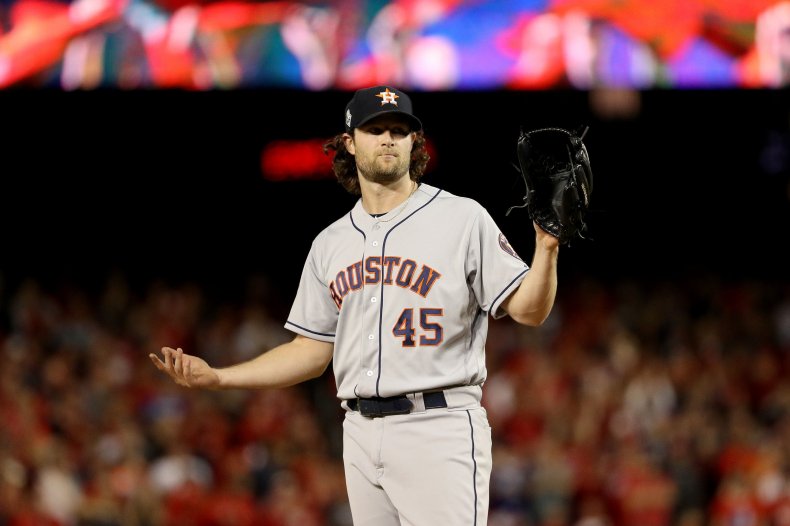 Cole recorded a strikeout rate of 39.9 percent in the regular season—the highest ever by a starting pitcher—and ranked first in the MLB with 326 strikeouts. He also ranked first in Wins Above Replacement (WAR), as measured by FanGraphs, and third in terms of earned run average (ERA) among qualified pitchers.
Cole, however, couldn't keep up his stellar figures as the Astros lost the World Series 4-3 to the Washington Nationals.
The 29-year-old saw his 19-game winning streak come to an end after 25 starts as the Astros lost Game 1, before rebounding in Game 5 as he held the Nationals to one run on three hits, while striking out nine batters in seven innings as Houston cruised to a 7-1 win.
That proved to ultimately be in vain as the Nationals came back from 3-2 to win the last two games in Houston.