Gaza Shootings Photographer: 'You Realize the Amount of Luck Involved in Being Able to Just Walk Away' | Opinion
A series of protests between March 30 and May 15 on the Gaza-Israel border resulted in the deaths of roughly 110 Palestinians, as Israeli soldiers fired live ammunition and toxic tear gas across the border in an attempt to temper demonstrations that were largely peaceful.
On May 14, Israeli soldiers killed roughly 60 Palestinians and wounded over a thousand as demonstrations coincided with the controversial opening of the U.S. Embassy in Jerusalem.
I recently returned from Gaza, where working as a Getty Images photographer, I captured not only the combat, but the human element of a conflict that has raged on for decades.
In Pictures: U.S. Embassy Move to Jerusalem Sparks Violent Clashes Between Israeli Troops and Palestinian Protesters
---
I took this photo on the first afternoon that I arrived and ventured very close, possibly too close, to the fence that divides Gaza and Israel.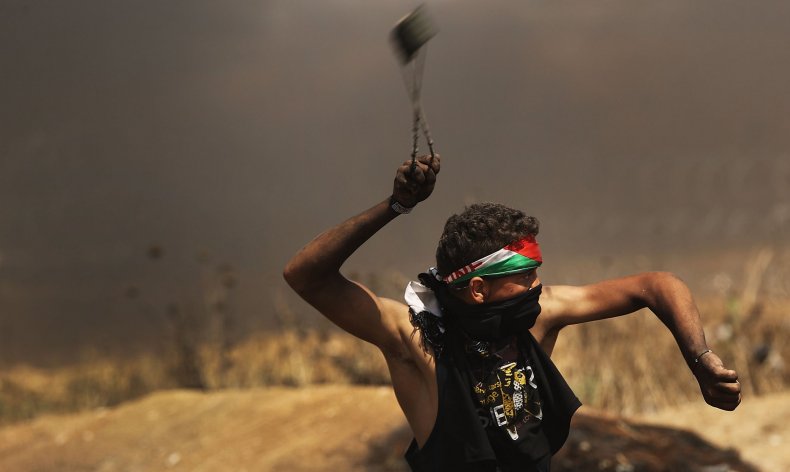 The Israeli Defense Force was shooting live ammunition across the border and a number of people were being shot within just several feet of where I was standing. I was snapping hundreds of shots and this photo was quite spontaneous, but I think it shows the classic Palestinian struggle: A young man hurling rocks into a country that is responding with real bullets and toxic tear gas.
When you take a step back from the "front lines" you realize the amount of luck that is involved in being able to just walk away.
---
This photo was taken in Rafah, a town near the Egyptian border, during the funeral for Jamal Affana, a 15- year old who died from a gunshot wound during the protests at the border fence.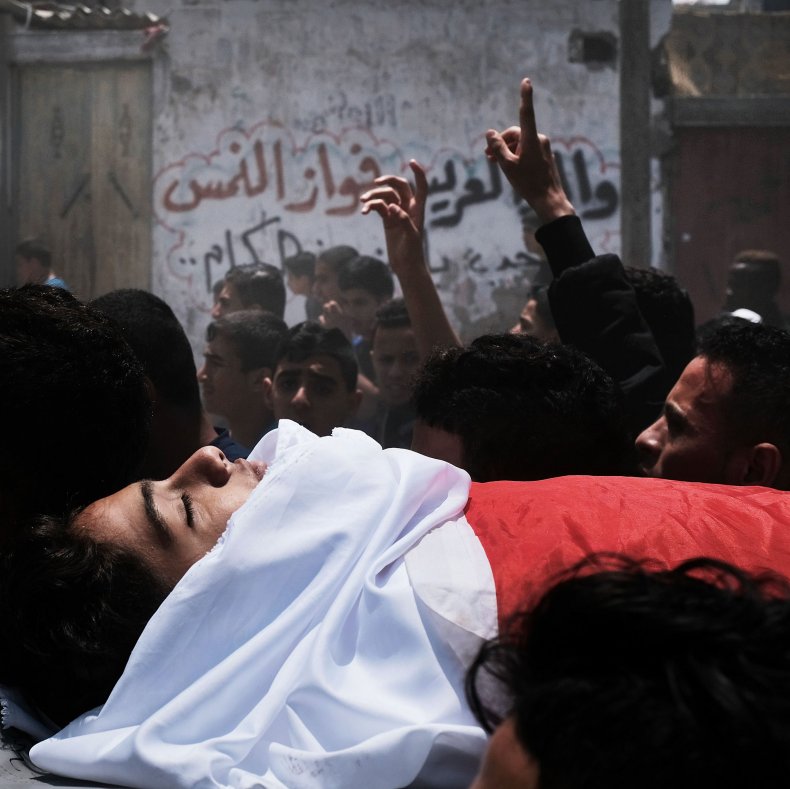 Funerals in Gaza are very chaotic and emotional, and this was no different as hundreds of people were flowing down narrow streets carrying Affana's body.
Most teenagers in Gaza, many around the same age as Affanna, are equipped with smartphones that give them access to the outside world. (The Israeli military has imposed a land, sea and air blockade on the Gaza Strip for more than a decade, cutting off the Palestinian territory from the outside world.)
With such high unemployment and poverty rates in Gaza, young people are left without much to do and often talk about "getting out." It is deeply saddening that Affana will never get that opportunity.
---
The area immediately around the border fence is so chaotic, and many of my photos tend to be bloody or filled with dozens of hands and arms. But several hundred yards away from the fence the mood is very different—families are gathered for picnics, vendors are selling food, and people are gathering for prayer.
This photo depicts a moment of solitude where a woman, whom I didn't meet, looks very poised and calm while using a phone to record the situation around her.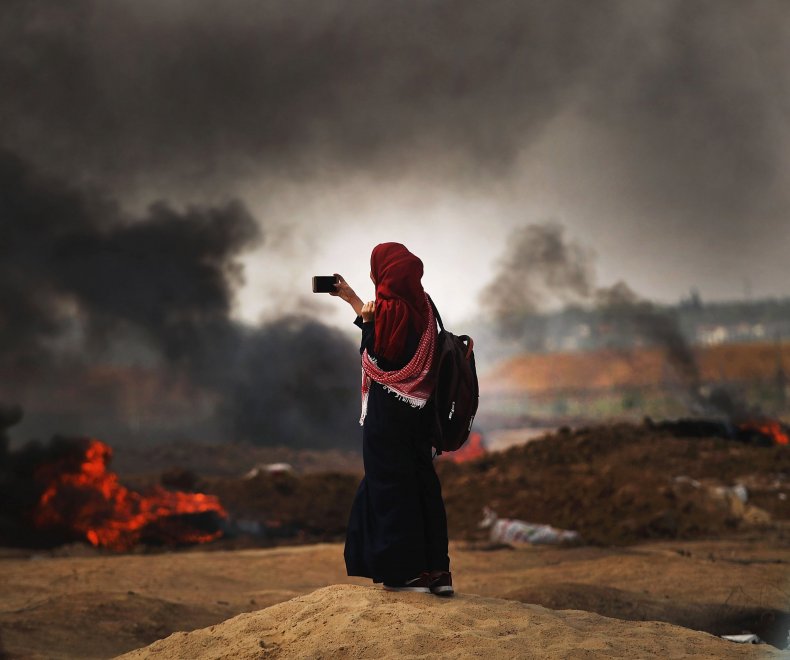 ---
The death of eight-month-old Leila Anwar Ghandoor, pictured here, became a point of contention among the Israeli Defense Force and the Palestinians.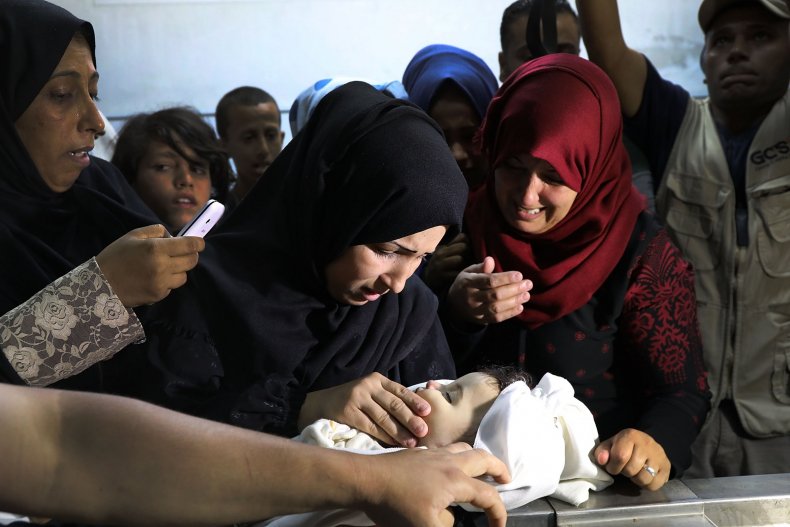 Anwar was with a relative during the violence at the border fence when tear gas canisters were fired at the crowds. Later, rumors began to swirl that Anwar suffered from congenital heart defect that might have actually caused her death. The Israeli military issued claims, unsupported by evidence, that it held information that disproved the family's account. The disagreement around the death of a baby shows that nothing is sacred in this war anymore and how far away the two sides are from peace.
Images like this one have proven to be very powerful during times of conflict as they often spread across the world and tug at the heartstrings of people thousands of miles away. In a sense, Anwar has become the face of the recent spate of violence in the region.
---
Though the demonstrations are often fast-paced and violent, there are ebbs and flows in which protesters take time to pray, smoke a cigarette or grab a cup of tea. Here, these men are only a few hundred feet from the border fence as they gather to regroup before pushing forward again.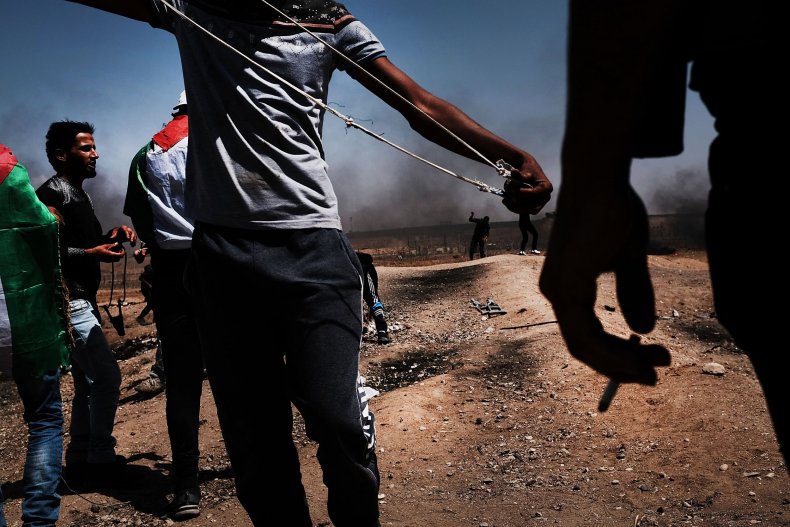 I remember feeling very vulnerable here as Israeli snipers are in position across the border and one stray shot could result in the loss of a limb, or worse yet, death. But, photographing conflict requires incurring a certain amount of risk to capture the most poignant photos.
Spencer Platt is an award-winning photographer who joined Getty Images in 2000. He has covered conflicts in Afghanistan, Iraq, Congo and Ukraine. In 2007, he received the World Press Photo of the Year award for his picture of young Lebanese survivors surveying bombing damage in Beirut during the Lebanon-Israel crisis of 2006.
The views expressed in this article are the author's own.
Updated | This article was updated to include a new photograph.