Ghislaine Maxwell's Brother Defends Prince Andrew, Says FBI Ignored Accuser's Evidence
Ghislaine Maxwell's brother defended Prince Andrew from Jeffrey Epstein sex abuse allegations—and took a swipe at the royal's accuser.
Ian Maxwell spoke on BBC Radio 4 to defend his sister as her trial on sex trafficking charges at the end of the month approaches.
She is Epstein's former lover and accused of grooming underage girls for the New York financier to abuse between 1994 and 2004, which she denies.
Ian Maxwell was asked whether the motivation behind prosecuting his sister was her link to Prince Andrew.
He said: "Clearly she was, she is, a good friend of Prince Andrew, I don't know when the last saw time they saw each other.
"But I don't think the U.S. authorities have decided to pursue Ghislaine because of Prince Andrew.
"You have a situation where one of the most vociferous accusers, a lady called Virginia Giuffre, has decided to pursue Andrew in spades.
"But what's interesting about that particular accuser, who as I think I said is perhaps the best known and most vociferous, is that she is not one of the accusers at my sister's trial.
"And I think that's very significant because had she had evidence that the U.S. authorities believed could be stood up at trial then surely they would have used that evidence.
"Equally, the Metropolitan Police quite recently turned down, for the fourth time, in this country, a decision to pursue or go into further detail of the alleged meeting between Andrew and her and Ghislaine back in 2001. So I think that speaks for itself."
Ghislaine Maxwell and Prince Andrew were friends for decades and the royal says she was the one who introduced him to Epstein, though she gave a different account in a past deposition.
Giuffre accused Andrew of rape and intentionally inflicting emotional distress in a civil lawsuit filed in New York.
She says she was forced to have sex with him by Maxwell and Epstein in London, New York and the U.S. Virgin Islands in the early 2000s and feared for her life if she refused.
Queen Elizabeth II's son denies the allegations and launched an assault on her credibility in his formal response to the case.
The prince's lawyer wrote in a court filing: "For over a decade, Giuffre has profited from her allegations against Epstein and others by selling stories and photographs to the press and entering into secret agreements to resolve her claims against her alleged abusers, including Epstein and his ex-girlfriend, Ghislaine Maxwell.
"Most people could only dream of obtaining the sums of money that Giuffre has
secured for herself over the years."
However, Giuffre's attorney, Sigrid McCawley, said in a statement released to Newsweek: "If Virginia Giuffre had stood silent in the face of the outrageous statements like those Prince Andrew routinely churns out—his motion to dismiss the litigation being no exception—the decades long sex trafficking ring his friend Jeffrey Epstein operated and he participated in would have never been exposed. We are humbled by Virginia's bravery.
"On the subject of money, let's be clear: the only party to this litigation using money to his benefit is Prince Andrew."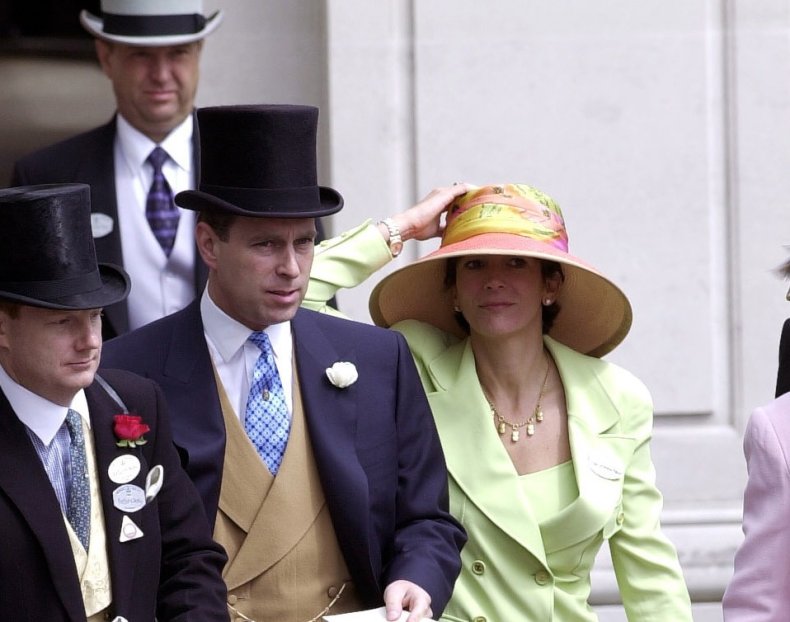 In the BBC interview, Ian Maxwell said his sister was being pursued by prosecutors because Jeffrey Epstein's death robbed them of the chance to secure a meaningful conviction against the financier.
He said: "I think there's a very strong likelihood that she would not be in the position that she finds herself in had he lived."
He added: "I'm not here to go against the accusers or talk about innocence and guilt.
"The reason I think this is a difficult process is because the way in which the authorities have chosen to proceed against my sister and to lock her up in isolation is wrong.
"It is an abuse of her human rights and an abuse of the due process that has taken place.
"It's not a question of the allegations not being serious or being very serious, of course they're serious, but there has to be an equality of arms in a situation where Ghislaine is effectively on trial for her life because we're looking at a very, very long sentence should she be found guilty.
"And therefore her right to defend herself against these allegations I think has been severely impeded."