Ghislaine Maxwell's Lawyers Say Inmate Threatened to Kill Her for Money
Ghislaine Maxwell's lawyers say an inmate threatened to kill her, saying an extra 20 years in prison would be worth it for the money she would be paid for the murder.
The British socialite is awaiting sentencing for Jeffrey Epstein-related sex trafficking offences, after being found guilty following a high-profile trial in December 2021.
Her team has asked a judge to give her a sentence significantly below the 20 years recommended by probation officers.
Among their evidence, they say one inmate at the Metropolitan Detention Center, in Brooklyn, told other prisoners that "an additional 20 years' incarceration would be worth the money she'd receive for murdering Ms. Maxwell."
A court filing, seen by Newsweek, read: "Just recently, Ms. Maxwell was the target of a credible death threat from a fellow inmate.
"On information and belief, one of the female inmates in Ms. Maxwell's housing unit told at least three other inmates that she had been offered money to murder Ms. Maxwell and that she planned to strangle her in her sleep.
"The inmate who made the threat has been moved to the SHU [special housing unit], presumably to protect Ms. Maxwell.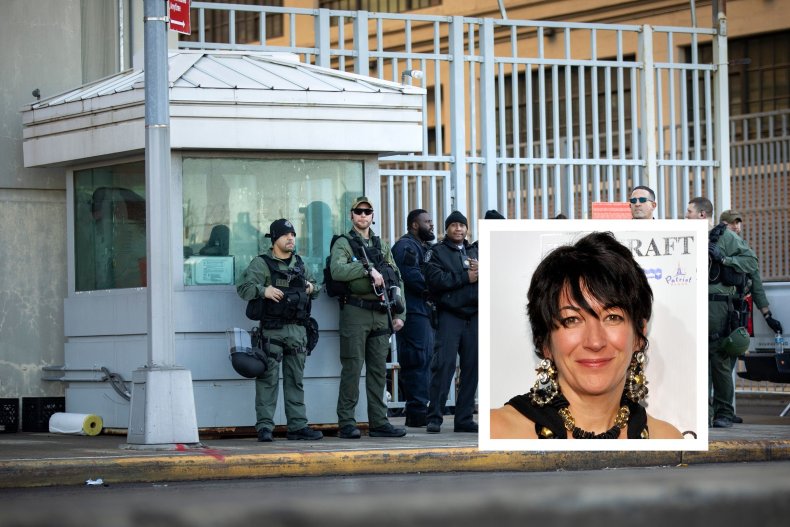 "This incident reflects the brutal reality that there are numerous prison inmates who would not hesitate to kill Ms. Maxwell—whether for money, fame, or simple 'street cred'."
Maxwell's trial heard how she groomed girls for Jeffrey Epstein to abuse and was a key figure in his prolific offending.
Quoted by The Guardian, one victim, named as Carolyn, told the court: "I was getting fully nude, and she came in and felt my boobs and my hips and my buttocks and said ... that I had a great body for Mr Epstein and his friends. She just said that I had a good body type."
Epstein was found dead in his jail cell at the Metropolitan Correctional Center, in Manhattan, in August 2019 after apparently taking his own life, though his death sparked conspiracy theories alleging foul play.
Maxwell was found guilty on five out of six charges and is due for sentence on June 28.
Since the verdict, she has been moved into the general prison population, whereas previously she was kept away from other prisoners and watched closely by guards, the court filing said.
It added: "Ms. Maxwell has already experienced hard time during detention under conditions far more onerous and punitive than any experienced by a typical pretrial detainee, and she is preparing to spend significantly more time behind bars.
"Her life has been ruined. Since Epstein's death, her life has been threatened and death threats continue while she is incarcerated.
"It would be a travesty of justice for her to face a sentence that would have been appropriate for Epstein."
Her lawyers pointed to her "traumatic childhood" with media mogul father Robert Maxwell, a U.K. tycoon comparable in fame and influence to Rupert Murdoch prior to his death in 1991.
Their filing read: "She had a difficult, traumatic childhood with an overbearing, narcissistic, and demanding father. It made her vulnerable to Epstein, whom she met right after her father's death. It is the biggest mistake she made in her life and one that she has not and never will repeat."
For more royal news and commentary check out Newsweek's The Royal Report podcast: