Ghislaine Maxwell 'Should Start Naming Names' to Shave Years off Sentence
Ghislaine Maxwell should ditch her appeal and "start naming names" to avoid spending most of the rest of her life in jail, a lawyer told Newsweek.
The British socialite was handed a 20-year sentence by Judge Alison Nathan during a nearly four-hour hearing where victims gave emotional statements about the impact of abuse by her and Jeffrey Epstein.
The sentencing guidelines in Maxwell's case had an upper limit of 19 years, but Nathan went beyond those guidelines to impose a sentence of 20 years.
Neama Rahmani of West Coast Trial Lawyers, told Newsweek Maxwell will likely be able to get her sentence down to 15 years through a mixture of time already served and good behavior.
That means victims have been denied what some asked for—a sentence that ensures Maxwell will die in prison.
However, Rahmani added that the 60-year-old still faces spending most of the rest of her life behind bars, until age 75, unless she co-operates.
"Now that she's been sentenced does she finally start co-operating? Because you can get a reduction. She really should start naming names," he said. "If she finally realizes that 'hey, I'm going to spend almost the rest of my life in prison unless I start co-operating,' maybe she does start. The government can come back and request a reduction after the fact. Her family members have said she won't, but you never know."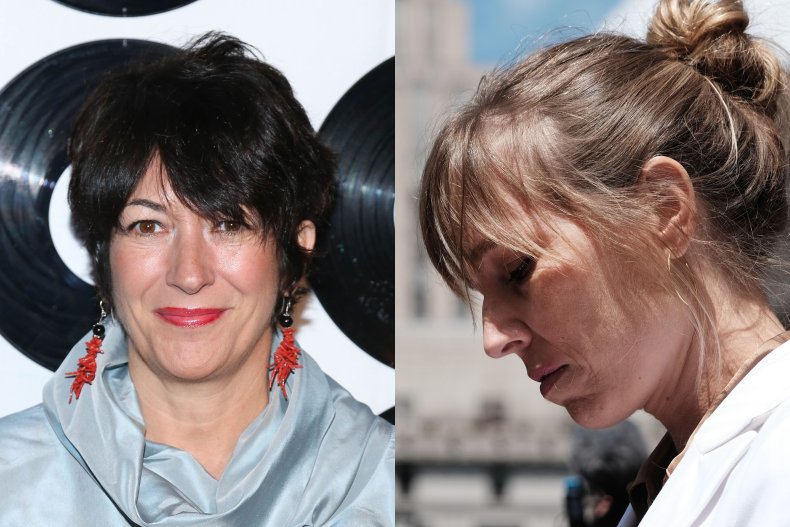 "She could work off the 15 years by co-operating, she could name names, testify against others, grand jury, shave off significant time," Rahmani said. "There's really two very distinct paths for Ghislaine Maxwell here, she either takes her chance on appeal or she goes down the cooperation route. It's really one or the other."
Maxwell's legal team has indicated they will appeal against her December 2021 conviction in an effort to force a new trial.
However, Barry Salzman, who has previously represented 20 Epstein victims, said her prospects for succeeding at appeal may be limited.
Salzman, a partner at Barasch McGarry Salzman & Penson, told Newsweek: "I don't believe they are going to be successful on appeal, my opinion is that I don't think there will be any success on appeal. The verdict will stand and the sentence will stand."
"While we're a bit disappointed the court didn't impose a higher sentence, this sentence definitely recognizes the severity of Maxwell's conduct, the shocking and extensive nature of it," Salzman added. "It's again less than what the prosecutors had asked for but it's higher than the sentencing guidelines."
"I think that is positive. It's a stiff sentence, I wish it was more, but I do think that it certainly will bring some measure of justice and closure to the victims," Salzman said. "I would have preferred to see something more in the neighborhood of 30 years. So, 20 years for a woman in her early 60s is still a pretty severe sentence."
Sarah Ransome, a victim of Maxwell and Epstein, did not take part in the trial, but issued a powerful victim impact statement at sentencing in which she outlined two suicide attempts that she said were "near-fatal."
Her statement, seen by Newsweek, read: "On one visit to the island, the sexual demands, degradation and humiliation became so horrific that I tried to escape by attempting to jump off a cliff into shark-infested waters, but was caught by Maxwell and company moments before jumping. At the time, the extremely risky escape seemed more appealing than being raped one more time."
Quoted by the BBC outside the court, she said: "Ghislaine must die in prison because I've been in hell and back for the last 17 years."
Annie Farmer, a Maxwell victim who testified at the trial, described her experience in her statement: "This toxic combination of being sexually exposed and exploited, feeling confused and naïve, blaming myself all resulted in significant shame."
"That sickening feeling that makes you want to disappear. It was not constant but would come in waves, similar to the waves of anxiety that would also show up," she said. "When I think back, I see a slideshow of moments when these feelings would surface and overwhelm me.
"I remember sitting at my desk in a Houston hospital physically shaking after seeing the photo of Maxwell with Virginia Giuffre and Prince Andrew because it became clear to me how their scheme had continued; the time an unexpected security screening from a TSA agent who patted down my chest with the back of her hand left me crying and disoriented at the airport; a 40th birthday gathering where I broke down crying telling the story to some friends for the first time," she continued.
"It was pretty powerful testimony from the victims, particularly the one who talked about her suicide attempts and how she would jump into shark-infested waters to try to escape," Rahmani told Newsweek "Ultimately, I know the government wanted more—they wanted 30 years. Judge Nathan, she's fair but she's considered fairly liberal. She's not a very harsh sentencer. She's not one of those that generally goes above the guidelines but she did in this case."