'Ghost of Tsushima' Review Roundup: What the Critics Are Saying
Sucker Punch's latest single-player adventure, Ghost of Tsushima, is coming out July 17 on PlayStation 4 and early reviews are in: It looks like Sony will have another hit on their hands.
The embargo for reviews has lifted and outlets like IGN, Game Informer and Kotaku have shared what they liked and disliked from the first-party game. Some outlets are being vocal about just how much they enjoyed Jin's journey through a war-torn Japan, while others are saying they feel it fell a little short.
Here's a roundup of some outlets' reviews of Ghost of Tsushima. And be sure to read our own review of the latest PS4 exclusive, here.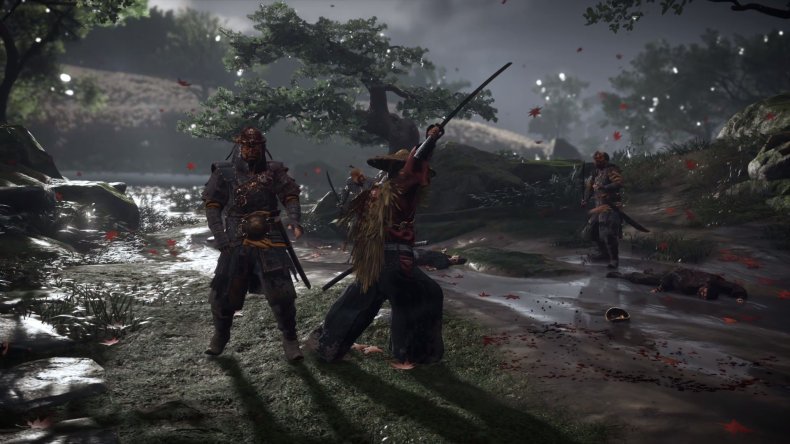 GAME INFORMER - 9.5
Game Informer gives Sucker Punch's latest title a 9.5 out of 10, citing its soundtrack, the beautiful environments and somber story as a must-have for PS4 owners.
"At turns both melancholy and thrilling, Ghost of Tsushima is the open-world action formula at its most mature and immersive. Deep, rewarding, and hard to put down," writes Matt Miller.
Read Game Informer's review of Ghost of Tsushima here.
IGN - 9.0
IGN gave Ghost of Tsushima an impressive score of 9.0 out of 10, giving positive marks for the soundtrack, gorgeous visuals and especially the combat.
"Ghost of Tsushima's combat is like a witches' brew made with bits of the Batman Arkham series, the pre-Origins Assassin's Creeds, Sekiro: Shadows Die Twice, and the entire library of Kurosawa films," Mitchell Saltzman wrote.
He also noted that the ability of the main protagonist to learn and change his fighting style at the push of a button prevents the combat from becoming stale.
Read IGN's full review of Ghost of Tsushima, here.
GAMESPOT - 7.0
GameSpot gave Ghost of Tsushima a solid 7 out of 10 score. Like the other two outlets, GameSpot's Edmond Tran praises the game's open-world environment and stylish combat.
However, Tran says the open-world structure of Ghost of Tsushima often feels "dull" and the camera positioning and environmental objects can make battles tougher than they should be.
"The biggest camera issues regularly arise when fighting in tight spaces indoors, or in cluttered areas like enemy encampments (of which there are many) where tents, fences, crates, and other such environmental objects exist," writes Tran.
Read GameSpot's full review, here.
KOTAKU - NO SCORE
Kotaku doesn't give review scores, but writer Ian Walker has plenty to say about the game.
He, like others, enjoyed the fluid combat and landscapes, but the tedious missions and an uninspired protagonist (as he described them) are not selling points.
"Jin isn't sympathetic or interesting enough to care about. Any growth he shows over the course of the game deals entirely with his approach to warfare, rather than the imbalances within the society he seeks to protect or even his own responsibility for maintaining them," writes Walker.
Read Kotaku's review here.
Ghost of Tsushima is scheduled to be released on July 17 for PS4.
Are you excited for the release of Ghost of Tsushima? What is your favorite game of 2020 so far? Let us know in the comments section.