Giant COVID Vaccine Registration Details and How to Book an Appointment
The Giant Company, the supermarket chain with stores in Pennsylvania, Maryland, Virginia and West Virginia, is offering COVID-19 vaccinations at select locations. Those eligible can register to receive a vaccine by booking an appointment at the company's website.
Shots are "not yet available in all" stores, the site notes, and customers are encouraged to check for updates on when, where and to whom immunizations will be provided.
"Priority groups are determined by federal and state public health officials," it adds.
How to book COVID-19 vaccinations at Giant
Appointments must be booked online and cannot be scheduled by calling your local Giant pharmacy or customer services.
"By scheduling an appointment ... you are attesting that you meet vaccine eligibility requirements as determined by state health department officials," the company notes.
Those eligible to receive the vaccine can click on the "vaccine scheduler" icon at the company's website. This opens up a new page where users can enter the zip code for the area near where they want their appointment in a search box and click the "go" icon below it to view a list of venues.
The website advises: "This does not have to be the ZIP Code for your home address, your billing address, or any other particular address. You can use the ZIP Code for any area where you want to search for appointments, which may be near your home, your place of work, or some other convenient location.
"Please note that in early phases of COVID-19 vaccine distribution, appointment times may be limited. If you do not see an available appointment in your zip code, please check this site at a later time."
After their appointment has been booked, users should receive email confirmation.
"Please check your confirmation email for directions on filling out the consent form ahead of your appointment. Additional screening may be required at time of immunization," the company advises.
When customers receive their first dose, the company says it will schedule a second dose appointment on their behalf.
Vaccines are subject to availability. "As additional quantities of the vaccine become available, we will provide updates to our customers and communities," the company notes.
See the Giant website for more information about COVID-19 vaccines.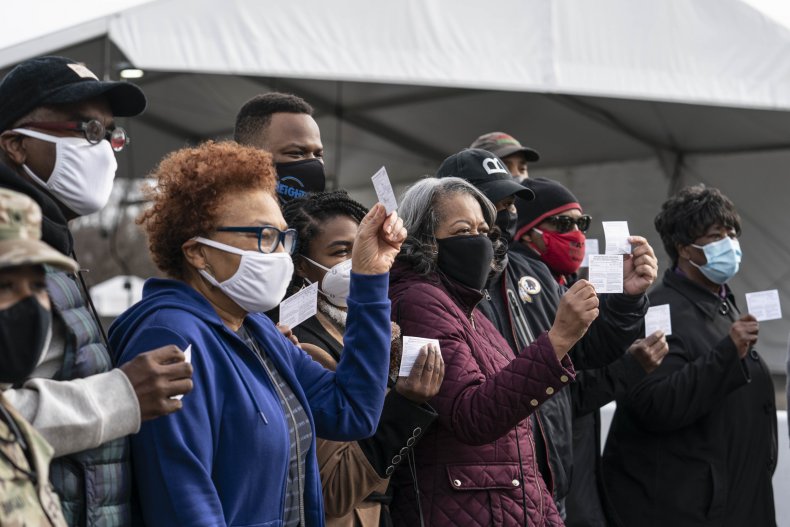 The wider picture
The novel coronavirus has infected more than 109.2 million people, including over 27.6 million in the U.S., since it was first reported in Wuhan, China.
Over 2.4 million people have died worldwide and more than 61.3 million have recovered as of Tuesday, according to Johns Hopkins University.
The graphic below, produced by Statista, illustrates countries with the highest number of COVID-19 vaccine doses administered per 100 people.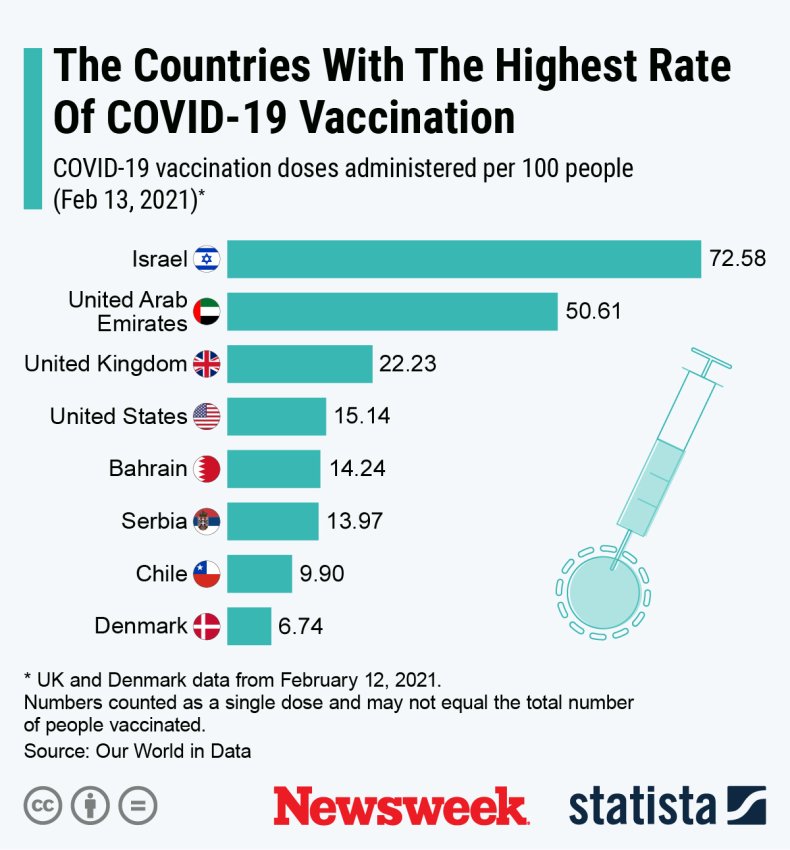 The graphic below, also produced by Statista, illustrates the spread of COVID-19 cases in the U.S.