Giant Hogweed: New York Officials Warn Residents About Dangerous Plant That Causes Serious Burns, Blisters and Scars
The state Department of Conservation has warned New Yorkers to be wary of a noxious plant—giant hogweed—that can burn the skin and cause permanent scarring.
Although the department reported it was making "substantial headway" in the fight against giant hogweed, commissioner Basil Seggos warned the threat was still very real.
In a statement, he urged New Yorkers to be "vigilant" and report sightings of the plant to the Department of Conservation, "especially during the next few weeks as the plants begin to bloom and become more noticeable."
Giant hogweed, or Heracleum mantegazzianum, is a very large, green plant topped by umbrella-shaped clusters of small, white flowers. When flowering, individual plants can reach between eight and 14 feet tall, the department noted in the statement. Their leaves can span some five feet across.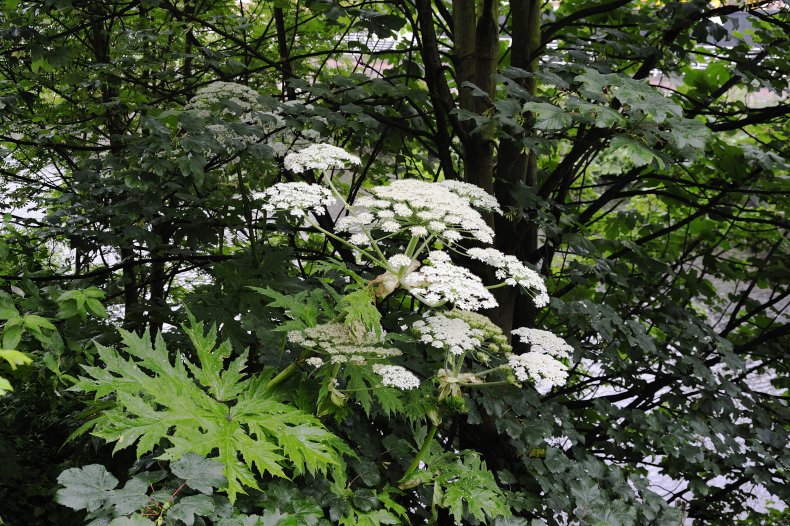 The plant's sap makes skin more sensitive to sunlight, causing blisters and serious burns. Skin typically becomes most sensitive between 30 minutes and two hours after exposure, the department's website states. But it can become sensitive just 15 minutes after touching the plant. Injuries usually develop within 24 to 48 hours of exposure.
Anyone who touches the plant should immediately wash the affected area with soap and water, and seek shelter from the sun, the department advises online. Staying inside and out of the sun for a couple of days is recommended. It is important to seek medical attention if you believe you have been burned by giant hogweed.
"If sap gets in the eyes, rinse eyes with water and wear sunglasses," a spokesperson from the department told Newsweek. "Seek medical treatment immediately if a rash develops."
Scars from burns and blisters usually heal within a few months, but they can last up to six years, the department website states.
The spokesperson added: "If a reaction has occurred, the affected area may be sensitive to sunlight for a few years and should be covered or kept out of the sun whenever possible."
The invasive plant originally comes from Russia and Georgia. It spread throughout Europe and North America after being transported as an ornamental plant, according to the non-profit Centre for Agriculture and Bioscience International.
Today, the plant is found in several U.S. states beyond New York, including Washington, Michigan and New Jersey.
Giant hogweed was spotted for the first time in Virginia in June 2018, officials reported at the time. Roughly a month later, a teenager was treated for serious burns after unknowingly chopping down a giant hogweed plant in the state.
In New York, the plant is most often found in the Central and Western areas of the state, a conservation department spokesperson told Newsweek. Although it "prefers areas with abundant light and moist soil," it's also found in shadier areas.
Giant hogweed "can be found growing along streams and rivers, open fields, wooded areas, yards, gardens, and roadsides anywhere across the state," the spokesperson added.
In New York, officials are confident they are tackling the state's giant hogweed population. Seggos said: "With the assistance of our local partners, DEC's Giant Hogweed Program has made excellent progress in removing this dangerous invasive from New York communities."
According to the latest annual report, teams removed some 678,000 plants from 1,271 sites last year.
Over twelve years, the Giant Hogweed Program has eradicated 623 sites in the state. 118 of these sites have been newly-declared eradicated. 448 sites are plant-free, but haven't yet met the criteria for eradication designation.
The report lists a total of 2,484 confirmed sites, of which 1,861 are being monitored or treated. 223 sites are newly-identified.
Roughly 84 percent of all sites (1,005) are thought to have less than 100 plants. 205 have between 100 and 399 plants and 203 have more than 400.
The conservation department asks New Yorkers who believe they have spotted the plant to email details to ghogweed@dec.ny.gov, text 518-320-0309 or call the Giant Hogweed Information Line at 1-845-256-3111. The department responded to more than 2,400 calls and emails last year.
Sharing photos and reports with the department is "the most important thing" members of the public can do to help support eradication efforts, the state department spokesperson said. "While the possibility of getting burned is frightening, remember that plants do not move and people can safely identify and report these plants without injury."
This article has been updated with comment from a New York State Department of Conservation spokesperson.
Giant Hogweed: New York Officials Warn Residents About Dangerous Plant That Causes Serious Burns, Blisters and Scars | U.S.