Giant Horny Pythons Filmed Fighting for Sex in Front Yard
Two giant horny pythons have been filmed fighting for sex in a front yard of an Australian home.
Snake catcher Stuart McKenzie, from Sunshine Coast Snake Catchers 24/7, arrived at the home on the Sunshine Coast to find the two male carpet pythons in combat with each other.
In footage taken by the snake catcher, the two snakes can be seen with their heads raised, as they grapple with each other.
"We are only weeks away from the breeding season starting and the weather slowly warming back up," McKenzie said in a Facebook post. "Male snakes will be on the move looking for a female but also looking to fight with any other male snakes that get in their way."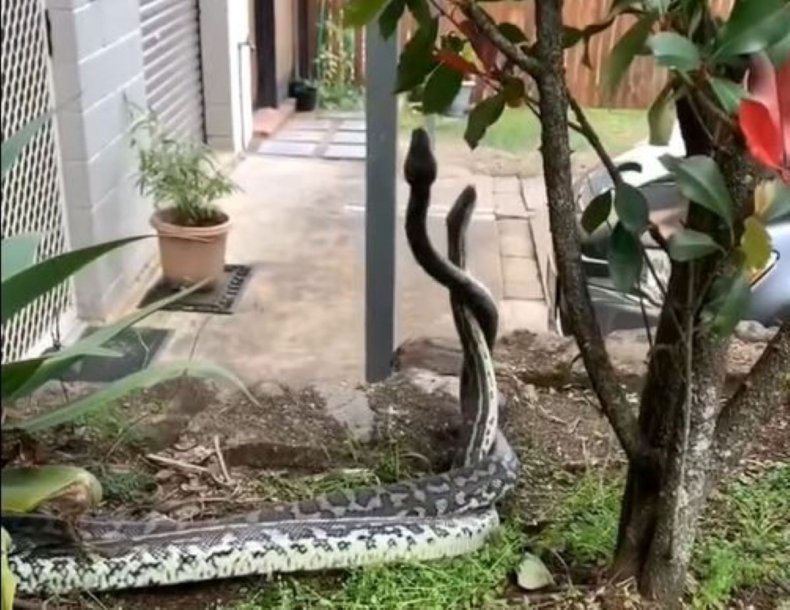 In the footage, McKenzie tells the homeowners that the two snakes are trying to push each others' heads down, in a competition for dominance.
During the snake breeding season in the Australian winter, male snakes will often compete for mating rights over a female. Multiple male snakes are often found in the same spot, having smelt a female from miles away. McKenzie said in a Facebook post that these two male pythons were probably fighting over a female lurking nearby.
In the footage, the snake catcher gently separates the two snakes and picks them up by the tail.
"Nice sized snakes," McKenzie says. "A lot of people think that what they were just doing is mating but it's not, mating is very different. If they were lying similarly with their tails curled around each other, but no head lifting off the ground, none of that sort of movements...a little bit of jolting, a little bit of vibration and that sort of stuff...that's more what breeding and mating looks like."
The snake catcher eases the huge carpet pythons into a bag and releases them back into the bush.
"When you see two snakes up on each other, rolling over the top, trying to push each other down, it's definitely a sign of two males combatting," the snake catcher says.
McKenzie says he is yet to capture footage of snakes mating, but said when he does, he will make sure to post it online.
Carpet pythons can be found almost everywhere in Australia, except Tasmania. They live in a wide range of habitats from the wet tropics to near arid deserts. Carpet pythons are one of the largest snakes found on the Sunshine Coast. They grow up to 11 feet, however in some rare cases, particularly large ones can reach 13 feet.
The species is commonly found along the Sunshine Coast, and can often slither into residential areas in search of food or shelter.