Giant Wave Crashes Into Hawaii Condos Amid 'Historic' Conditions
A giant wave was seen crashing over condos in Hawaii on Saturday in what officials referred to as "historic" surf conditions.
The viral video, which can be seen above, was posted to social media over the weekend. In the footage, a large wave can be seen crashing over a set of condos as onlookers watched near their homes and in the street. Malika Dudley, a meteorologist for local news station KITV 4 in Honolulu shared the video on Twitter and wrote, "Unreal footage of waves crashing OVER the Keauhou Kona Surf & Racquet club."
The video was originally posted by Isabella Sloan, who wrote on Facebook on Monday that "lots of condos got wiped out and [were] damaged" including hers. She added, fortunately, that "no one was hurt and everyone got out safely."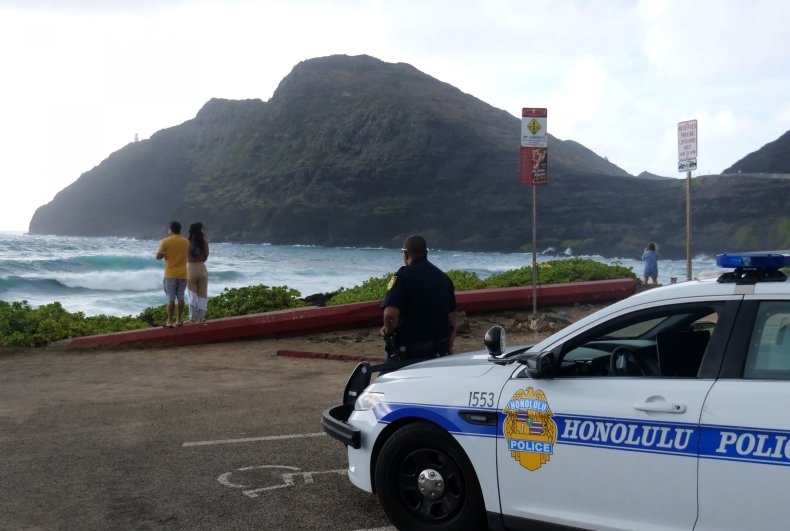 The video came shortly after Honolulu faced severe weather conditions due to Hurricane Darby.
The National Weather Service (NWS) warned in a tweet on Friday of "historic" surf conditions that were set to hit the islands due to the storm, and that "surf will build all day Saturday and peak at High Surf Warning levels Saturday night through Sunday night."
"12 to 16, with occasional sets to 20 feet for south facing shores," the agency's tweet added.
According to the NWS, Hurricane Darby formed early last week, and "remnants" of the storm were expected to pass near Hawaii over the weekend.
"Darby's remnants will bring a period of stronger trades and enhanced showers to windward zones, mainly over the eastern end of the state," the NSW tweeted last Wednesday.
However, the agency tweeted the following day that the storm was expected to "weaken significantly," as it traveled closer to Hawaii and was eventually downgraded to a tropical cyclone.
Even though the hurricane was downgraded, the NSW tweeted Saturday that "locally strong trades will focus moisture associated with decaying Tropical Cyclone Darby over windward Big Island today. Conditions will improve over the Big Island this evening, with a fairly dry trade wind pattern then holding in place statewide through Tuesday."
According to the National Oceanic and Atmospheric Administration's (NOAA) National Hurricane Center, the "remnants of Darby dissipated at 5 p.m. HST July 16, 2022."
While speaking with Hawaii News Now, Sloan said, "The current and waves got really big around 4 to 5 p.m. and didn't calm down until around 10:45 p.m...My condo was hit the first time and flooded everything. Condos down the way from mine were completely wiped out and damaged really badly. Thankfully, everyone is safe."