Gillum vs. DeSantis Results Update: Recount Threshold Nears As Vote Gap Narrows In Florida Governor Race
The Florida governor's race between Democrat Andrew Gillum and Republican Ron DeSantis will likely head to a recount.
The vote share between the two candidates dwindled to just 0.47 percent Thursday afternoon, within the 0.50 percent threshold to require a machine recount by law. Of the more than 8.2 million votes cast, the two candidates were separated by just 38,515 votes.
Meanwhile, the Sunshine State's Senate race between GOP Governor Rick Scott and Democratic Senator Bill Nelson is almost certainly headed for a recount. That race's vote share, as of Thursday afternoon, was 0.22 percent.
Official recounts for the races would be issued by Florida's secretary of state and Division of Elections once they receive all 67 counties' results by noon on Saturday.
Both the Senate and governor races were believed to have been decided Tuesday night. National media outlets called both races, and the GOP candidates gave victory speeches. Gillum gave a concession speech, while Nelson waited for more votes to come in before calling for a recount the next morning.
But as more provisional, vote-by-mail and overseas military ballots continue to be counted, the margins have become razor-thin for both races.
"On Tuesday night, the Gillum for Governor campaign operated with the best information available about the number of outstanding ballots left to count," the Gillum campaign said in a statement. "Since that time, it has become clear there are many more uncounted ballots than was originally reported."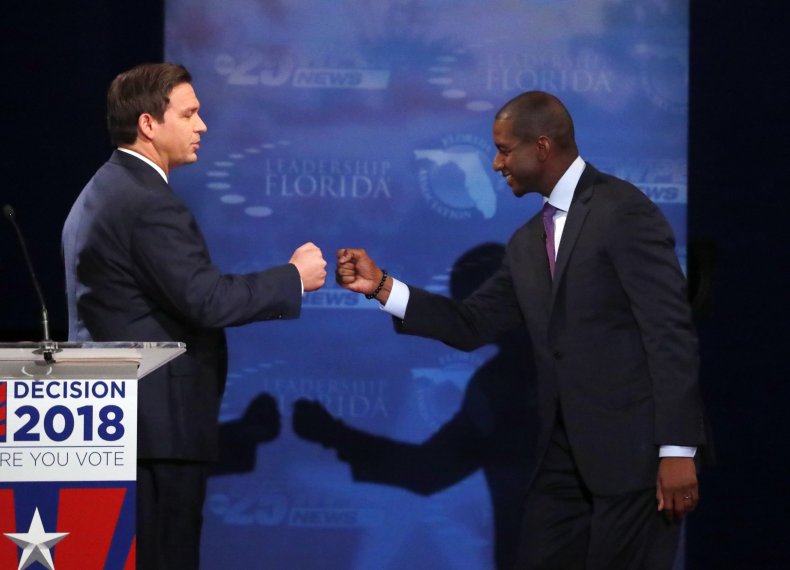 In a call with reporters Thursday morning, the Nelson campaign said it was confident a recount would show he won. It also threatened legal action should a recount not occur or if it believes certain counties were not properly tabulating ballots.
The Scott campaign has said that the "race is over" and that Nelson was "desperately trying to hold on to something that no longer exists."
Both the Gillum and Nelson campaigns have hired prominent election lawyers. Nelson has retained Marc Elias, who was general legal counsel for the 2004 John Kerry and 2016 Hillary Clinton presidential campaigns. Gillum has brought on Barry Richard, legal counsel for then-candidate George W. Bush when Florida faced a recount in the 2000 presidential election.
"Our campaign, along with our attorney Barry Richard, is monitoring the situation closely and is ready for any outcome, including a state-mandated recount," the Gillum campaign said. "Mayor Gillum started his campaign for the people, and we are committed to ensuring every single vote in Florida is counted."
The race between Nelson and Scott, with a 0.22 percent margin, could qualify for a second recount that would occur by hand. If the first recount shows the candidates are within 0.25 percent of each other, a manual recount would be ordered.
Gillum vs. DeSantis Results Update: Recount Threshold Nears As Vote Gap Narrows In Florida Governor Race | U.S.