Gina Gershon Defends Working With Woody Allen—'He's a Genius'
Actress Gina Gershon has defended her decision to work with Woody Allen, stating that the beleaguered filmmaker is a "genius."
Allen has long denied accusations that he sexually molested his adopted daughter, Dylan Farrow, as a child. The claims were first made by Farrow after Woody Allen split from Mia Farrow in 1992. He has never been charged or prosecuted.
While some actors have distanced themselves from Allen in light of the allegations, Gershon has stated that she's "really thrilled to work with" the writer and director.
The screen star has a role in his romantic comedy Rifkin's Festival, which was shot in the summer of 2019 and has finally been released in the U.S., following a delays caused by the COVID-19 pandemic and controversy surrounding Allen.
And in an interview on WGN-TV to promote the movie alongside her co-star Wallace Shawn, Gershon insisted that the focus should be placed on Allen as an "incredible artist."
When asked why so many other stars refused to work with Allen again, Gershon said, per People: "If they're against it, they just shouldn't," adding that she signed on to the project "because he's a genius."
She went on: "You know what, it serves no one to keep great artists from working, even the alleged victims, right? And Woody Allen, you know, it makes me a little sad that that's how you lead this whole talk, talking about that whole controversy instead of talking about what an incredible artist he is.
"For me as an actress, he's been inspiring me ever since I can remember. So I was really thrilled to work with him."
During the interview, Shawn stated that he believes Allen is an "innocent man," prompting Gershon to say that the issue is a "family matter" and "not really any of our businesses."
Added Gershon: "In this world that we're living in right now it's a little bit tricky to even talk about it because things are pulled apart and put on social media and clickbait, and no one is safe. It's sad. And that's the world we're living in right now.
"I thought in this country you're innocent until proven guilty, because if the opposite were true we'd all be canceled basically. That's how I feel. It's a weird time in the world."
She also stated that it was "not an easy question" to thoroughly address during a five-minute interview.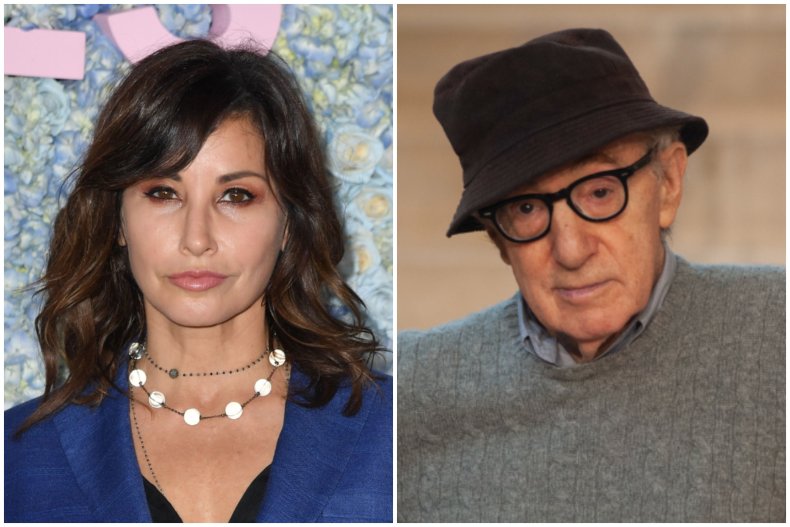 In August 2019, Gershon took to Instagram to share a photo of herself posing alongside Allen as they worked together on Rifkin's Festival.
The post sparked a wave of criticism, with a number of the star's followers branding Woody Allen a "predator."
"I don't believe that to be true," Gershon responded at the time, per The Hollywood Reporter. "You should really do all of the research and read all of the articles before believing that.
"It's really important to make up your own mind and not go by what the masses claim. I've done extensive research and I can say with very clear conscience that I'm so happy to be working with him. This man is not a sexual predator!"
Dylan Farrow's allegations against Allen became a talking point once again in last year, when they were detailed in the HBO documentary Allen v. Farrow.
Maintaining his innocence in his memoir, Apropos of Nothing, which was published in March 2020, Allen wrote: "I never laid a finger on Dylan, never did anything to her that could be even misconstrued as abusing her; it was a total fabrication from start to finish, every subatomic particle of it."
He also wrote: "It makes no sense why a fifty-seven-year-old man who has never been accused of a single impropriety in his life, while in the midst of a contentious and very public custody fight, drives up to the hostile environment of the country home belonging to the woman who hates him most, and in a house full of people sympathetic to her, this man, who is thrilled as he has just recently found the serious love of his life, a woman he'd go on to marry and have a family with, would suddenly choose that time and place to become a child molester and abuse his seven-year-old daughter whom he loved.
"It defied simple common sense. Especially since I had been alone with Dylan many times in my apartment over the years, and if I were actually a fiend, I had ample opportunities to act like one.
"Yet it makes perfect sense for the angry woman who had announced she would take away my daughter and had a plan worse than death for me, to resort to the single most common cliché of custody warfare, accusing the spouse of abusing the child."
The Vicky Cristina Barcelona director's relationship with Mia Farrow ended following his affair with her and Andre Previn's adopted daughter, Soon-Yi Previn.
Allen and Soon-Yi Previn, who has stated they got together when the latter was in her 20s, have been married since 1997.