ABC News' chief meteorologist, Ginger Zee, was amazed at the size of hail falling in Texas during the recent storms.
Zee was reporting on the intense storms belting down in parts of the south on Thursday's edition of Good Morning America.
Two storm systems have caused extreme weather conditions in Georgia, Florida, and Texas this week, which received warnings of tornadoes, strong, gusty winds, and dangerous-sized hail.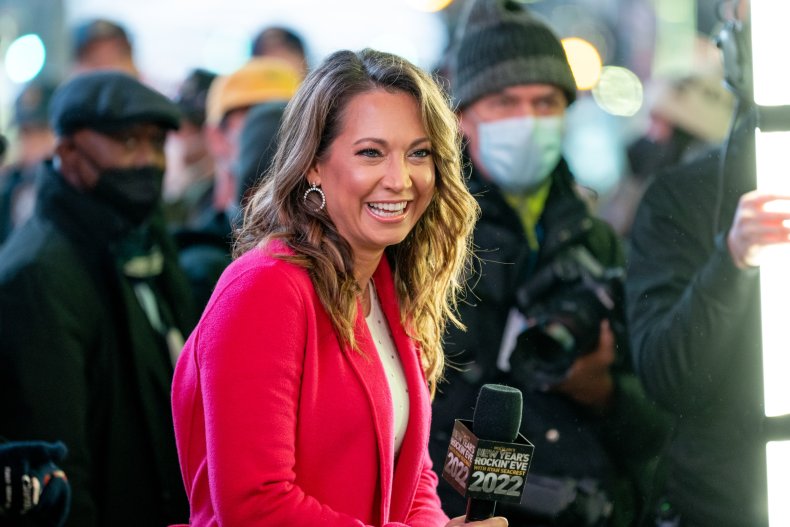 A tornado was recorded near Hosford, Florida, on Thursday evening and damaged about a dozen homes with most of the tornado reports occurring in the Florida Panhandle and one in southwestern Georgia.
"Hail is very normal for spring. What was not normal? We warned you about this, is that Florida would get this much and that big," Zee said during the weather report as the screen behind her showed images of the hail storm's aftermath.
"So look at Florida, that is hail covering the whole ground there in Melbourne that was pea-sized hail. But they had some up to baseball-sized hail falling with 85-mile-per-hour winds."
The next shot showed the I-95 highway and the hail that "looks like snow."
"But it is not. This is springtime, [it] requires heat and fuel for these thunderstorms, that then keep all of those hailstones up longer. So they get bigger and bigger, which is exactly what they did in Waco, Texas," Zee said.
"That's nearly four inches. Four inches would be like, grapefruits falling from the sky."
Zee showed some more images from the Gulf Coast of Florida and the south of Texas.
She then took to her Twitter account to ask fans in Texas, Georgia, and Florida to send in photos of the hail that had fallen around their homes "when safe."
One of her followers from China Spring, Texas sent a photo showing a piece of hail as big as their hand.
But then an argument broke out in her replies, with one person seeming to suggest it was not possible to have such a big piece of hail.
First, the Twitter user asked, "How did they catch that?" and then queried if they did not catch the hail with their hands, why it didn't break on impact with the ground. Other users tried to explain it until Zee stepped in.
"It appears they brought the hailstone in from outside as the storm continued which is a normal occurrence," she replied to the Twitter user.
Weather forecasters have warned of more severe thunderstorms in parts of the south, with almost 12 million people at risk of being affected in Texas, especially in the Dallas-Fort Worth area.
The National Weather Service predicted damaging winds and hail that could reach up to two inches wide between 3 p.m and 9 p.m local time.
"Large hail will be the primary threat with supercells, with a couple of instances of 3+ inch stones possible," warned The Storm Prediction Center.
In other parts of the state, there was a smaller risk of severe storms in southern Texas and reaching up to the borders of Oklahoma and Arkansas, which could also see some isolated tornadoes.