Girl, 4, Pulled Alive From Rubble 91 Hours After Devastating Earthquake
The tiny frame of a four-year-old girl was pulled from the dusty rubble of her collapsed home in Izmir, Turkey, 91 hours after the city was devastated by a magnitude 7.0 earthquake.
The celebrations were muted as the child, wrapped in foil, was lifted into an ambulance surrounded by exhausted rescue workers who have worked around the clock since the tremor hit on Friday afternoon. Ayda Gezgin blinked up at the sky and shook as her body was placed onto a child-sized stretcher almost four days after her apartment block was flattened when the devastating earthquake rattled the city, killing more than 100 people.
Local mayor Tunc Soyer tweeted about the rescue, saying: "We have witnessed a miracle in the 91st hour. Rescue teams pulled out four-year-old Ayda alive. Along with the great pain we have experienced, we have this joy as well."
A doctor said she had no signs of internal bleeding and her vital signs are fine, Istanbul newspaper Milliyet reported. Rescuer Nusret Aksoy told reporters that he heard a child scream before finding Ayda sheltering next to a dishwasher. She waved at him, told him her name, and said that she was OK, he said.
Her rescue came just a day after a three-year-old girl, Elif Perincek, and a 14-year-old girl, Idil Sirin, were pulled out alive from the worst-hit Turkish town of Bayrakli in Izmir. A powerful picture showed Elif's tiny hand clinging onto the thumb of her rescue worker as she was lifted free on Monday.
Their rescue was a mixture of celebration and sadness - both lost a sibling each to the disaster which struck in the Aegean Sea and was felt as far away as Istanbul, some 200 miles north of Izmir, and triggered a mini-tsunami that flooded a port on the Greek island of Samos.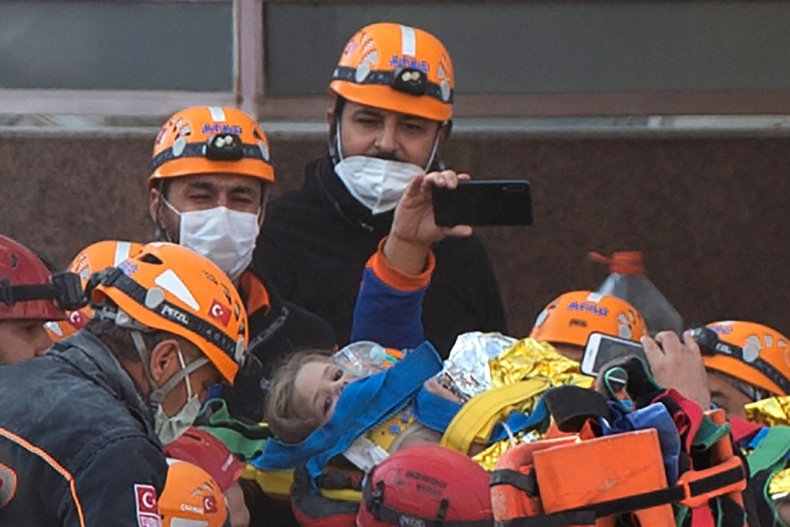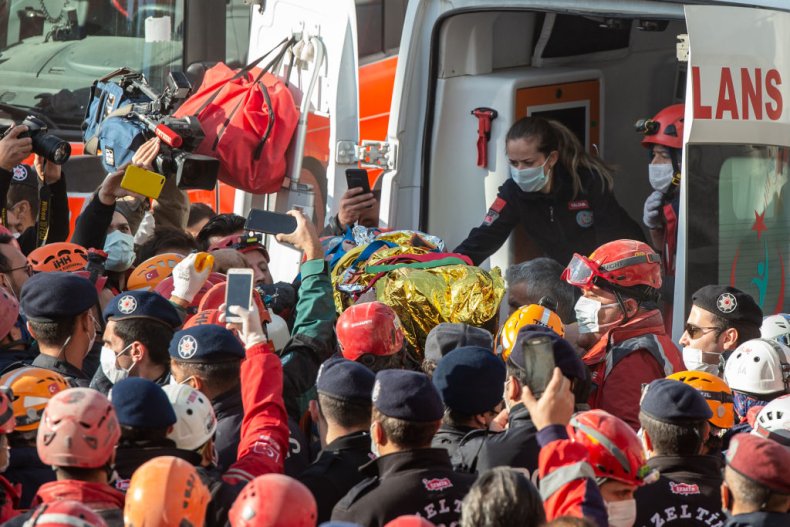 Ayda was pulled to safety as the death toll from the 7.0 magnitude quake hit 105, making it the deadliest in Turkey this year. Around 1,000 people were injured, the country's disaster authority AFAD said. Rescue workers in Izmir province are still searching five buildings for an unknown number of missing individuals - the rescue of the girls providing a small glimmer of hope for those fatigued and heartbroken by the huge loss of lives so far.
More than 3,500 tents and 13,000 beds are being used for temporary shelters across the country, where relief efforts have drawn in nearly 8,000 rescuers and 25 sniffer dogs, the agency said. Turkey has reported over 1,500 aftershocks following the earthquake, including 44 that were above four in magnitude. Thousands of residents have been forced to spend four nights since the disaster in tents in Izmir.
Turkey is crossed by fault lines and prone to earthquakes. In January, another disaster hit the eastern provinces of Elazig and Malatya, killing more than 40 people. More than 500 were killed in a 2011 quake in the eastern city of Van, while in 1999, two powerful quakes killed 18,000 people in the northwest of the country.
Regulations have been tightened to strengthen or demolish buildings not built to withstand tremors, but some say it is not happening fast enough.