Girl, 6, Shoots Grandmother After Finding Gun in Car: Police
A 6-year-old girl in southwest Florida shot her grandmother after she found a gun inside a car, according to police.
Officers from the North Port Police Department (NPPD) were alerted to reports of an accidental discharge of a firearm at the 4200 block of Tollefson Avenue, shortly before 3 p.m. on Thursday, February 16.
According to an NPPD Facebook post, the 57-year-old grandmother said her granddaughter got her hands on a firearm on the backseat of the vehicle. The girl "accidentally fired a single shot" through the driver seat, striking her grandma in the lower back.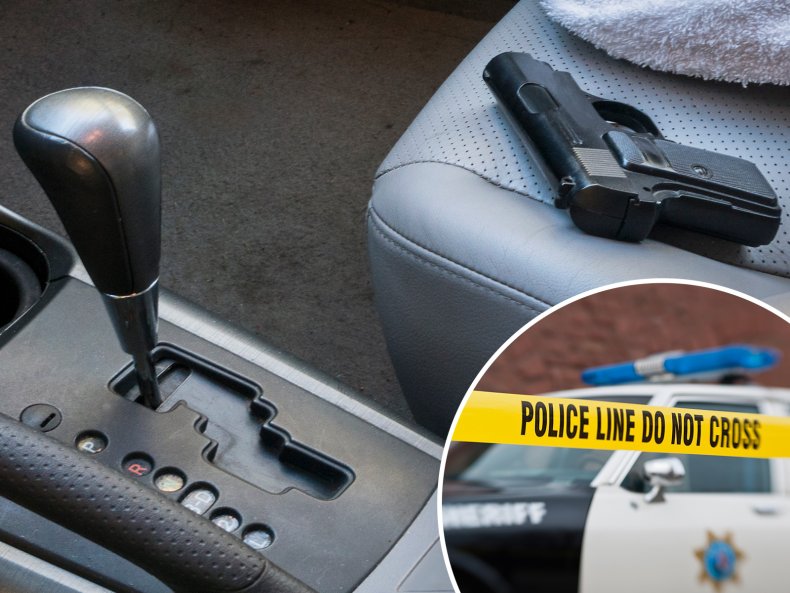 In the post, shared on Friday, February 17, an NPPD spokesperson added: "The weapon was originally located in a holster, tucked in the back pocket of the driver seat, a seat cover.
"The grandmother was able to drive home and receive assistance. After calling 911, the grandmother was airlifted to Sarasota Memorial Hospital in nearby Sarasota with non-threatening injuries.
"Detectives immediately began an investigation. An interview of the child was conducted by those with the Child Protection Center in North Port," the spokesperson added.
Police questioned other parties involved and their explanations corroborated that it was an accidental discharge.
North Port police chief Todd Garrison said: "This is an unfortunate example of the importance of gun safety.
"Please take appropriate measures to make sure children cannot access firearms. This could have been much worse, not only for the grandmother but for the child. Thankfully, it appears that everyone is going to be OK."
An investigation into the shooting is ongoing, according to the NPPD.
Unintentional Shootings Involving Children
According to the Gun Violence Archive, a database that collects information about shootings from across the U.S., this was the first accidental shooting in North Port in 2023.
The same database added there had been eight cases of accidental shootings across the state of Florida since January 1, 2023.
Between 2015 and 2020, there were at least 2,070 unintentional shootings by children. These resulted in 765 deaths and 1,366 nonfatal gun injuries, according to Healthy Children, from the American Academy of Pediatrics (AAP).
There have been numerous cases where children have shot guns after they found them.
Earlier this month, a 3-year-old boy in DeLand, north of Orlando, Florida, died after he came across a handgun.
In August 2022, a toddler in Gainesville, northern Florida, fatally shot himself after he found a gun inside a toolbox and started to play with it.
Children and Gun Safety
The AAP said there are several things that gun owners can do to keep their firearms out of the hands of children. These include:
Store guns and ammunition separately.
Make sure these keys cannot be accessed by children.
Do not keep loaded, unlocked guns in the car or anywhere else on your property.
Ask about firearms before a playdate.
Talk to your children about guns and gun safety.
Newsweek has contacted the NPPD for comment.