Girl, 15, Accidentally Kills Boyfriend Playing With Gun: Deputies
A teenage girl was arrested on Sunday night after accidentally shooting and killing her boyfriend while the two were playing with a gun.
Deputies with the Chesterfield County Sheriff's Office in South Carolina confirmed the incident to WPDE. As they explained, the shooting took place at a residence in Mount Croghan, South Carolina, and involved a handgun that the young couple was handling.
"Looked like they were playing with a gun, handgun, and the gun went off, the safety somehow went off and fired," Captain Wayne Jorden explained. "A round hit the 15-year-old male in the chest."
The boy's mother was home at the time that the gun went off and promptly called 911. Unfortunately, the son did not survive.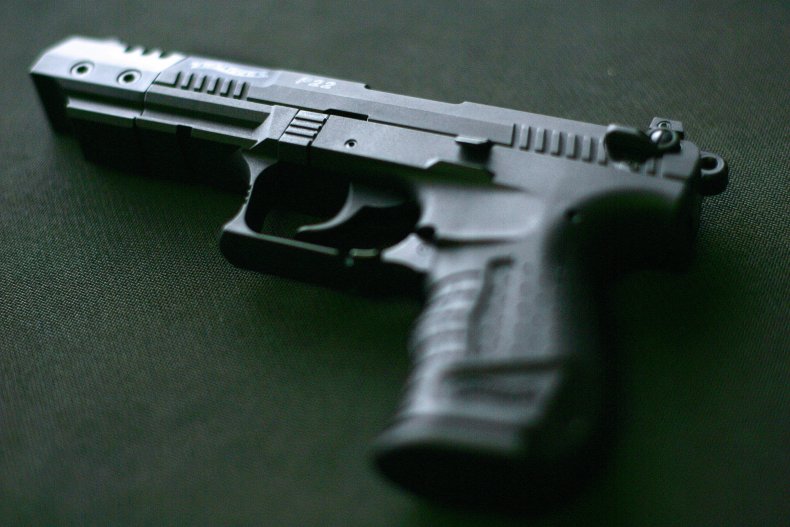 The teen girl was taken into police custody following the tragic incident, according to officials, and now faces a charge of involuntary manslaughter. As a minor, details about her identity beyond her age have not been disclosed to the public.
Additional charges in the case might be issued, pending an investigation into the weapon itself. If the handgun was found to have been purchased by an adult and improperly stored, that could result in more charges. For now, deputies told WPDE that an ATF check is underway to determine the original purchaser of the weapon.
Newsweek reached out to the Chesterfield County Sheriff's Office for comment.
This story out of Mount Croghan is one of the many stories of accidental gun violence that have emerged across the U.S. in recent weeks.
On Friday, authorities in Orange County, Florida, reported that a 26-year-old father, Reggie Mabry, had been killed in an incident on May 26, in which his 2-year-old child found and fired an "easily accessible" weapon at him. The mother, Marie Ayala, 28, was subsequently arrested and charged for the incident.
Ayala told authorities that the gun was usually stored in a backpack that was left on the floor. Furthermore, it was often stored in such a way that made it stick out of the bag.
"I can't emphasize strongly enough that our guns need to be secure and kept out of the hands and away from children at all times," Orange County Sheriff John Mina said during a press conference. "Gun owners that do not properly secure their firearms are just one split second away from one of these tragedies happening in their homes."
On May 15, deputies with the Dane County Sheriff's Office in Wisconsin responded to an incident involving an accidental shooting. A man at the scene, Isaiah Miller, 20, had reportedly shot his friend, Marshall Iverson, dead while pointing an AR-15 at him.
In July of last year, an Illinois man was arrested after accidentally shooting his guest in the head.
Correction: 06/07/22 11:59 a.m. ET: This article was updated to reflect the event took place in South Carolina.