An adorable video of a girl taking a nap on the couch with her Labrador retriever—in matching pajamas—has sent the internet wild.
Owner Brian Benson shared a clip of his pooch, Magnus, having a quick snooze while cuddled up with his daughter Skyler, 13.
Benson, from New York, posted the footage to his TikTok account, @magnusthetherapydog, on Tuesday, where it's amassed more than 8 million views.
Benson, who has another daughter, Riley, 15, explained Magnus, who's a therapy pet, has a wardrobe full of matching outfits with his children.
"We have several sets of matching PJs and every time we take them out, Magnus comes running over to get dressed. It's the cutest thing ever," he told Newsweek.
Benson explained his beloved pet, who's six in April, can often be found cuddled up with a family member.
He said: "One of Magnus' favorite things to do is to get super cozy and cuddle with his family. The best part is that as soon as he curls up next to you, it's insanely easy to rub Magnus to sleep, with his eyes glued shut, just snoring away.....
"Everyone in my family (myself, my wife and two daughters) all love to nap with Magnus whenever possible and I have caught all of them at various times passed out with him. Resting with Magnus is the most relaxing thing EVER!"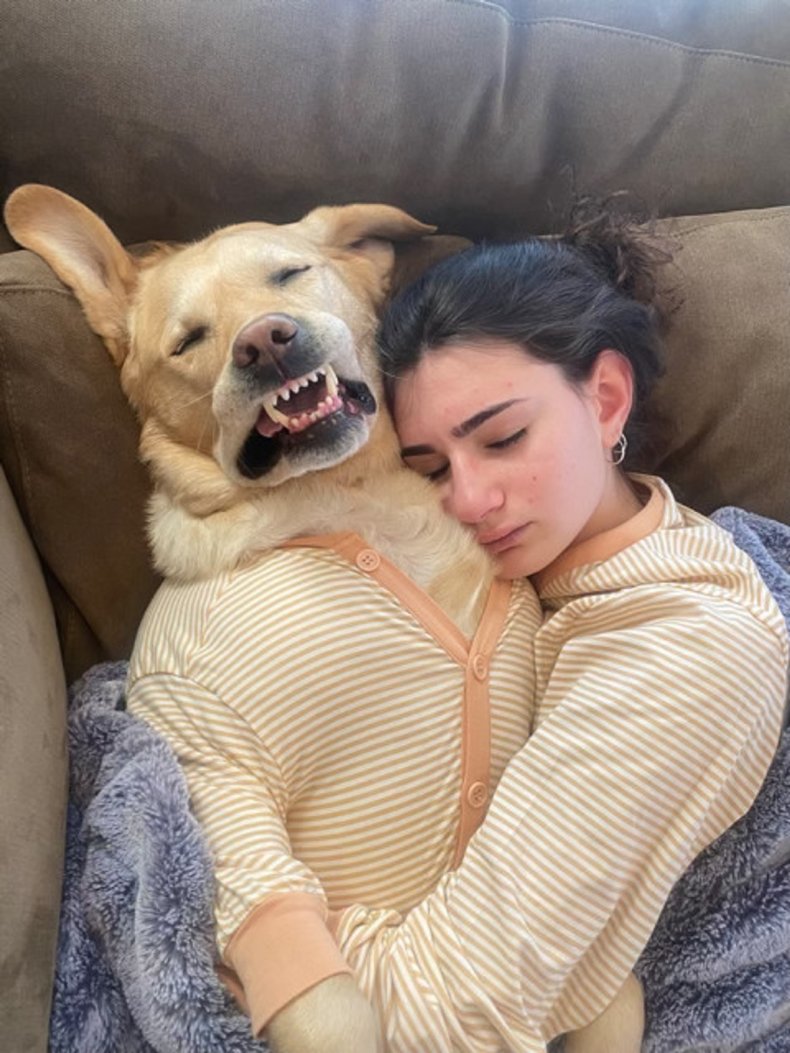 The adorable sight of the pair, complete with a hilarious expression on Magnus' face, has captured the hearts of people all over the world.
MykoMushroom commented: "The teefs and matching Jammie's."
Nunya155 joked: "I don't think that's your dog. That's 100 percent her dog."
While Keith Kennedy thought: "You could make that pic into a Christmas card."
And Nydia Davila added: "Too cute. Love their jammies."
While popular site We Rate Dogs even replied, simply saying: "Twins."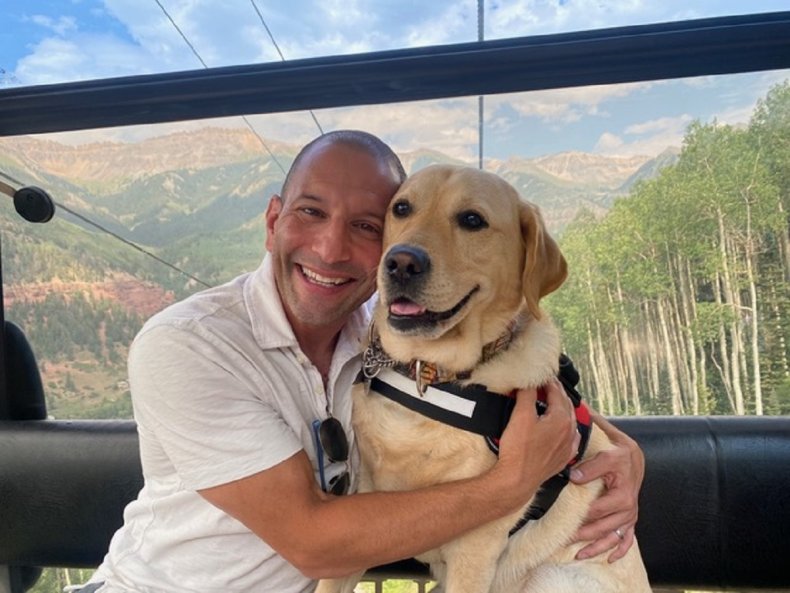 Magnus is no stranger to going viral, with various videos of him racking up millions of views a-piece.
Addressing his online fame, Benson said: "We never imagined Magnus would turn into an online star at all especially since we originally never had any plans to have him be online.
"Before COVID, Magnus and I would work as a pet therapy and go on in-person visits to hospitals and schools. One COVID hit, all therapy visits were put on permanent hold, so we needed to find a way to continue to help people.
"We decided to start accounts online in order to do what we call 'virtual therapy.' Through funny, feel good content, our goal was to make people smile, brighten their day and give them a distraction from all of the struggles that are going on in their world.
"We have received messages from people all over the world that our content has helped with their depression, gotten them through the pain of losing a loved one, helped them cope with being out of work, etc."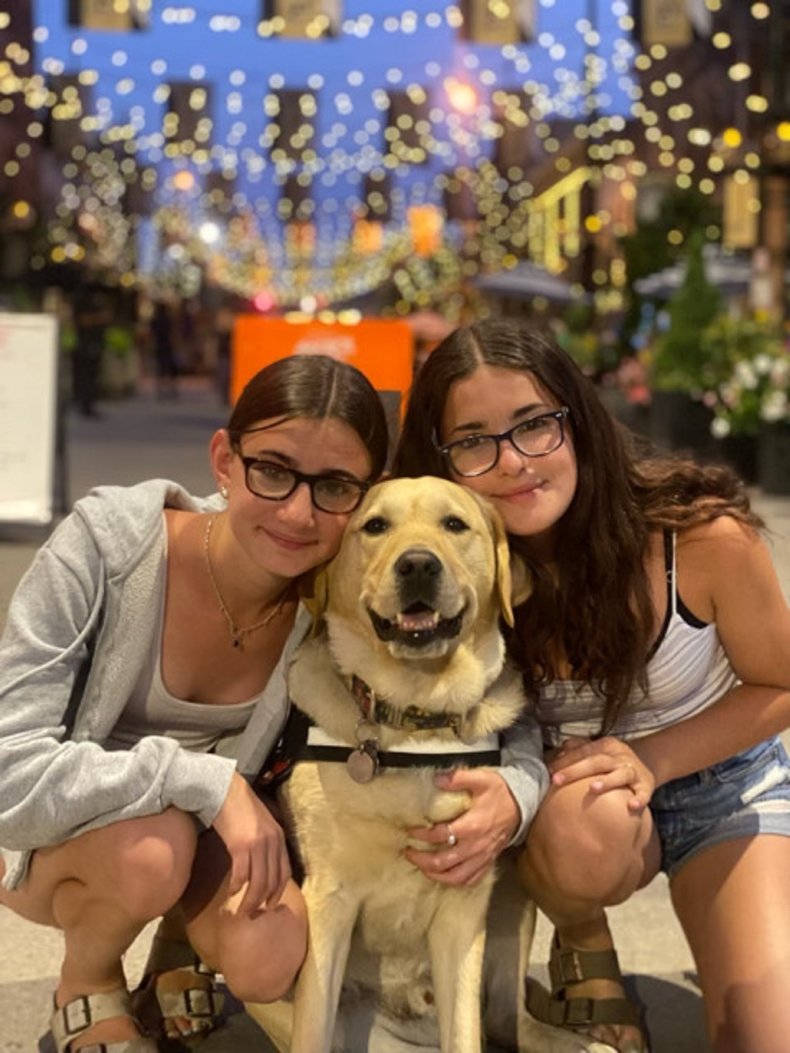 Magnus, who's been in the Benson family since he was 18-months-old, started his career as a therapy dog in 2018.
Explaining what a therapy dog is, website Alliance of Therapy Dogs said: "Certified therapy dogs volunteer in schools, clinics, and care facilities alongside their owners.
"Due to their sensitivity to human emotion, dogs make excellent therapy animals. They are critical in the rehabilitation and stress management processes due to their caring and compassionate nature."
Initially Magnus was just meant to be a family pet, but Benson soon realized the pooch had "natural empathy that can't be taught."
He explained: "You can teach a dog to sit, stay, shake hands etc, but you can't teach a dog to read people's emotions, sense their pain, and understand how to comfort them. This is the part of Magnus that is just hardwired into his DNA—the ability and need to make people feel at ease and happy."
It was Magnus' reaction to Riley getting shots for severe juvenile arthritis when she was eight, sometimes daily, that saw the dog's personality really shine through, and ultimately what persuaded Benson to enroll in a certification course.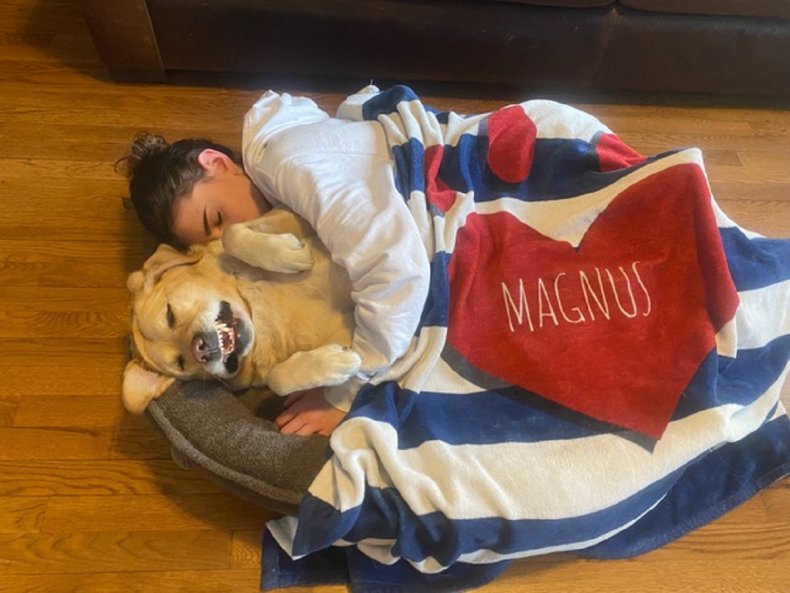 "This was extremely stressful for my daughter and the injections would make her very agitated and anxious. On one of the first days that we had Magnus, when I had to give Riley her shot, Magnus intuitively knew to come lay by her side, rest his head on her lap and comfort her. No one told him to do this.
"He just read the room, saw a person who needed his help and he provided it, without hesitation. Even though there was no bond yet between him and us since we had literally just adopted him, he was just being , well him....nurturing, comforting and compassionate," he added.
Now Magnus works with terminally and critically ill children, and adults, in hospitals as well as visiting schools for children with learning disabilities and emotional issues.
"The impact is difficult to quantify, but incredibly rewarding. Regardless of the situation, Magnus always seems to know how to bring a smile to your face and put your mind at ease. It is obvious that Magnus enjoys working as a therapy dog just by seeing how excited he is to interact with anyone he meets," Benson said.