Girl Killed After Falling From SUV on Freeway Leads to Mom's Arrest
A mother in California has been arrested after her 7-year-old daughter was killed after falling out of an SUV on the freeway, according to police.
According to news station KABC, the incident occurred on the 5 Freeway in Los Angeles County, and the California Highway Patrol said that the girl fell out of the back of the car and was then hit by several vehicles.
California Highway Patrol Officer Joshua Greengard said the girl was in the back of a 1999 Lincoln Navigator before she fell out of the car.
"There [were] witnesses saying that she was either hanging out or playing in the back portion, the very very back portion of it. That window was already broken out, and it looks like she may have fallen out of the vehicle and then tragically died," he said according to KABC.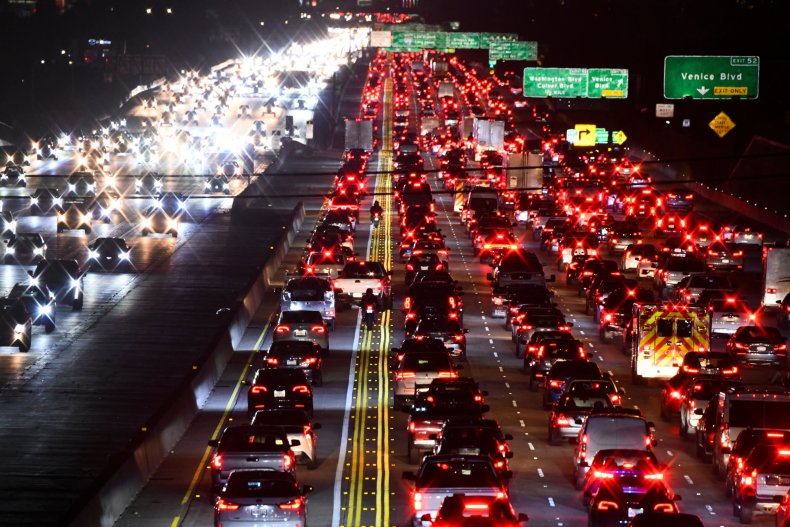 "I've never had a kid falling out of a moving vehicle," said Greengard, who added, "I've been to numerous tragedies in my time, but this one is very unfortunate. It's very sad."
KABC noted that according to California law, children who are under the age of 8 have to be seated in car seats or booster seats if they're under a certain height.
The girl's mother, Veronda Gladney, 28 along with her boyfriend, Michael Branch, who was also allegedly in the vehicle at the time have been arrested for child endangerment.
Newsweek has reached out to the California Highway Patrol for comment.
In a separate incident in Texas last month, a woman was arrested after an autopsy allegedly contradicted her story about her toddler's death. The mother had allegedly claimed that her daughter died after accidentally shooting herself, but a medical examiner argued that she could not have shot herself because the gun was fired was from a distance, according to Fox San Antonio.
In April of 2021, a mother was arrested in Texas after her daughter was found dead inside a bag full of ice that was left in a Texas motel. According to the Harris County Sheriff's Office, the mother was taken into custody months after the child was found dead at the Scottish Inn Suites, in Baywater, Texas, in September 2020.
In December, a mother in New Jersey was accused of stabbing her infant daughter to death. At the time a prosecutor's office said that the infant died "as a result of multiple stab wounds to the chest area."
"No other persons were injured. The father of the infant was not at the residence at the time of the incident," the office stated.