The Girl From Plainville is the new true-crime series on Hulu about the infamous case of Michelle Carter, who was convicted of involuntary manslaughter in 2017.
Her boyfriend, Conrad Roy III, had taken his own life in July 2014, following a struggle with his mental health.
Carter then found herself at the center of a criminal trial after texts from her in the days leading up to his death were found on his phone, where she encouraged him to take his own life.
Carter was convicted in 2018 and served just 12 months in prison, and now the shocking story has made its way to the small screen, shining a light on the tragedy whilst raising awareness about mental health.
Newsweek has everything you need to know about the cast and characters in The Girl From Plainville.
Meet The Cast of The Girl From Plainville
Carter Roy III — Colton Ryan
Colton Ryan portrays Carter Roy III in Hulu's The Girl From Plainville.
Speaking to Newsweek, Ryan shared that he found playing Roy one of the most "profound things" he has ever done.
He said: "[He was one of] the most profound people I've ever encountered and mainly because the more I got to know him, the more it just shocked me and surprised me and reminded me how nuanced life is because the minute I thought I had this person pegged, when I sort of actually had to study the actual right and wrong answers and who this person is, then I would uncover another little rock."
Ryan continued: "He's very organized and very focused, and then we get this other side [of him] it was such a reminder of how full life is and how complicated life is. Getting to know him was very affirming about just how happy I was to be alive. He reminded me of that."
The Girl From Plainville is one of his biggest on-screen television roles to date.
He is best known for his performance as Connor Murphy in the Broadway musical, Dear Evan Hansen and reprised his role for the 2021 movie. He is also well known for playing Gene Laine in the musical Girl from the North Country.
The Girl From Plainville audiences may recognize J.J. Eakins in the Showtime series Homeland and Bruce in the 2020 movie, Uncle Frank.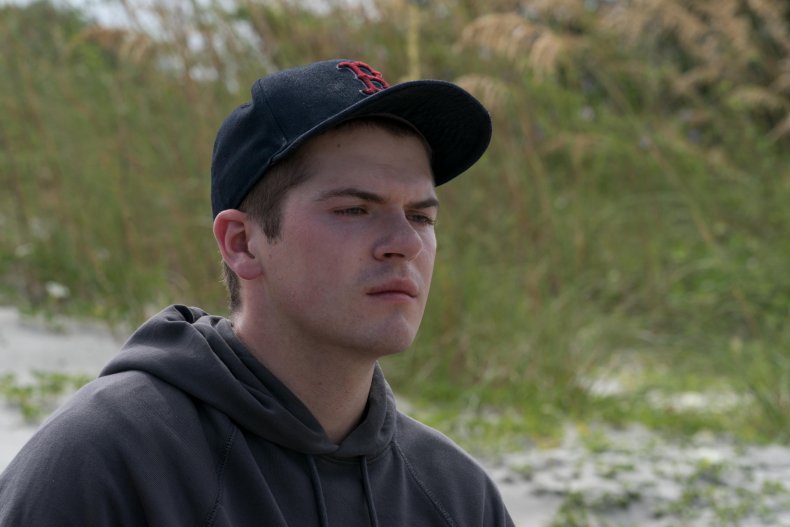 Michelle Carter — Elle Fanning
Award-winning actress Elle Fanning plays the role of Michelle Carter in Hulu's The Girl From Plainville. Fanning looks unrecognizable and eerily like Carter in the series, complete with her memorable bleach blonde hair and dark eyebrows at her 2015 trial.
In 2017, Carter was found guilty of involuntary manslaughter in relation to Roy's death. She was sentenced to two-and-a-half years in prison which was reduced to 15 months. In January 2020, she was released after serving just 12 months of her sentence.
Fanning is best known for her role as Catherine the Great in Hulu's The Great and Princess Aurora in the fantasy film Maleficent: Mistress of Evil.
Her other well-known credits include A Rainy Day in New York, How to Talk to Girls at Parties, Super 8, and 20th Century Women.
She will star in the upcoming drama film The Nightingale as Isabelle Rossignol. She will appear opposite her older sister Dakota Fanning.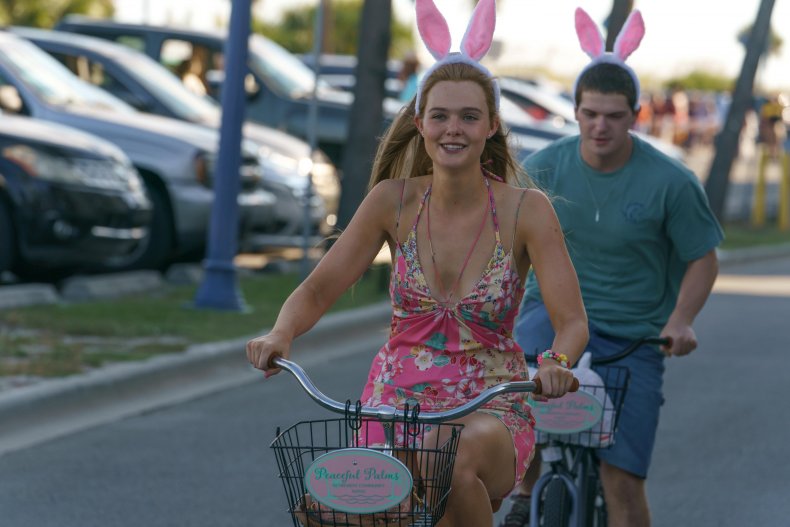 Lynn Roy — Chloë Sevigny
Oscar nominee Chloë Sevigny stars as Roy's mother, Lynn Roy in The Girl from Plainville. Roy was the oldest of three children, with two younger sisters Morgan and Camdyn.
Speaking to Newsweek, Sevigny shared: "My character Lynn is going through one of the worst things imaginable, losing a child, and when I first got the role and started doing research, I was very struck by her strength, by her spirit."
She continued: "Her kind of mysticism, there was just something very enchanting about this woman and also very synthetic, obviously. I was just drawn to her and wanted to, you know, help tell the story of her son."
Today, the real Lynn Roy is campaigning for "Conrad's Law," which if passed would see those who are an accomplice to suicide facing a five-year prison sentence.
Sevigny is best known for her role as Lana Tisdel in the film Boy's Don't Cry as well as Jean in American Psycho.
Her other credits include Zodiac, Mr. Nice Big Love, American Horror Story, and The Dead Don't Die.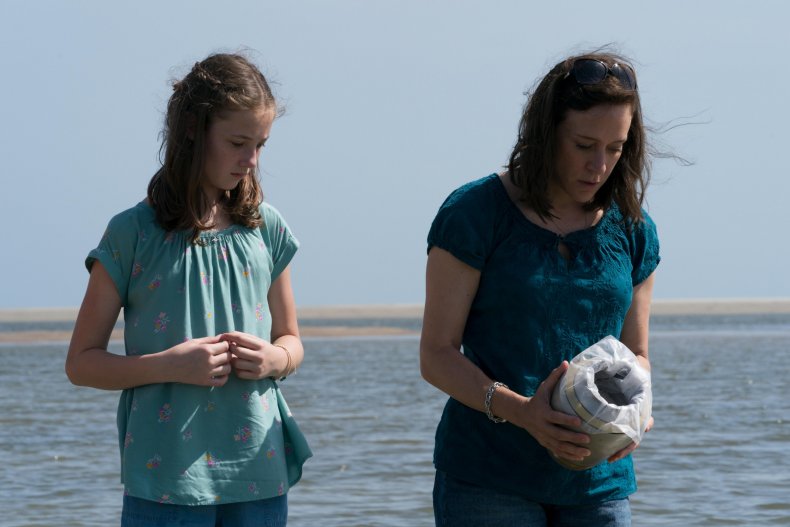 Conrad "Co" Roy II — Norbert Leo Butz
American actor and singer Norbert Leo Butz takes on the role of Conrad Roy's father, Conrad "Co" Roy II in The Girl From Plainville.
In flashbacks, audiences learn Lynn and Co separated when Roy was in his early teens and had been trying to co-parent ever since.
Butz is best known for his work on Broadway and is a two-time Tony Award winner, taking home the accolade for his performances in Dirty Rotten Scoundrels and Catch Me if You Can.
He recently starred as Craig Maddox in the NBC drama Debris and appeared in Netflix's Bloodline as Kevin Rayburn and in Fosse/Verdon as Paddy Chayefsky.
Gail Carter — Cara Buono
Cara Buono plays the role of Gail Carter, Michelle Carter's mother.
Speaking to Distractify, Buono shared that as Michelle's mother Gail never gave any interviews, she and the team had to come up with a "fictionalized version" of who Gail Carter could be.
She said: "You think you know what's going on with your kid [and] it's the biggest realization of your worst-case scenario, I mean that her daughter's complicit and the reality, the reality that she's complicit in [Conrad's] death.
"I think for me, it was, we were trying to create a woman who was trying, but not successful in connecting with her daughter."
Buono is best known for her role as Dr. Faye Miller in AMC's Mad Men and Kelli Molitsanti in The Sopranos.
Since 2016, Buono has starred in Netflix's Stranger Things as Karen Wheeler and most recently appeared in Supergirl as Gamemnae.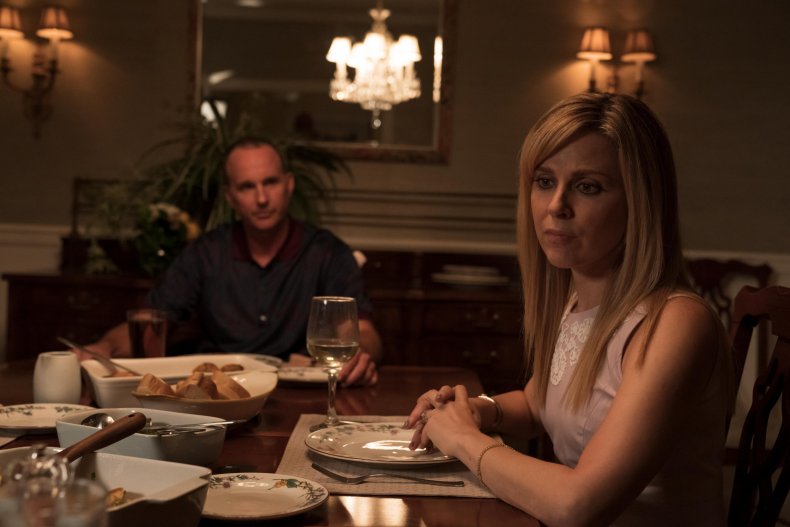 David Carter — Kai Lennox
Kai Lennox plays David Carter in The Girl From Plainville, Carter's father.
The Girl From Plainville viewers will most likely recognize Lennox from his role as Clark in Green Room.
His other well-known roles include Beginners and Netflix's Unbelievable.
Other cast members starring in The Girl From Plainville are:
Peter Gerety as Conrad Roy, Sr.
Michael Mosley as Joseph Cataldo
Aya Cash as Katie Rayburn
Ella Kennedy Davis as Sydney Roy
Pearl Amanda Dickson as Susie Pierce
Sharik Khan as Adam
Kylie Liya Page as Cassie Wilkins
Jeff Wahlberg as Rob Mahoney
The Girl From Plainville airs Thursdays on Hulu.
If you have thoughts of suicide, confidential help is available for free at the National Suicide Prevention Lifeline. Call 1-800-273-8255. The line is available 24 hours, every day.