'The Girl From Plainville': Who is Michelle Carter and Where Is She Now?
The Girl From Plainville on Hulu brings to the small screen the tragic true story of 18-year-old Conrad Roy III (played by Colton Ryan).
On July 12, 2014, Roy died by suicide, and his story would quickly become the focus of national media attention when his girlfriend, Michelle Carter, was indicted for involuntary manslaughter as a result of of texts exchanged between them in the days leading up to his death.
In the messages, Carter encouraged Roy to take his own life. Carter was later found guilty of involuntary manslaughter in relation to his death.
So, who is Michelle Carter and where is she now?
Newsweek has everything you need to know.
Who is Michelle Carter?
In 2012, she met Conrad Roy during a family holiday in Florida. They began dating shortly afterwards but only met in person on a few occasions.
The majority of their relationship was long-distance, despite being only a few towns away, and they communicated mainly over text.
Both teenagers had issues with their mental health and confided in each other about their struggles. Roy suffered from social anxiety, depression and had attempted to take his own life before.
Carter suffered from an eating disorder and had received treatment at McLean Hospital, a psychiatric treatment center affiliated with Harvard University.
For months, Carter encouraged Roy to seek professional help and during her time in hospital, she encouraged him to visit McLean's with her. However, in the weeks leading up to Roy's death, Carter's attitude changed.
Instead, she began to encourage Roy to kill himself.
She suggested numerous methods and asked him on multiple occasions when he was going to do it. In one text, according to court documents, she wrote: "You'd better not be bulls******* me and just pretending. Tonight is the night, it's now or never."
On the evening of July 12, 2014, Roy, then 18 years old, took his own life. He was found in his car in a Kmart parking lot on July 13, 2014.
On the night Roy died, phone records prove he was on the phone with Carter on two occasions, for 45 minutes on each call.
There is no proof of what was said between the two, but in text messages to her friend weeks later, Carter shared some details, claiming: "I could have stopped it."
She texted her friend: "His death is my fault. Like, honestly I could have stopped it. I was the one on the phone with him and he got out of the car because [it] was working and he got scared and I f***ing told him to get back in ... because I knew that he would do it all over again the next day and I couldn't have him live the way he was living anymore."
She continued: "Like, I should have did more. And it's all my fault because I could have stopped him but I f***ing didn't. And all I had to say was I love you and don't do this one more time and he'd still be here."
These texts and her phone call with Roy would go on to play a key role in her trial.
Prosecutors argued Carter was implicit in Roy's death as her texts encouraged him to take his own life. On the other hand, her defense argued as she was not there in person when Roy died, she could not be responsible.
The case posed some big questions on the legal issue of whether a person's words could be responsible for another's actions. In Carter's case, they did.
Her fate lay in the hands of Juvenile Court Judge Lawrence Moniz after Carter waived her right to a jury trial. She was convicted of involuntary manslaughter and was sentenced to two and a half years in prison.
Upon convicting Carter, Moniz stated Carter's encouragement to tell Roy to get back into the car and her failure to call 911 or his family, knowing he was going to take his own life, constituted "wanton and reckless conduct."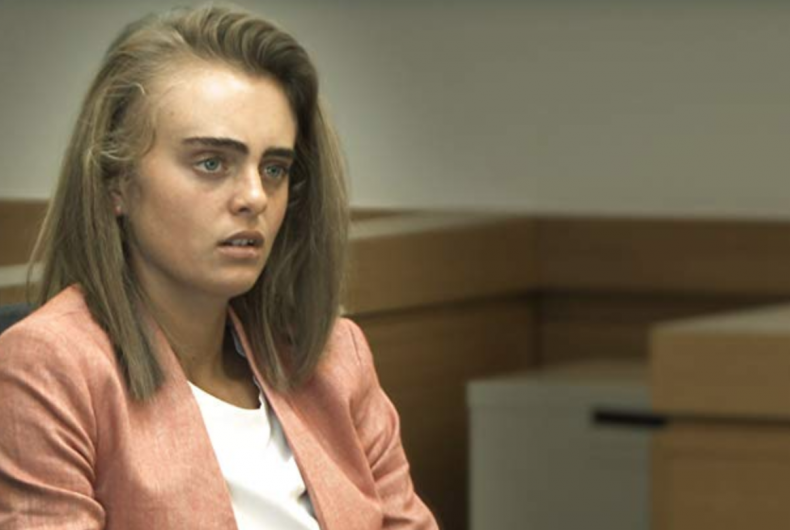 Where is Michelle Carter Now?
Michelle Carter served her sentence at Bristol County Jail in Dartmouth, Massachusetts.
She had appealed to the Supreme Court to have her conviction overturned, with prosecutors arguing her conviction violated the First Amendment guarantee of free speech because it was based solely on words that she texted or spoke, but the Supreme Court declined to hear the case, reported NBC News.
Her two-and-a-half-year prison sentence was reduced to 15 months and in January 2020, she was released after serving just 12 months of her sentence.
Per Women's Health Mag, Jonathan Darling, a spokesman for the Bristol County Sheriff's Office gave some insight to MassLive about Carter's time in prison. He said: "We've had no problems with her at all. She attended programs, is getting along with other inmates, and is polite to our staff."
Since leaving prison, Carter has remained out of the spotlight. As part of her sentence, she was still on probation, which is set to come to an end in Summer 2022.
Since the sentencing of Carter, Roy's mother Lyn Roy has been working with Massachusetts lawmakers to pass what is known as "Conrad's Law," which if passed would see those who are an accomplice to suicide facing a five-year prison sentence.
The Girl From Plainville airs Tuesdays on Hulu.
If you have thoughts of suicide, confidential help is available for free at the National Suicide Prevention Lifeline. Call 1-800-273-8255. The line is available 24 hours, every day.