'The Girl From Plainville': Michelle Carter and 'Glee' Link Explained
The first three episodes of Hulu's latest true-crime drama The Girl From Plainville are out now and viewers cannot stop talking about Elle Fanning's transformation into 17-year-old Michelle Carter. In the first episode, in particular, Fanning gives a haunting performance towards the end when she mimics actress Lea Michele's performance of Adele's "Make You Feel My Love."
Michele starred as Rachel Berry in Glee, alongside Cory Monteith. For those viewers who may be a little startled by Fanning's reenactment of Rachel Berry, from Michelle Carter's perspective, Newsweek has everything you need to know about the Carter and Michele link.
The Michelle Carter and Lea Michele Link Explained
In Episode 1 of The Girl from Plainville, audiences are introduced to a grieving 17-year-old named Michelle Carter, whose boyfriend, Conrad Roy III (Colton Ryan) had taken his own life.
However, as the episode progresses, viewers who aren't familiar with the shocking case learn Carter sent Roy numerous messages in the weeks and days leading up to his death, encouraging him to take his own life.
She suggested numerous methods and asked him on multiple occasions when he was going to do it. In one text, according to court documents, she wrote: "You'd better not be bulls******* me and just pretending. Tonight is the night, it's now or never."
Carter was also on the phone with Roy the night he died. Weeks later, she texted a friend saying: "I was the one on the phone with him and he got out of the car because [it] was working and he got scared and I f***ing told him to get back in…because I knew that he would do it all over again the next day and I couldn't have him live the way he was living anymore."
On the evening of July 12, 2014, Roy, then 18 years old, took his own life. He was found in his car in a Kmart parking lot on July 13, 2014. Carter was arrested and charged with involuntary manslaughter.
Glee followed the story of on and later off-screen couple Lea Michele and Cory Monteith as aspiring Broadway star Rachel Berry and high-school jock turned singer, Finn Hudson.
Sadly, Monteith died of an accidental overdose in July 2013.
In October 2013, Glee dedicated an episode to Monteith and the exit of his character Finn, titled "The Quarterback."
In Episode 1 of The Girl From Plainville, Carter is seen looking in a mirror, copying Rachel from Glee's speech about Finn's passing. She replays the clip to make sure she gets the hand motions and tears right, before breaking out into song, holding back tears, the same way Michele did as Rachel.
Straight off the bat, Carter and Michele had something in common. Both had lost high-school boyfriends in dire circumstances. Rachel not only lost Finn in the show, but Michele also lost her long-time friend and boyfriend, Monteith. However, that is where the semi-similarities end.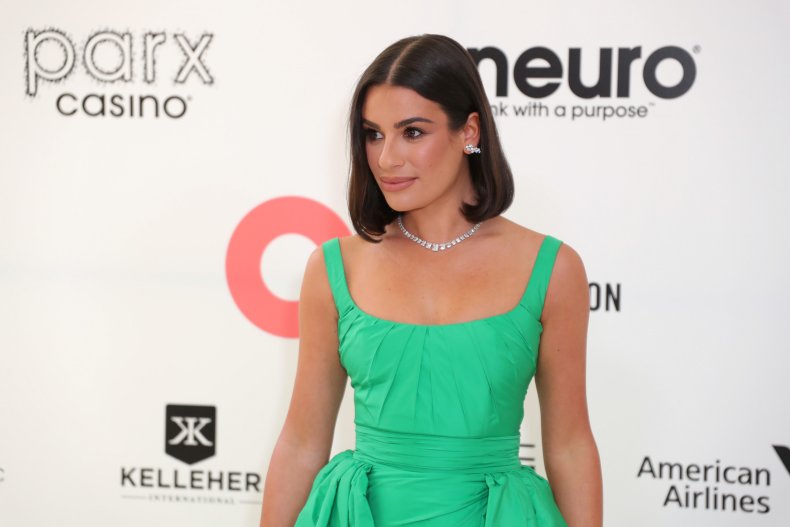 As seen in The Girl From Plainville and detailed in Jesse Barron's Esquire article of the same name, which serves as the foundation of the Hulu series, some of the text messages Carter sent to Roy and her friends were taken directly from Glee with Carter passing them off as her own.
For example, court documents from her involuntary manslaughter trial record Carter texting Roy: "You were my first love, and I wanted more than anything for you to be my last," directly lifted from Rachel Berry in Glee.
Barron explained in the Esquire article: "In July 2013, Cory Monteith, a star of the TV show Glee, had overdosed in a hotel room. His costar and real-life girlfriend, Lea Michele, led the cast in a tribute episode. Michelle texted Conrad word for word from it. On July 7, five days before Conrad's suicide, Michelle went to see The Fault in Our Stars. At the movie's climax, a terminal-cancer patient, dying in his Jeep, calls his girlfriend for help."
As seen in the 2019 HBO Max documentary, I Love You, Now Die: The Commonwealth v. Michelle Carter, which explored the case of Michelle Carter, Carter sent texts to her friends that also featured real-life interviews from Michele, where she discussed Monteith's passing.
Erin Lee Carr, the director of I Love You, Now Die, serves as a consulting producer on Hulu's The Girl From Plainville.
Carter also made clear her love for Michele, often referring her to as her as "woman crush Wednesday (WCW)" on Twitter and her "favorite person in the whole world and my bae forever," as seen in The Girl From Plainville.
Speaking to Deadline, Fanning who plays Carter said Carter was a "Gleek."
She said: "I think the reason why she, and probably so many of us young people loved Glee or Fault In Our Stars – the YA world – is because you can be the star of that show. You can put yourself in that fantasy, it's such an escape for people who feel alone…Glee throughout is so essential. Reading through Michelle's text throughout, she was a Gleek."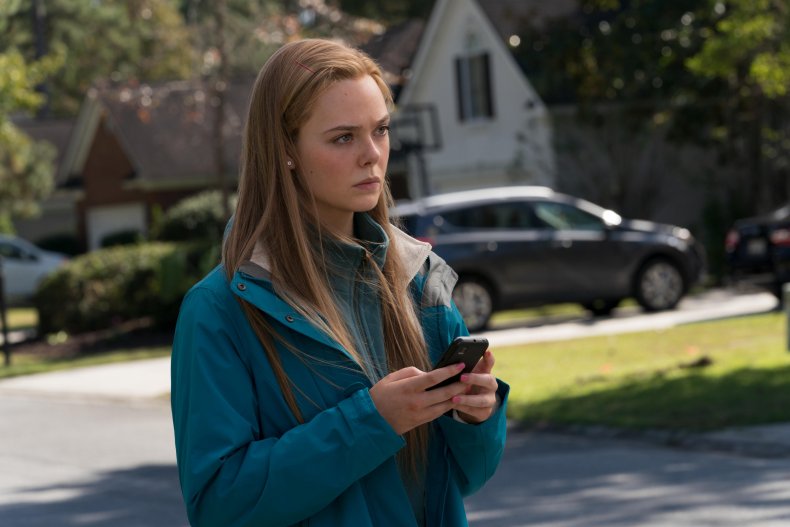 Liz Hannah, the executive producer and writer of The Girl From Plainville said: "So much of the show is about loneliness and isolation and for every character involved…something that Glee did that I think was so interesting was make people who were lonely feel included.
"That was really bittersweet to explore for Michelle's character—this idea of inclusion through this show when she couldn't do it in real life."
Ultimately, Carter was convicted of involuntary manslaughter and was sentenced to two-and-a half-years in prison.
Upon convicting Carter, Moniz said her telling Roy to get back into the car and failure to call 911 or his family, knowing he was going to take his own life, constituted "wanton and reckless conduct."
She served 12 months in prison of a reduced 15-month sentence and was released in January 2020.
The Girl From Plainville airs Tuesdays on Hulu.
If you have thoughts of suicide, confidential help is available for free at the National Suicide Prevention Lifeline. Call 1-800-273-8255. The line is available 24 hours, every day.