A South Dakota mom could not contain her giggles when her daughter chugged the "blood of Christ" during her First Communion.
Stefanie Heidebrink, a nurse in Brandon, South Dakota, shared footage from her daughter's ceremony on Tuesday. Her TikTok video has amassed 10.2 million views and thousands of tickled comments.
In certain Christian traditions, particularly the Roman Catholic Church, First Communion marks the first time a person receives the Eucharist, or bread representing the body of Jesus and wine representing his blood. The occasion is often celebrated as a ceremony for Catholic children about 7 or 8 years old.
Heidebrink's video started with her daughter Brynley, dressed primly in a white gown, veil and Mary Jane shoes, approaching her priest for the sacrament.
"Body of Christ," the priest said, offering a piece of bread to the young girl. Brynley bowed her head and ate the bread.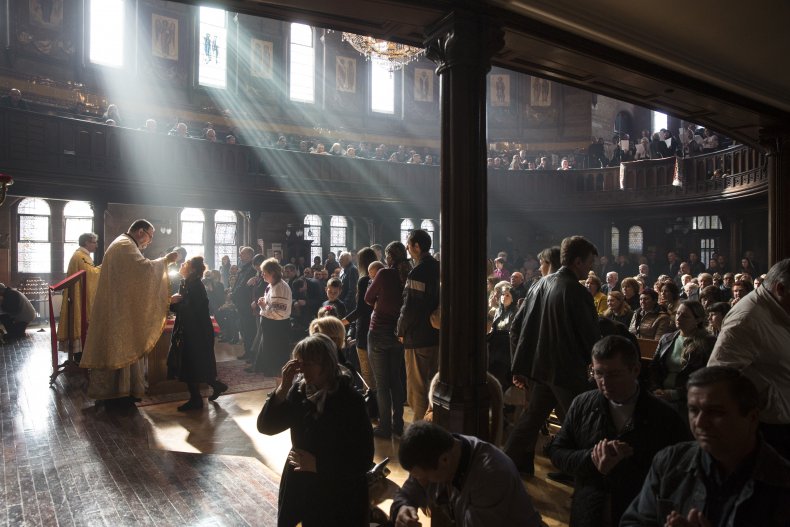 The priest then presented a goblet of wine, saying, "The blood of Christ."
Brynley held the goblet to her face and swigged—and swigged. She drank for over 10 seconds straight.
Her mom was the first to giggle. Gradually, the priest's eyes widened and his hands flapped uncertainly in the air. He bobbed up and down, attempting to retrieve the goblet from the girl. By the time Brynley was done, the whole congregation was laughing and even the priest had cracked a smile.
After returning the goblet—presumably, once its contents were finished—Brynley demurely crossed her hands in front of her dress and returned to her seat.
"My daughter slamming her 1st communion wine," Heidebrink captioned the post. She added in hashtags, "like mother like daughter" and "proud mom."
The mother told Newsweek that Brynley had forgotten she was only required to take a sip, rather than draining the whole chalice. "She was quiet and somewhat embarrassed as the church all laughed," Heidebrink said.
Online viewers were as amused as the congregation that saw it firsthand.
"If that wasn't the MOST Catholic thing I've ever witnessed," one commenter said.
"Is she Irish Catholic by chance? Asking as an Irish Catholic. She is a legend in the making," said another.
"Happy hour at the church," a third viewer laughed.
The Catholic Church recommends that members receive Communion every time they attend mass. In the United States, 43 percent of Catholics have reported doing so, while 77 percent said they took Communion at least some of the time when attending Mass, according to Pew Research data from 2015.
If a Catholic is conscious of having committed a "grave sin"—which may include divorce or living with a romantic partner outside of marriage—he or she cannot receive Communion until they have repented and performed penance.