Gisele Barreto Fetterman's Instagram Highlights History of Service Day After Being Verbally Attacked with Racial Slur
Gisele Barreto Fetterman has set a new standard for public service. The Second Lady of Pennsylvania and wife of Democratic lieutenant governor John Fetterman was recently verbally attacked with racial slurs by a woman when buying groceries. After the harrowing encounter, Barreto said that this woman needs to be taught love.
Despite this woman telling her that she doesn't belong in this country, Barreto's impressive activism for the state of Pennsylvania and the country speaks for itself on her Instagram account.
Barreto has a history of public service, and social media account highlights her incredible dedication to 412 Food Rescue, a nonprofit she cofounded in 2015. 415 Food Rescue is a "direct response to the disconnect between food waste, hunger, and environmental sustainability," their website states, bringing "perfectly good surplus food to individuals and families experiencing food insecurity."
The organization works with local food businesses and retailers to bring the food to shelters, family support centers and housing authority sites. 412 Rescue Food transports the food for free, and offers multiple ways folks can get involved.
She also served as the 2020 ambassador for the census, and encouraged her followers to fill out their forms.
Barreto shared a social distanced image with Joe and Dr. Jill Biden, encouraging everyone to vote in the upcoming election. Barreto previously endorsed Elizabeth Warren for president before she dropped out of the running.
Additionally, Barreto is the founder of the the Braddock Free Store, the nonprofit which provides lower income families with essential item such as baby clothes, diapers, furniture and other household items.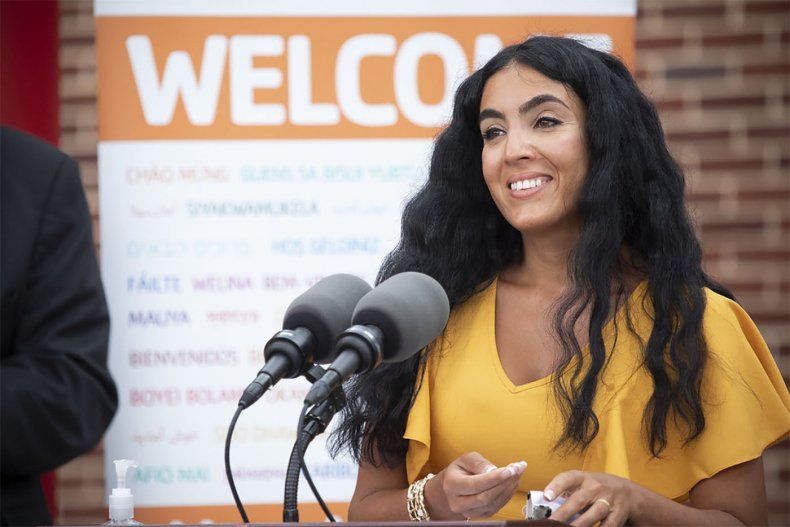 Barreto is also a vocal advocate of immigration reform in the United States. She was born in Brazil and came to the United States as an undocumented immigrant when she was seven years old, receiving her green card in 2004 and becoming a U.S. citizen five years later. Her recent verbal attack shows how important this type of action is more now than ever.
On Sunday, Barreto went to the grocery store on her own to get kiwis. The Washington Post reported that state troopers typically accompany Pennsylvania's second lady when running errands, but she chose to go herself.
While she was there, a woman pointed her out at the store. "She said, 'There's that n-word that Fetterman married. You don't belong here. No one wants you here. You don't belong here,'" Barreto told the publication.
Barreto quickly checked out and went to the parking lot, seeing that the woman who verbally assaulted her was still shopping. However, the woman approached Barreto at the car, using racial slurs as Barreto attempted to back out of her parking spot. She caught the woman verbally abusing her on video, and shared it to Twitter.
"*TRIGGER WARNING*" she began the two-second clip. "I love love love this country but we are so deeply divided. I ran to the local grocery store and was met by and verbally assaulted by this woman who repeatedly told me I do not belong here. The confrontation continued into the parking lot where I was able to finally capture it after the crying winded down.
"This behavior and this hatred is taught. If you know her, if she is your neighbor or relative, please, please teach her love instead," she added.
Newsweek reached out to 412 Food Rescue and did not receive comment at the time of publication.