Gisele Bündchen Slams 'Sexist' Rumors She Pressured Tom Brady to Retire
Gisele Bündchen has clapped back at claims she forced husband Tom Brady into temporarily announcing his retirement earlier this year.
In an interview with Elle magazine, posted on Tuesday, September 13, the Brazilian model, 42, was asked about the "sexist" chatter surrounding her after Brady, 45, announced he was stepping away from the National Football League (NFL) before later changing his mind and returning for another season with the Tampa Bay Buccaneers.
"I think this is the system we've been living in. That's what society has accepted and what society hasn't accepted," she told the magazine.
"Obviously, I have my concerns—this is a very violent sport, and I have my children and I would like him to be more present," Bündchen said. "I have definitely had those conversations with him over and over again. But ultimately, I feel that everybody has to make a decision that works for [them]. He needs to follow his joy, too."
Newsweek has reached out to Bündchen's representative for additional comment.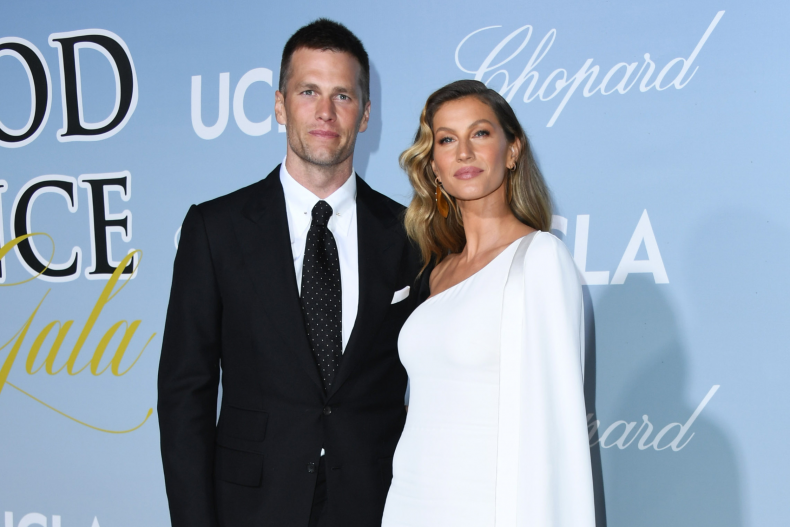 Brady announced his retirement from the NFL on February 1 after 22 seasons and seven Super Bowl titles.
"I have always believed that the sport of football is an 'all-in' proposition—if a 100 percent competitive commitment isn't there, you won't succeed, and success is what I love so much about our game," the quarterback, who currently plays for the Tampa Bay Buccaneers, said at the time.
The California native added that while he has "loved my NFL career," he wanted to "focus my time and energy on other things that require my attention."
Just 40 days later, Brady—who spent a majority of his career with the New England Patriots, winning six Super Bowl titles with the team—backtracked on his comments in a tweet posted on March 13.
"These past two months I've realized my place is still on the field and not in the stands. That time will come. But it's not now," he shared in the post, which has since garnered more than 622,000 likes. "I love my teammates, and I love my supportive family. They make it all possible. I'm coming back for my 23rd season in Tampa. Unfinished business LFG."
Bündchen and Brady met through a mutual friend in 2006. In an interview with Vogue in 2009, she told the outlet she "knew right away" that he was the one.
"The moment I saw him, he smiled and I was like, 'That is the most beautiful, charismatic smile I've ever seen!' We sat and talked for three hours," she recalled. "I had to go home for Christmas, but I didn't want to leave. You know that feeling of, like, you can't get enough? From the first day we met, we've never spent one day without speaking to each other."
The couple got married in 2009 and share two kids together—Benjamin, 12, and Vivian, 9. They are also parents to Jack Moynahan, 15, who Brady shares with ex-Bridget Moynahan.