Giuliani Is 'Drunk All the Time' and Russian Disinformation Campaigns Are Taking Advantage: Trump's Ex-Lawyer
The former fixer for President Donald Trump has said that the president's current personal lawyer is susceptible to being manipulated by Moscow because he is "drunk all the time."
Michael Cohen made the claim on MSNBC where he spoke about the White House reportedly being warned by U.S. intelligence that the former New York City mayor was susceptible to Russian disinformation about the Democratic presidential contender, Joe Biden.
The Associated Press reported that the FBI is investigating whether foreign actors were behind emails published by The New York Post, purportedly showing communication between the vice president's son, Hunter Biden pursuing business deals in China and the Ukraine. The purported Biden communications were obtained by Giuliani.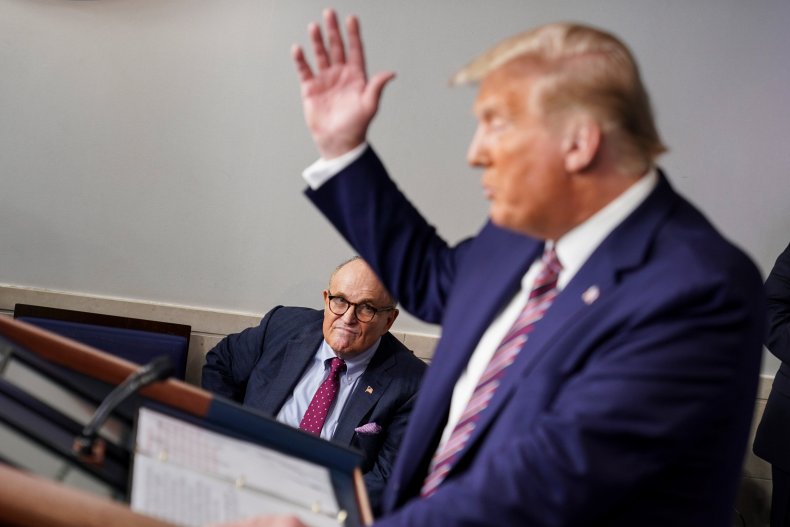 Ari Melber, host of The Beat on MSNBC, asked Cohen: "Do you think Rudy Giuliani is being used as a tool and a hack of the Russians, whether or not it passes a legal line and do you think that's wrong?"
Cohen replied: "Of course it's wrong and the answer is yes," Cohen replied. "Rudy is being played by the Russians.
"He's 100 percent susceptible to being used by the Russians because... the disinformation, he runs right back to President Trump like a child running to a parent: (saying) 'Look what I have. Look what I have.'"
He described how Trump "speaks and behaves like the mob boss" and that "he's using his soldier", referring to attempts in Ukraine at getting dirt on the former vice president.
"The problem here is that Rudy isn't a soldier. Rudy is—Rudy is drunk all the time, which is a big problem and that's what makes him susceptible because his faculties are gone. He behaves crazy."
Melber challenges Cohen on this point, asking, "are you sharing an opinion or are you sharing an observation like you've seen him drink X amount?"
Cohen, who was jailed in 2018 for arranging payments to silence women who claimed to have affairs with Trump, continued: "I've seen him drink to the point like he's a high school drunk," adding, "and it makes him susceptible." Newsweek has contacted Giuliani's office for comment.
Giuliani has said that the alleged Hunter Biden emails were obtained legally and were on a laptop dropped off by the former vice president's son. He told Fox News that the information was "authentic as hell."
"Some of those pictures on it can only have come from him, and I'll tell you why I know it for sure. I have about 10 pieces of confidential information nobody knows except me and Hunter Biden," he told the network on Friday.
However Biden's supporters question the content of the emails and how they were obtained. Facebook and Twitter have flagged reports on the issue as potential misinformation or stolen information.
"I think Twitter's response to the actual article itself makes clear that these purported allegations are false and are not true," Biden campaign national press secretary Jamal Brown said on Thursday.