Giuliani Says He Was Tucking in Shirt After Removing Microphone in Controversial 'Doctored' Scene for Borat Sequel
Former New York City Mayor Rudy Giuliani said Wednesday that a scene in an upcoming film that appears to show him in a compromising position may have been "doctored" or "manipulated."
The movie, Borat Subsequent Moviefilm, is a sequel to the 2006 comedy Borat starring Sacha Baron Cohen and includes a scene with Giuliani. The clip appears to show Giuliani with a hand in his pants in a scene also featuring the daughter of the film's main character.
During his daily show on WABC-AM, Giuliani said images from the clip that began circling online before the film's Friday release on Amazon Prime Video were not as they seemed. He told listeners that he had just concluded an interview at the time the clip was filmed and was in the process of removing the electronic equipment used during the interview, which required him to re-tuck his shirt.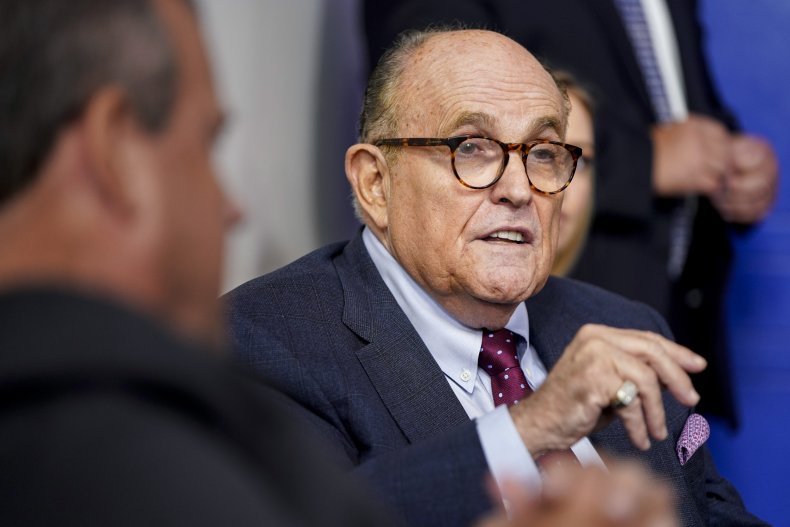 "I had my jacket on—I was fully clothed at all times—and I had to take off the electronic equipment," Giuliani said. "And when the electronic equipment came off, some of it was in the back and my shirt got a little out, came a little out, although my clothes were entirely on. And I leaned back and I tucked my shirt in.
"At that point, they have this picture that they take, which looks doctored, but in any event, I'm tucking my shirt in; I assure you that's all I was doing," he said.
Giuliani said he believed the interview, which he said was conducted by "a young woman who was new to interviewing," was "legitimate" at the time.
"I was being kind to her," Giuliani said. "At one point, she explained to me some problems she had; I actually prayed with her." Giuliani later said that he reported the incident to police as soon as he realized the interview was staged.
Giuliani suggested that the clip may have been doctored due to a recent report from the New York Post about Democratic presidential nominee Joe Biden's son Hunter Biden that Giuliani said he contributed to. The article made several allegations about Biden's son, Hunter, including that Hunter Biden allegedly coordinated a meeting in 2015 between his father, who was serving as vice president at the time, and a board member of a Ukrainian energy company. Biden's campaign has said the former vice president's official schedule did not include any meetings with the board member in question.
"Let me tell you why I know this is a hit job," Giuliani said. "It's not an accident that it happens when I turn in all this evidence on their prince and darling, Joe Biden, who's one of the biggest crooks in the last 30 years. Because I have the courage to say that, I'm the target."
"Everybody in Hollywood hates me," Giuliani added moments later. "Now all of a sudden there's all this sensational stuff about me in the movie. Don't know if it was added, doctored, manipulated, whatever."
Giuliani later added to his comments in a series of posts on Twitter. "The Borat video is a complete fabrication. I was tucking in my shirt after taking off the recording equipment," Giuliani's post said. "At no time before, during, or after the interview was I ever inappropriate. If Sacha Baron Cohen implies otherwise he is a stone-cold liar."
Giuliani reiterated in another tweet that he reported the incident to police "as soon as I realized it was a set up."
"This is an effort to blunt my relentless exposure of the criminality and depravity of Joe Biden and his entire family," Giuliani said.
Newsweek reached out to Amazon Studios and Biden's campaign for comment but did not receive a response in time for publication.