Giuliani's 'Damning' Phone Records Are 'Roadmap' for Trump Impeachment Case: Ex-CIA Lawyer
A former senior U.S. intelligence lawyer said Rudy Giuliani's "damning" phone records released by the House intelligence panel in its impeachment report "lay out the roadmap" of what happened regarding Ukraine.
On Tuesday, the intelligence committee published its report laying out the evidence it has gathered so far in the case to impeach President Donald Trump over his alleged Ukraine misconduct.
Within that report were the phone call records of Rudy Giuliani, Trump's personal lawyer, who allegedly worked on digging up dirt in Ukraine on behalf of the president.
Trump is accused of trying to coerce Ukraine into opening dubious corruption investigations that would damage his political rivals ahead of the 2020 election. He and Giuliani both deny any wrongdoing.
Those call records show Giuliani in contact with the White House, the Office of Management and Budget, his indicted associate Lev Parnas, and an unidentified "-1" number that is now under scrutiny by the House and could be the president himself, though this is unconfirmed.
"What stands out to me is the phone calls," Robert Deitz, a former senior counsel to the CIA director and general counsel to the National Security Agency (NSA), told MSNBC on Wednesday's edition of The Beat.
"I've wondered throughout whether the committee would obtain telephone records...and telephone records are often the most damning even if you don't have the content, if you just have the fact of the phone call.
"And to me what's damning about them is it does lay out the roadmap. It basically tells you the beginning of the story, sort of each step of the story. So I think what's helpful from the committee's standpoint is they can use this as a way of telling a very clean, straightforward story to the American people and other congressmen."
On Wednesday, Giuliani tweeted: "The mere fact I had numerous calls with the White House does not establish any specific topic. Remember, I'm the President's attorney."
Writing in the intelligence committee's report, Chairman Adam Schiff, a California Democrat, laid out its case that Trump's alleged conduct towards Ukraine was impeachable after taking evidence from multiple witnesses inside the current administration.
The report accuses Trump of conditioning a White House visit for Ukraine's President Volodymyr Zelenskiy and the release of $391 million of withheld military aid on the opening of "politically-motivated" investigations "designed to assist his reelection efforts."
"The evidence of the President's misconduct is overwhelming, and so too is the evidence of his obstruction of Congress," Schiff wrote, referring to the White House's refusal to comply with subpoenas or cooperate at all with the inquiry.
"Indeed, it would be hard to imagine a stronger or more complete case of obstruction than that demonstrated by the President since the inquiry began."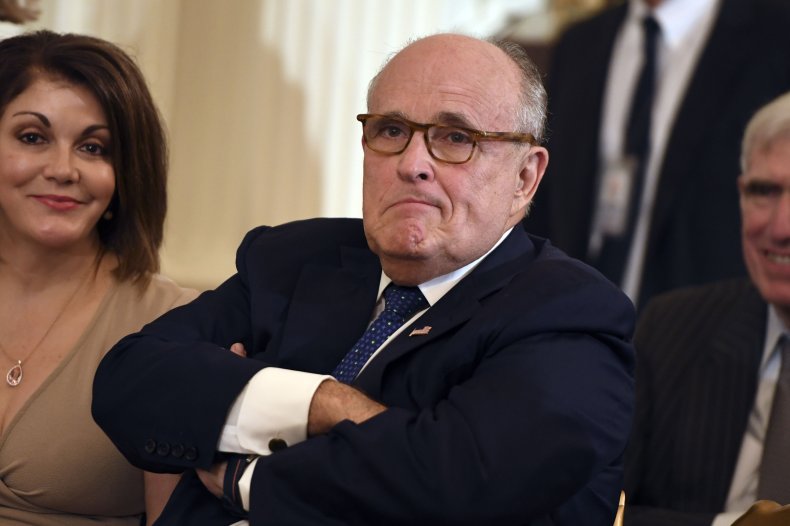 This article was updated with a tweet by Giuliani.