'Glee' Actor Joins in on Reminiscing Horribly Awkward Scene From Show
An awkward scene from Glee resurfaced on Twitter this week and prompted one of the series' former cast members to join in on the jokes.
The uncomfortable scene, shared on Twitter by @kgleeb on Tuesday, received nearly 37,000 likes and 3,600 retweets.
After the show came to a close with the final episode in 2015, Glee fans had to wait until 2019 for the seven seasons to be added to Netflix.
According to ratings published by the Nielsen Company, the series finale was watched on Fox by nearly 2.54 million viewers. But other episodes received more than five times the amount of live viewers, with one episode bringing in an estimated 11 million viewers.
Glee fans, nicknamed Gleeks, were disappointed when the show was removed from Netflix in late 2021, but the fandom resurrected again this month when the show was added to Disney+.
The show's streaming success has also created a buzz on social media, with many viewers sharing viral memes and commentary about the show. A lot of users also share their favorite scenes from the show, often including the cringe moments.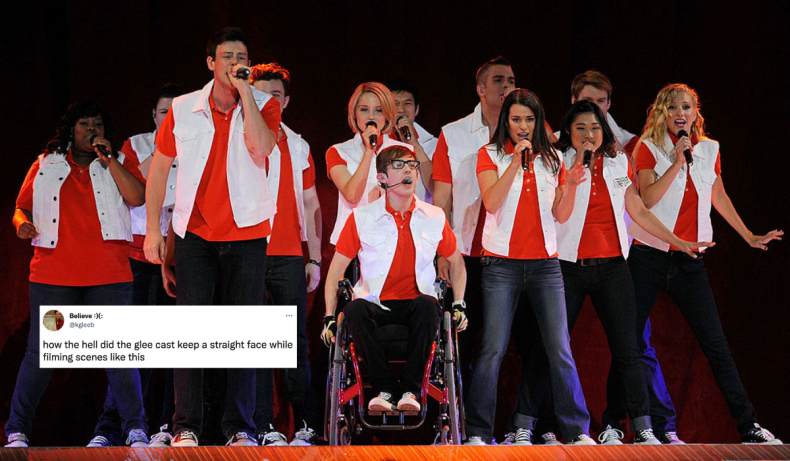 In the scene shared by @kgleeb, Artie Abrams, played by Kevin McHale, sits in the choir room as he tells Mr. Schuster (Matthew Morrison) that his "life is over" because his girlfriend, Brittany, said she's pregnant.
As the scene plays out, Brittany (Heather Morris) explains that she doesn't need to go to a doctor because she can just look out her window to check on the baby.
Brittany adds that a stork built a nest on top of her garage and said it was "obviously getting ready to bring me my baby."
Other Glee cast members–including Lea Michele's and Amber Riley's characters–look stunned as they listen to Brittany. Incredibly, no one cracked a smile during the scene.
"How the hell did the glee cast keep a straight face while filming scenes like this," the tweet read.
In a now-viral reply, Kevin McHale–who played Artie Abrams on the show–replied that they could not actually keep a straight face at all.
"We didn't," McHale tweeted. "Every single one of us broke. Thank u editing."
Other Twitter users took the time to compliment the quirks of the show, including the fact that some question if the show is a parody.
"The beauty of Glee is that it takes itself 100% seriously, that's what sets it apart from a parody," user @nqobile_andiswa tweeted.
"Brittany's lines were by far the hardest I feel like to do without breaking," @Punk_Rocker_17 replied.
Newsweek reached out to McHale for comment.
Dianna Agron, who played Quinn Fabray on the series, told Newsweek in April that the good moments "rise to the top" when she reminisces about Glee.
She added that she came of age publicly on the show, surrounded by her castmates.
"There were so many firsts for us on that show," she said. "So it's bound to always resonate and come up emotionally."