Dianna Agron's 'Glee' Memories 'Complicated' by Rivera, Monteith Tragedies
"The joyful moments rise to the top" for Dianna Agron when remembering her time on Glee, but the tragedies since the show finished have "complicated" things a bit.
Agron's character Quinn Fabray was the mean cheerleader when the show first launched in 2009 and a Yale graduate by the time the show finished in 2015. Glee enjoyed unprecedented success worldwide which resulted in Grammy nominations, arena tours and best-selling albums for the cast.
Glee has been off the air for seven years now, but Agron says the show still has a "huge prominence in her life."
On her bond with her castmates, she told Newsweek: "We worked together for so long, we found our footing together, we really came of age publicly on that show. And there were so many firsts for us on that show. So it's bound to always resonate and come up emotionally."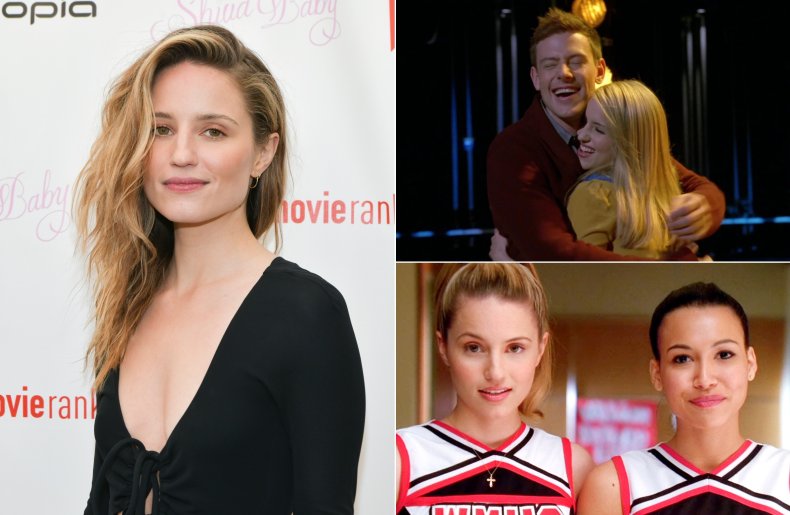 However, since the show has finished, three major cast members have died and damning accusations have been made about bullying on set.
During an interview to promote her latest movie As They Made Us, Agron told Newsweek how the recent tragedies have affected her memories of the show.
"It's complicated. It's so interesting to think about, because I think that when I think about our experiences, the joyful moments rise to the top," Agron said. "And I think that the sadness we have experienced, it's very real. It's not anything I would wish for anybody to know those feelings of losing friends or partners or family members."
Of the Glee cast members, Corey Monteith, Mark Salling and Naya Rivera have all died in the last decade.
Monteith, who played quarterback Finn Hudson, passed away in 2013 from "mixed drug toxicity." Salling, who played fellow football player Noah "Puck" Puckerman, committed suicide in 2018 after he plead guilty for possession of child pornography.
Rivera, who played LGBT cheerleader Santana Lopez, tragically drowned while out on a boating trip with her son in 2020.
Agron believes all of her experiences with loss post-Glee have helped her grow as a person, and to become a support for other people. "I guess what becomes more real than not for me is that I am a good person to come to as it relates to advice on how to move through those experiences," Agron said. "I wouldn't say that feels good, but I have made myself available to people who are experiencing similar tragedy.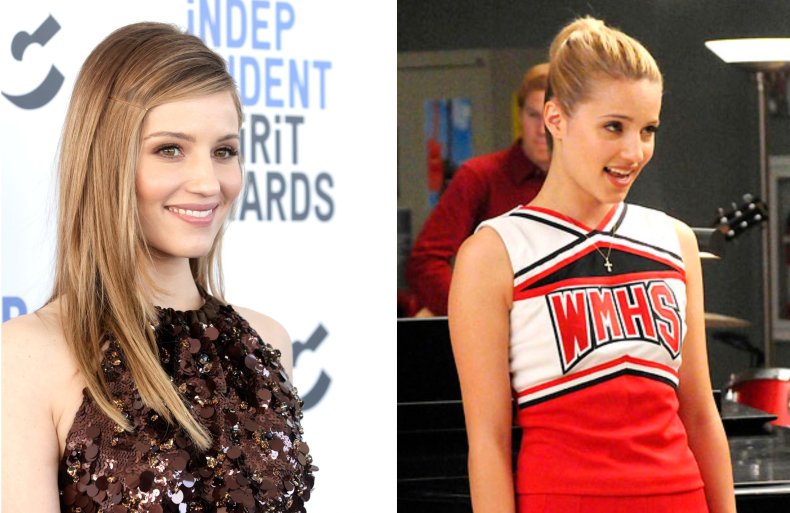 "I think people are very uncomfortable with doing that, and I think that it means a lot to the people that I've reached out to, in those moments."
Agron's new movie, written and directed by Mayim Bialik (The Big Bang Theory) sees her play a daughter dealing with her dysfunctional family, while watching her father's illness get gradually worse. Agron said she related to the movie as her own father has been sick for more years of her life than not.
Looking back on her memories of Glee, she said, "Ultimately, unfortunately these are things that we will all experience at some point of our lives. You know, real loss and having to understand how to move through that."
Agron has always loved music and musicals, and is continuing to perform outside of the notorious musical TV show. Agron is currently performing her third residency at the Cafe Carlyle in New York, which she can't help but compare to some of her live Glee performances.
"That's a 90-person room. It's so beautiful and warm and inviting. I'm so excited but I'm a bit nervous." Agron continued, "And sometimes I have to remind myself that we've been on stages performing for 20,000 people. And that seems so surreal when I think that, and remember the feeling of being on stage at the O2 Arena [UK] or Radio City Music Hall.
"I can't believe there will be moments that I share with my kids or grandkids. Like, 'That happened. There's footage, I can show you'. But it just it already feels so surreal, that experience."
Agron's new movie As They Made Us is out in theaters and available on VOD now.