Glenn Greenwald, Pulitzer Prize winner and founder of The Intercept, announced that he would be resigning from the publication, due to censorship over his criticism of former Vice President Joe Biden.
"Today I sent my intention to resign from The Intercept, the news outlet I co-founded in 2013 with Jeremy Scahill and Laura Poitras, as well as from its parent company First Look Media," Greenwald wrote in a Substack post, published Thursday.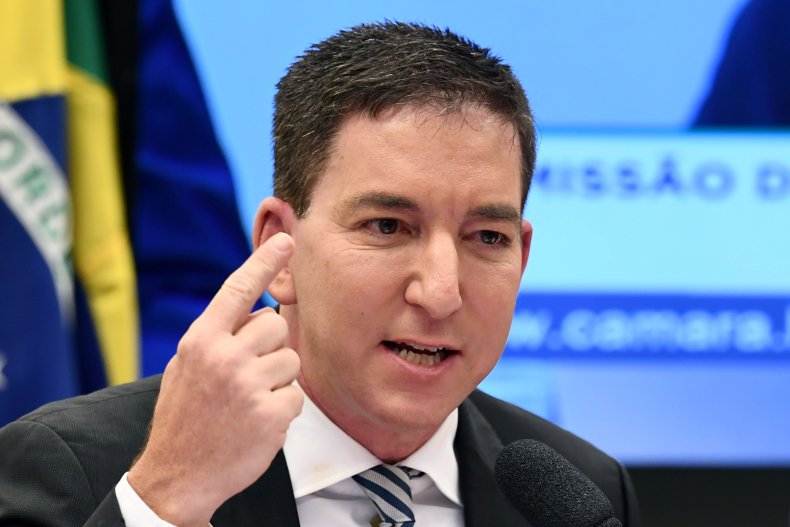 "The final, precipitating cause is that The Intercept's editors, in violation of my contractual right of editorial freedom, censored an article I wrote this week, refusing to publish it unless I remove all sections critical of Democratic presidential candidate Joe Biden, the candidate vehemently supported by all New-York-based Intercept editors involved in this effort at suppression.
"The censored article, based on recently revealed emails and witness testimony, raised critical questions about Biden's conduct. Not content to simply prevent publication of this article at the media outlet I co-founded, these Intercept editors also demanded that I refrain from exercising a separate contractual right to publish this article with any other publication."
Greenwald noted that he would be publishing the censored article on Substack in full later on Thursday. In said article, which is titled "Article on Joe and Hunter Biden Censored by The Intercept," Greenwald focused on three main points.
First, Greenwald claimed that, "Wanting to avoid a repeat of feeling scorn and shunning in their own extremely pro-Democratic, anti-Trump circles, national media outlets have spent four years inventing standards for election-year reporting on hacked materials that never previously existed and that are utterly anathema to the core journalistic function." He noted how the Washington Post's executive editor reportedly distributed an outline for how their reporters should handle hacked materials, regardless of authenticity being in doubt.
Second, "the oft-repeated claim from news outlets and CIA operatives that the published emails and texts were 'Russian disinformation' was, from the start, obviously baseless and reckless. No evidence — literally none — has been presented to suggest involvement by any Russians in the dissemination of these materials, let alone that it was part of some official plot by Moscow." Greewnwald emphasized that "in journalism, evidence is required before news outlets can validly start blaming some foreign government for the release of information."
"Yet the claim that this was 'Russian disinformation' was published in countless news outlets, television broadcasts, and the social media accounts of journalists," Greenwald continued, "typically by pointing to the evidence-free claims of ex-CIA officials."
Finally, Greenwald wrote that, "The Hunter Biden documents have at least as much verification as those other archives that were widely reported. There are sources in the email chains who have verified that the published emails are accurate." He wrote that a former business partner of Hunter's has stated on the record that the emails and events described in the emails were accurate, "including proposed participation by the former Vice President in at least one deal Hunter and Jim Biden were pursuing in China."
Greenwald reiterated in the reportedly censored article that "neither Hunter Biden nor the Biden campaign has even suggested, let alone claimed, that a single email or text is fake."
In his retirement announcement, Greenwald noted that, moving forward, he would be publishing his journalism on Substack. "Where numerous other journalists, including my good friend, the great intrepid reporter Matt Taibbi," he continued, "have come in order to practice journalism free of the increasingly repressive climate that is engulfing national mainstream media outlets across the country."
He also said that his resignation was not an easy choice. "I am voluntarily sacrificing the support of a large institution and guaranteed salary in exchange for nothing other than a belief that there are enough people who believe in the virtues of independent journalism and the need for free discourse who will be willing to support my work by subscribing," he wrote.
The Intercept also issued a piece on its website regarding Greenwald's resignation. The article states that Greenwald's choice to leave "stems from a fundamental disagreement over the role of editors in the production of journalism and the nature of censorship." The publication claims that Greenwald "believes that anyone who disagrees with him is corrupt, and anyone who presumes to edit his words is a censor."
"The narrative Glenn presents about his departure is teeming with distortions and inaccuracies — all of them designed to make him appear as a victim, rather than a grown person throwing a tantrum," the article counters. The Intercept also noted that its goal was to make sure the site published "accurate and fair" work from Greenwald, and nothing that would seem steeped in the sort of political bias that Greenwald is decrying. "Facts are facts, and The Intercept's record of fearless, rigorous, independent journalism speaks for itself," the article concludes.
Greenwald helped The Guardian win a Pulitzer Prize in 2014.
Less than two weeks before his resignation, as per The New York Post, Greenwald called out the mainstream media for engaging in what he described as a "cone of silence" regarding the Post's reports on Hunter Biden's alleged business deals with Ukraine and connections the former Vice President allegedly had with China.
"Is there a single journalist willing to say with a straight face they believe the emails relating to the Bidens are either fabricated or otherwise fraudulently altered, but the Bidens just aren't saying so?" he tweeted on October 19. "There has to be some limits to your willingness to go to bat for them."
"When you report a huge archive, there's no way to prove the negative that none of it is altered. You investigate & confirm as much as you can, then use your journalistic judgment," Greenwald continued over a series of tweets.
"The only way you get confirmation is when the subjects of the reporting don't deny the authenticity," he wrote. "You know the subjects of the reporting will immediately claim they're fake *if the[y] are*. Of course they will: that would kill the reporting!" Greenwald argued that there was a reason why the Bidens haven't claimed that the emails were fake.
While it's true the Biden campaign has yet to deny specific claims made in the report, the accuracy of the Post's report is in question.
Updated 10/29/2020 5:26 p.m. EST: This story has been updated to include quotes from Greenwald's article about Joe Biden that he claimed was censored.
Updated 10/29/2020 6:10 p.m. EST: This story has been updated to include The Intercept's response to Greenwald's Substack article about his resignation.